While the new building has been bustling with students and classes for a month, North Central Texas College held the grand opening and ribbon-cutting ceremony for its downtown Denton campus Friday.
For Brent Wallace, chancellor of the college since 2011, building a campus in Denton has been a major priority for several years. Celebrating the grand opening also meant thanking community partners such as First State Bank, which donated $1 million for the project.
"We love our partnerships here," Wallace said. "We've been serving Denton for a long time, but now we have a place to call home."
The First State Bank Exchange at NCTC, also called The Exchange, is a 45,000-square-foot building with 690 students enrolled this semester. It is in what used to be the Denton Record-Chronicle building. It's the Gainesville-based community college's sixth location, and its first in Denton.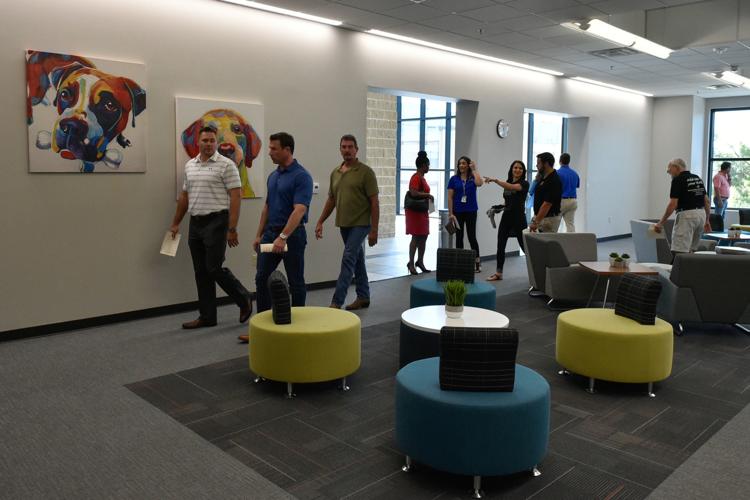 At Friday's grand opening, college officials did a ceremonial ribbon-cutting with the Denton Chamber of Commerce before students led tours through the building and the adjoined black box theater.
By being downtown and accessible, the new campus will help current and future students as well as help spur downtown economic development, Mayor Chris Watts said.
"It's a great asset to the city of Denton and it provides economic development in the downtown area, but more importantly it continues to provide an educational opportunity for our citizens and people in our region and is a great addition to the education components of the city," he said.
NCTC students can be dual-enrolled at the University of North Texas or Texas Woman's University, or have an easier transition from community college to one of the universities.
Barbara Lerner, vice provost for undergraduate studies and academic partnerships at TWU, said this is a big deal. She's worked for years to make it easy for regional community college students to transfer to TWU, where just a little over half of students new to the university each year are transfer students.
"The best transfer arrangements are when we can share information for students, so that's why having a hub like this in The Exchange is important, and it gives students an opportunity to meet with representatives of several institutions," she said.