Denton police announced this week that its uniformed officers now carry naloxone, the drug that momentarily snaps people out of opioid overdose nearly as soon as it enters a patient's body.
The drug, which Denton police can administer nasally through the name-brand version Narcan, is seen as something of a breakthrough in the fight against opioid overdoses.
But won't it help the Denton police steer people toward the jail rather than toward recovery?
Patrol Sgt. Trent Jones, who has worked half of his 24 years with the Denton Police Department in narcotics, says that's not at all what police here are trying to accomplish.
"We're not looking to put cases on people," he said.
Jones said Denton police have not seen a crisis level of overdoses from opioids such as fentanyl or heroin. But according to police reports, it is not uncommon for officers to find opioids, particularly pain pills, on people during traffic stops or arrests.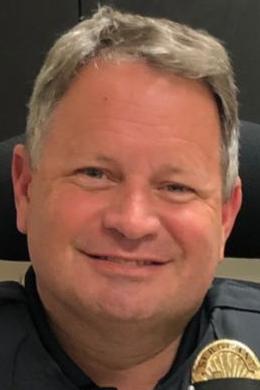 Opioid arrests and charges will still happen in general, across many situations. But the purpose of Denton police having Narcan is to potentially save people and get them help rather than bring them back to life to charge them with a crime, Jones said.
"You gotta help people," he said.
Jones said it's all too common for people to see a friend or family member experiencing an overdose and first try to hide their drugs or paraphernalia before calling the police.
He said if officers must use Narcan on an overdose victim, their priority will be saving the person's life rather than arresting them or their friends. So people should not hesitate to pick up the phone and call 911 as soon as they think somebody is dying of an overdose, Jones said.
Besides, if you call 911 to report an overdose, paramedics are most likely to arrive first, because dispatchers route the fire department first on such calls.
The police are carrying Narcan now in the off chance they are the first to find a person suffering from an overdose, Jones said.
"I would feel helpless if I showed up and couldn't help someone," Jones said.
That's part of the reason Jones says Denton officers have taken on the new task with a good attitude.
With help from Denton firefighters and the Flower Mound Police Department, Denton's police field training officers began teaching street officers about how and when to administer Narcan this year.
As of early July, every uniformed patrolman, traffic officer, detective, school resource officer, community resource officer and parking enforcement officer with the Denton Police Department always has two 4-milligram doses of Narcan with them, Jones said.
He said it's not the role of the police to make assumptions about people who are having an overdose crisis. Getting them to a hospital is the priority. But he said officers do have to be prepared for when a person comes out of the overdose.
Naloxone essentially stops an opioid from binding to the brain's receptors, stopping the high and ending the overdose crisis. There are known cases in which a patient has become irate at that point and begins fighting officers, Jones said.
After the drug is administered, authorities must take them immediately to a hospital because its effects are only temporary. Further treatment is needed.