Cocktails on tap, homemade sodas and a large shaded patio will mark Miss Angeline's, a new bar at 125 E. Oak St. that's set to open in late August.
The new venture is from the team that opened East Side Denton plus other bar folks in town like Jeremy Dean, who left the downtown craft cocktail spot Paschall Bar to help run Miss Angeline's.
The small house next to East Side Denton has housed staff for the bar for years, including co-owner John Williams. The plan has always been to convert the house into another bar concept, and work started on the project eight months ago, Williams said.
"We've had this idea pretty much since we opened East Side," he said. "We've seen the trend of cocktails on tap as a new thing, and we're jumping on board. We do a couple at East Side, and they do well and we get to play around with it a bit."
The mixed drinks will take up about 15 of 36 taps at the bar. Another 15 will be for beers, mostly ciders and sours, and the rest will be for nonalcoholic options. Plus, there will be "mocktails" so people can have the experience of a cocktail without any alcohol, Dean said.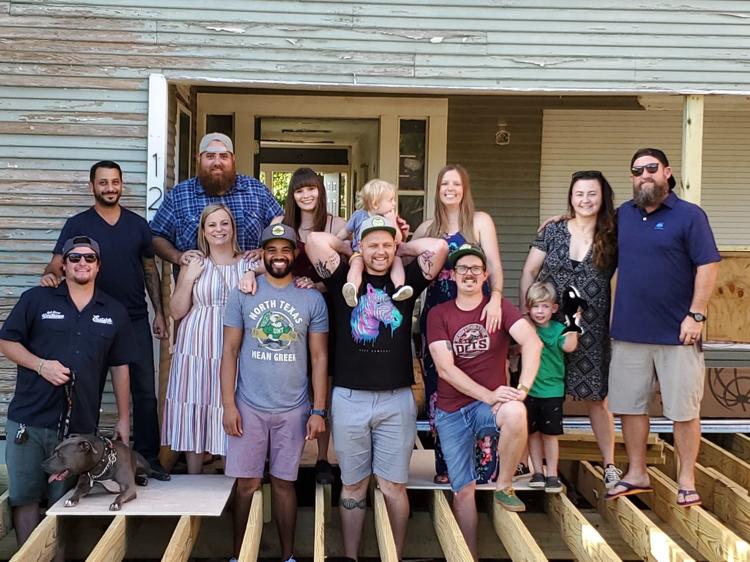 "We're gearing toward the healthier side of cocktails, like lower calories, and mocktails to gear toward people who don't drink also having options," he said.
They'll be making their own sodas and seltzers in house, and by creating large-volume drinks to pour quickly on taps, the bar will be able to serve higher volumes in less time, Dean said.
The spot will have a capacity of around 200 people, with 2,500 square feet on the front patio and about 2,000 square feet inside. It will also be table service, so patrons will have dedicated service staff.
"The idea of doing cocktails on tap is to have more fun and speed," Dean said. "It's more my personality and style, and having that patio out front has the curb appeal. The whole atmosphere we're creating with this concept is pretty awesome."
The bar is named for a Denton bartender from the late 1800s nicknamed Miss Angeline, Williams said. Local historian Shaun Treat told Williams about her when they were brainstorming names for the new spot. Miss Angeline's saloon managed to dodge dry periods when liquor sales were prohibited by offering specials like a 10-cent peanut that came with a free shot of whiskey.
The logo for the bar will be the likeness of a woman from that era, and she's inspiring some of the menu items, though none of them are solidified yet, Williams said.
Just down the street, the back end of upcoming barbecue restaurant H2Oak will have its large outdoor area visible from East Oak Street, adding to more vibrancy down the street, Williams said. There have also been talks with the city about improving the sidewalks, which Williams hopes will make East Oak a more vibrant pedestrian corridor.
Miss Angeline's planned opening date is Aug. 18, but the actual opening could be sometime between Aug. 13 and Sept. 1, depending on how the last stages of the project progress, Williams said.