Jim Christal was 3 years old in 1862 when he lost his father in Denton's first unsolved murder. His house at 722 W. Oak St. is the only physical artifact of his contributions to early Denton.
Pioneer family patriarch Silas Christal ran a grain mill on Denton Creek, 13 miles west of Denton. His sons, including Jim's father, Richard, and nine other men secured meat on an annual hunting trip near present-day Wichita Falls in Indian territory teeming with buffalo, deer and antelope.
After killing eight buffalo, Richard and his brother John left to get one more. When the brothers didn't return after two gunshots rang out, companions discovered a freshly shot buffalo and footprints indicating a struggle between the two men and others. Bodies weren't found, so the family marked an empty grave in the I.O.O.F. Cemetery.
After his father's disappearance, Jim studied five years in the Christal schoolhouse now located in a Ponder park. Jim's mother persuaded her uncle Burk Burnett to let him grow up on his 6666 Ranch. Jim advanced from wrangler to cowboy status, working cattle drives from Texas to Dodge City, but his cowboy career ended when his right leg was shot off below the knee.
Returning to Denton in 1879, and taking a job as a clerk in the tax office, Jim acquired land between his childhood home and Denton for the Golden Hoof. The farm, bordered by present-day U.S. Highway 380 and Jim Christal Road, became a showplace for thoroughbred cattle and sheep. After three terms as Denton County tax collector, Jim became president of Exchange National Bank and an early president of the Denton Milling Co., an innovative company that won national acclaim because it separated cotton from seed so crops could be replanted.
Jim married Margaret McKenzie, daughter of Denton County Treasurer Hugh McKenzie, in 1894. They had two daughters: Maggie, who died of a childhood illness in 1897, and Grace, born in 1898.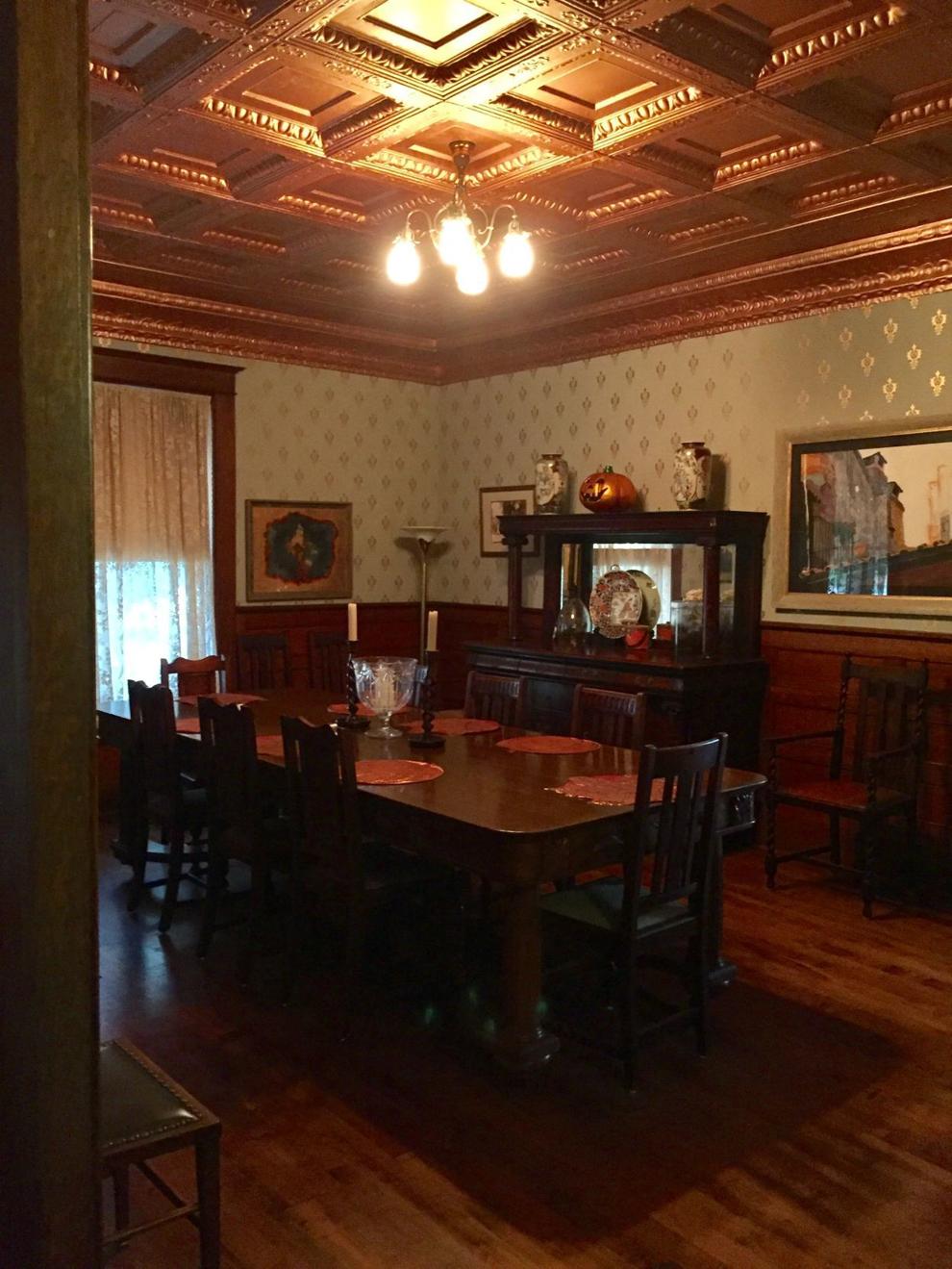 Christal was 47 in 1906 when he contracted Frank Craft to build a house inspired by Greek architecture on Oak Street. The house is a high Victorian Italian villa with wide porches on three sides supported by Corinthian columns clustered in threes at entrances, rooflines supported by carved brackets, a second-floor Roman arch, beveled glass around the front door, "Christmas" festoons above the entrance and leaded glass windows.
The transitional Mission interior features tiger-eye oak paneling, maple floors, a copper-plated pressed-tin dining room ceiling, an early Thomas Edison Light Co. chandelier, six fireplaces and three bathrooms, when few houses had indoor plumbing.
Christal, a voracious reader, corresponded with historical figures, including Thomas Edison, who supplied light fixtures and inspiration for Denton's first all-electric house, and Charles "Lindy" Lindbergh, who flew over the house when he barnstormed the country. Henry Ford sent Christal a set of McGuffey Readers, along with a letter maintained by the family.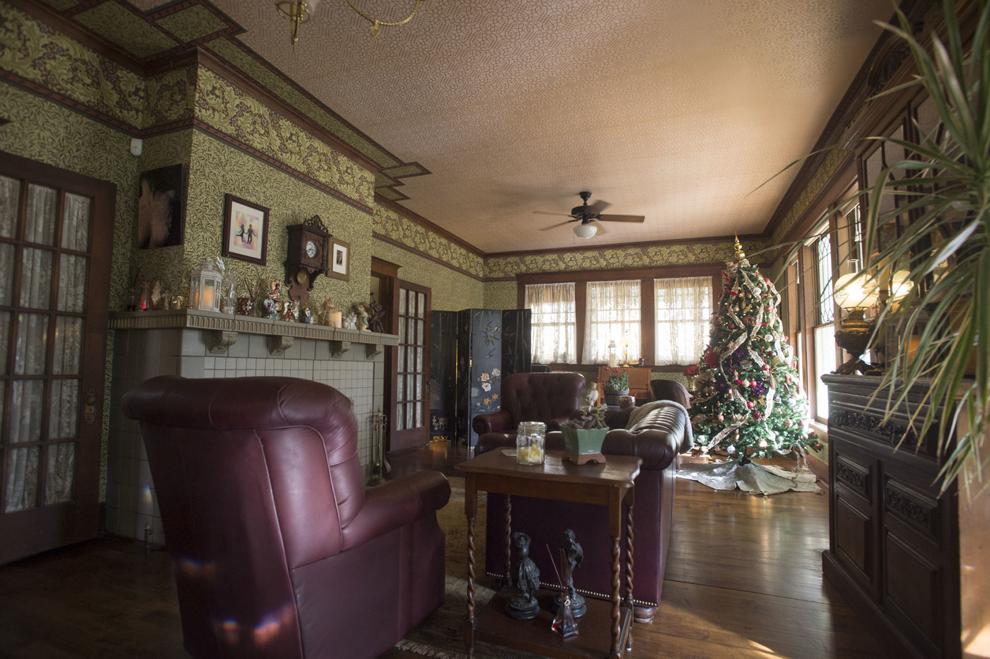 Grace was 8 years old when she moved to the new house, and her 1922 wedding was detailed in the Denton Record-Chronicle. After marriage, Grace spent holidays in the house, and her three children were born in the upstairs bedroom.
Jim supported both universities, regularly climbed the courthouse stairs to wind the clock, and visited daily with Bob or Dolph Evers at Evers Hardware and the editor of the Denton Record-Chronicle about news of the day. When the paper verified that Andrew Hitchcock, one of the few survivors of the Battle of Goliad, lived and died in Denton, they interviewed Jim.
Grandson Bennett Wooley, who was born in the house and spent summers there, attributed several Denton firsts to his grandfather: the first radio, the first typewriter outside of an office and one of the first Frigidaire refrigerators. Christal never owned an automobile, presumably because of his amputated foot.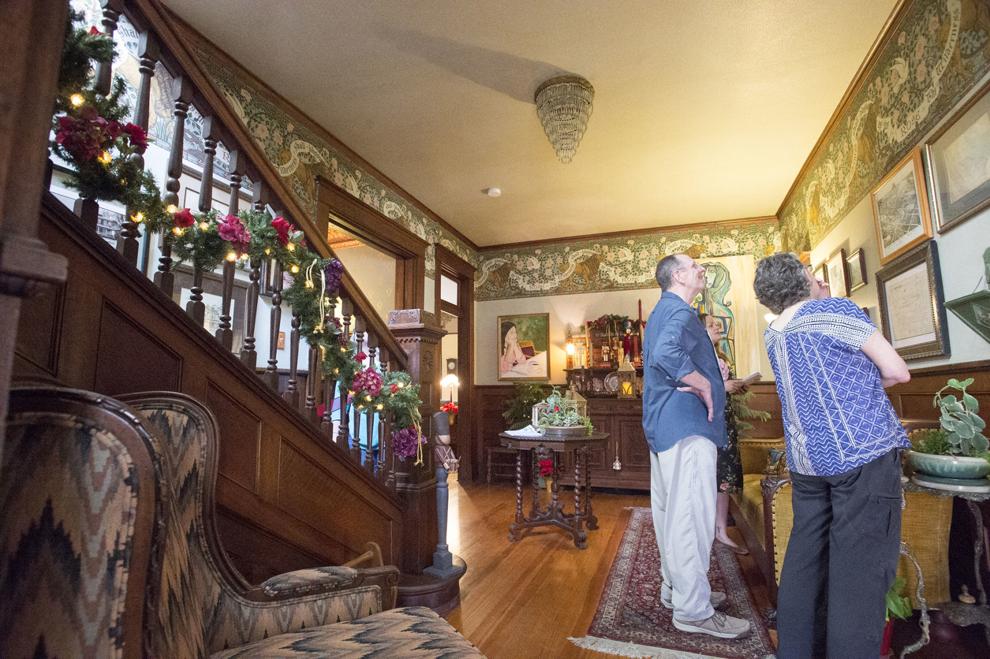 On Dec. 26, 1928, the solvent Exchange National Bank closed after a bank officer's wife started a rumor that caused a run. Jim had retired, but he made sure the bank paid all debts, a rare occurrence in 1928. The elegant two-story bank he built at the corner of Hickory and Locust streets was acquired and eventually replaced by First State Bank, now Wells Fargo, with a multi-story modern structure.
Jim Christal's 1936 funeral was in the house. The Record-Chronicle eulogized him as an "old school gentleman, never ostentatious, always courtly and gentle, and his passing brings great sorrow to many, for his place cannot be refilled." He's buried in the I.O.O.F. Cemetery.