Like most businesses, Cadillac Art & Frame has felt some of the effects of the COVID-19 pandemic, but owner Jim Gilliam said his business has also been facing an epidemic of another kind, and one familiar to many in Denton: street construction.
"It's affected me probably more than COVID did," Gilliam said.
Gilliam is one of several downtown business owners who say they've felt the pinch of road construction that has limited access to their businesses since late 2019. The city's Pecan Creek Tributary 4 project, which began in July 2019 and is slated to end in June 2021, has been a primary source of construction in the area, involving street and lane closures and parking restrictions on Elm, Locust, Mulberry, Prairie and Wainwright streets, as well as Warren Court, according to the city's website.
Construction crews are installing 1,500 feet of box culverts between Wainwright and Prairie to reduce downtown flooding and performing water and wastewater improvements along Elm and Locust as part of the $15 million project.
Gilliam said he had to intermittently close his shop several times at the height of the South Locust constriction — about 14 to 18 days altogether — when work trucks blocked access to his driveway, even prompting him to spend a night in his shop when he couldn't get his car out to go home.
The city also used the lot next to Cadillac as a staging area for several months, blocking his business from street view, Gilliam said.
Gilliam said the construction crew did try to leave a turnout, but the entrance was too narrow for most vehicles, and with Locust lined with work trucks, it was effectively impossible to gain street access.
City officials say that although crews did cut through Gilliam's parking lot on the south side to access the city's purchased drainage easement, the handful of parking spots in front of his building weren't impacted simultaneously.
"The city typically doesn't allow any kind of permanent access disruptions," PEC-4 project manager Seth Garcia said. "There might be times we cross the driveway and have steel plates sitting next to a driveway to allow cars in and out, but for a lot of the businesses around the Locust-Elm area that have multiple access driveways, we don't allow both to be blocked off at the same time."
Katie Portillo, owner of Susie's Snack Shop, which is located across the street from Cadillac, said she witnessed the impact construction had on Gilliam's shop and faced similar frustrations.
Portillo said Susie's lot, which she shares with several other businesses in a commercial strip in the 500 block of South Locust, was reduced to one entrance for nearly a year when crews shut down Warren Court to use as a pass-through. Without a sign highlighting the business entrance, her customers kept missing her store, forcing them to circle the block.
Though she did receive a letter from the city about the PEC-4 project beginning and talked to the on-site inspector, Oscar Ramos, she said communication from city officials was inconsistent and the phase of the project that blocked her entrance ran about four months longer than expected.
"It was a nightmare at times," Portillo said. "The lack of city support was not fun. Throw in a pandemic on top, and it's just a recipe for disaster."
Stephanie Yates, public affairs engagement coordinator for Denton, said city officials hosted community meetings to keep residents and business owners updated on the project — including an initial meeting in February 2019, before the project began — and pushed information out on social media and the city website. The city also recently updated its communication protocol for major projects to include communication about project milestones, regular letters, a biannual construction guide and, in the case of PEC-4, even in-person visits, Yates said.
"It's been a pretty heavy cycle of outreach for this project because it has so many businesses and property owners that are going to be impacted," Yates said.
But business owners say that communication often hasn't led to resolutions.
Just one street over from Cadillac and Susie's is Hugo's Auto Sales, which operates out of two locations, at 525 and 535 S. Elm St. Scarlett Jones, whose father, Hugo Cruz, has owned the business for over 25 years, said they began feeling the effects of the PEC-4 project in December 2019 — effects that were compounded a few months later by the pandemic. Frequent work trucks out front of both of their locations made access difficult for customers, Jones said.
"You don't know how many times I've gotten calls and they're like, 'Um, I don't know where to go through, I'm coming from here but this is closed off and this is closed off,' and I have to play like the GPS," Jones said.
Jones messaged the city on Engage Denton in late May, explaining Hugo's had seen about an 80% loss of revenue between pandemic closures and construction. She was told Ramos would look into her concerns, but said she never heard anything else.
Cruz said he spoke to two men from the city on the phone at different points and asked them to put a sign out front at the business entrance, but never received calls back.
"They didn't give me a solution," Cruz said.
Cruz isn't alone in saying he hasn't been satisfied with the response from city officials. Justin Lee, who has been manager of Hanabi Ramen & Izakaya since it opened in 2017, said intermittent construction on West Hickory has long caused headaches for the business as roadwork has reduced already-limited parking downtown.
Atmos Energy, which is also completing work in the area, has also been blocking one of Hanabi's entrances and several parking spaces for about a month, Lee said.
"We have an outdoor dining area which is critical for us right now just because of COVID restrictions, and we're not able to use that because they're drilling holes outside, pouring cement, and they're just all over the place," he said.
Lee said he talked to the project manager on site and reached out to city officials on the Engage Denton app several times, but nothing has changed.
"The city's slowly moving down the street and approaching us and Atmos is right on top of us," Lee said. "It seems like there's nothing we can do about it."
Atmos' work was also a factor in the last phase of the PEC-4 project, with the company relocating gas line utilities and upgrading infrastructure on South Locust until a few months ago, Garcia said. Further adding to the congestion downtown is work the Texas Department of Transportation began on Hickory about a month ago, and sidewalk work they're completing on Elm.
"Right now, everything that's south of Hickory, we're kind of on top of each other," Garcia said. "Typically, we've been having a lane going down the middle of the roadway with closures on each side. We're working kind of in the roadway and in some of the intersections doing drainage work, and TXDoT is doing their project on the east and west side of Elm Street going down."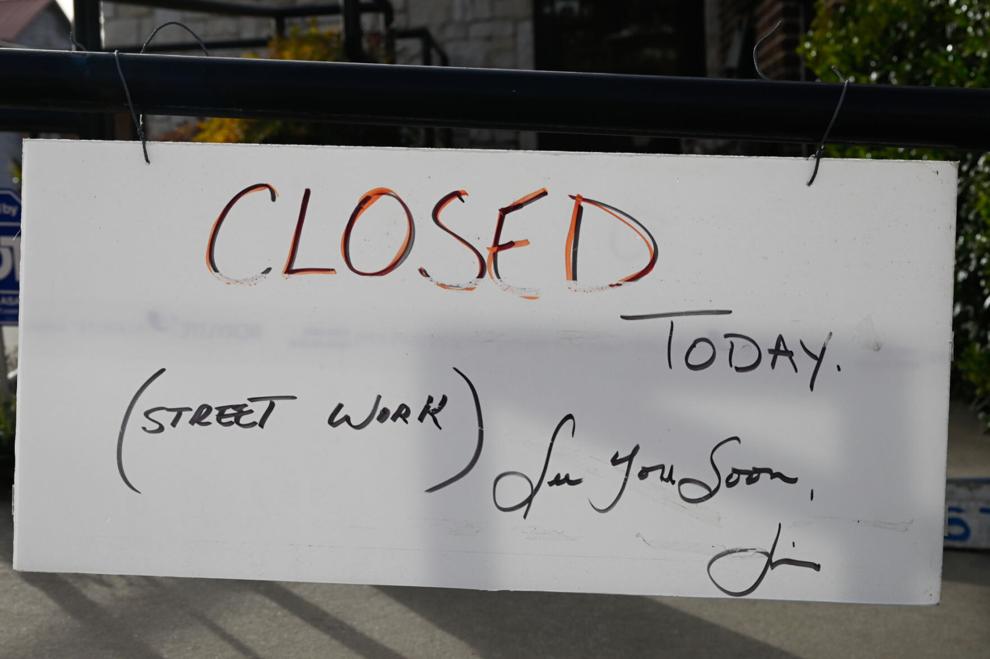 On Hickory, street parking on the north side of the street between Welch and Bernard streets is inaccessible until the current phase of the project wraps up and shifts to the stretch between Bernard and Carroll Boulevard, which is expected to happen in April. That timeline is "a little up in the air" because of Atmos relocations in the area, West Hickory Street project manager Kyle Pedigo said.
The city manager's office is in talks with Atmos to improve coordination about Hickory and future projects, as city construction often impacts Atmos' underground infrastructure, said Rebecca Diviney, city engineer and director of capital projects. The city is also hoping to take the same approach with TXDoT, with whom staff say they are communicating almost daily.
Ultimately, city officials say that while they understand construction can be inconvenient, the long-term impact will be positive for residents and business owners alike.
"We do our best to make sure that access is available to businesses, and ultimately where we're going to land is having higher-quality infrastructure, better sidewalks [and] better storm drainage," Rachel Wood, deputy director of development services, said. "The investments that we're making, while they are a short-term inconvenience — not only to the business owners just because of accessibility concerns, but also to residents who are coming in and out of downtown — we're confident that long-term, we're going to have higher-quality infrastructure that's going to help serve those businesses better."
For business owners like Gilliam, though, that time can't come soon enough. Although the phase of the construction that involved heavy congestion in front of Cadillac and Susie's has largely shifted to Elm Street and Prairie, Gilliam said trucks were back on Locust Friday.
"It's been a long nine or 10 months now," Gilliam said. "There's only about 30 cones in front of my place now, so hopefully things will get better."