In keeping with a campaign to ensure residents are within a 10-minute walk of a city park, Denton officials continue to craft a living document that would ensure development of green space for decades.
"The foundation we are really building is planning for the next 25 to 40 years," said Gary Packan, the city's parks and recreation director. "We've been working on a parks and trails master plan for 18 months. City Council will consider the approval of a contract with consultant Halff Associates on [Dec. 8] to assist the Parks and Recreation Department with completing the Parks, Recreation & Trails System Master Plan. Their focus will be to create the standards based on numerous public input sessions."
The plan, expected to be complete in late 2021, would cover the next 10 years. The last update was completed in 2009.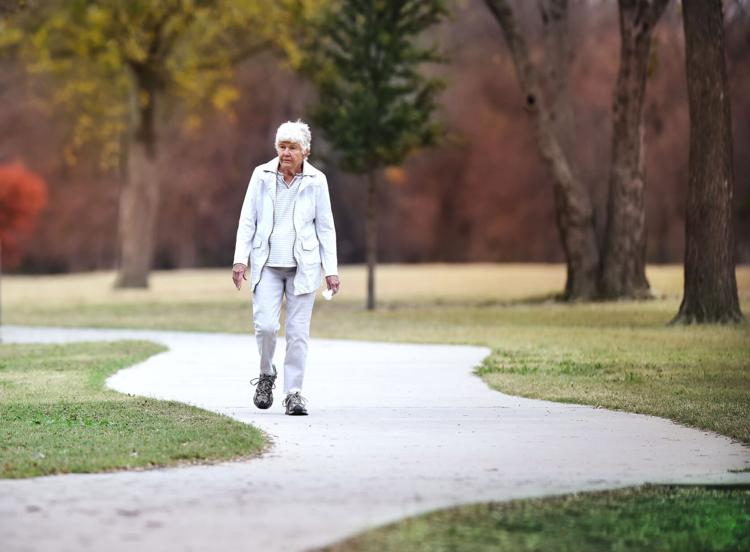 Meanwhile, new playground equipment has been installed at Fred Moore, Milam and Denia parks, with changes planned at Bowling Green, McKenna, Joe Skiles, Quakertown and Mack parks.
"We're in the process of doing improvements to McKenna Park," Packan said. "We have new playgrounds being installed right now, along with major construction on Thomas, Scripture and Bonnie Brae [streets]. The American Legion Hall is under construction near Fred Moore Park, and we also have a new senior [center] at North Lakes Park."
In 2019, residents in a city survey said that at least once a year, they used parks (63%), playgrounds (44%), trails (40%) and recreation centers (24%). But 34% of respondents said they never use Denton facilities because they are not conveniently located. That makes the 10 Minute Walk campaign even more important, Denton City Council member Paul Meltzer said.
"We approved a resolution that as many Dentonites as possible should live within a 10-minute walk of green space or a park," Meltzer said. "That means acquiring property. I personally advocated for money to be put into the 2019 bond program for $5 million, and it was approved."
That was Proposition 3 in the 2019 bond. It provided the city $5 million for land acquisition to develop and build parks. That funding would allow officials to obtain 50 to 75 acres.
"I was concerned about when we actually get to spend that money and acquire property," Meltzer said. "If we do everything that was passed in the bond election all at once, it would take the tax rate above what was communicated to the public. So we are doing the police-related items first."
Meltzer is up for reelection in a runoff against pastor Jim Mann.
Denton's property tax rate did not increase to fund the 2019 bond program. According to city documents, 1% of the program has been completed. By 2024, that number is expected to rise to 84%.
Elsewhere in the 2019 bond package, Proposition 1 provides $154 million in revenue for street improvements and other infrastructure programs. Proposition 2 allocates $61.9 million for improvements and Denton police facilities.
"But parks are important to Denton on a number of different attributes," Meltzer said. "Ultimately, we need a shared vision on green spaces connected by trails as part of quality of life and tree preservation. That is part of economic development, too. We need to continue to be a competitively attractive place to live, and parks and trails are part of that."
Many residents agree. In the 2019 survey, 83% said city parks and other recreational programs are "very important" to quality of life.
"The plan is fairly aggressive," Packan said. "But not everything is going to happen short-term. We have to identify funding and work through every project. As roads are built, along with parks and neighborhoods ... we are literally at the table when those discussions start to happen. We are planning trails along streets, in parks, on major thoroughfares and then on connectors. And we will look at ways to connect schools to parks and parks to neighborhoods."
The planned Southwest Park is part of that process, he said.
"That 280-acre parcel in south Denton will be a major contribution to recreation for the next 100 years," Packan said. "We are trying to get input on that right now."
The property is at South Bonnie Brae Street at Allred Road.
"We will come back with a consultant that will help us 10 years and into the future," Packan said. "It will help us understand where our population is growing and on where to buy land."
The city maintains 23 parks and more than 22 miles of green trails.
"We want trails along streets but also paddling trails and on Lake Lewisville, even equestrian trails where people can bring their horses out," Packan said. "That is really the foundation of everything we do. Exciting things are going on with the parks system, and all have trails going on while roads are being renovated. Trails are always a very high demand in Texas."
The 10 Minute Walk campaign calls for Denton to create eight to 10 new parks or trails to provide access to 16,000 to 20,000 residents.