Monday's march to commemorate the work of the Rev. Martin Luther King Jr. was a mix of the status quo and the radical, with history spoken aloud and hidden in plain sight.
Upward of 150 people marched two and a half miles alongside each other from the UNT Union to the Martin Luther King Jr. Recreation Center.
The annual march was the crown jewel of Monday's MLK Day events, bookended by flag football in Fred Moore Park and a special program at the King recreation center.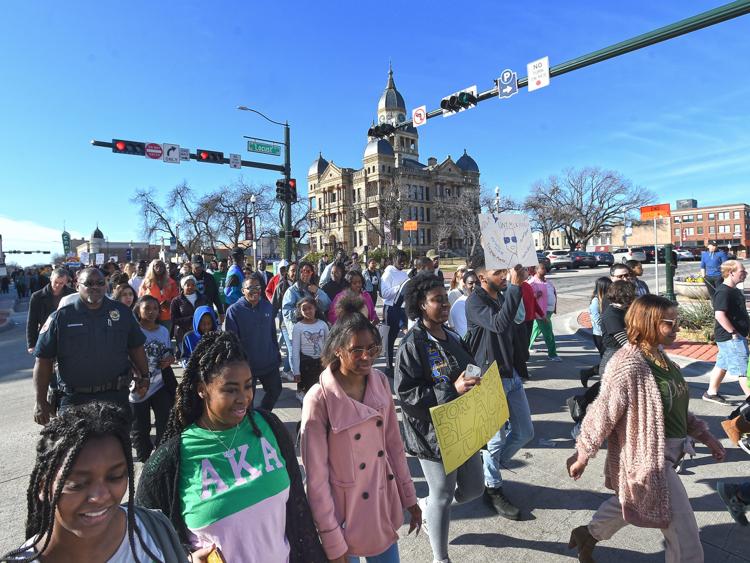 As in years past, the University of North Texas chapter of Alpha Phi Alpha was charged with organizing the march itself.
Senior Daniel Ebomwonyi, an Alpha Phi Alpha member, said King's legacy remains important today as a reminder of how far African Americans have come.
"It's important because we have to know where we came from to know where we're going — know what we couldn't do before and see how far we've come." Ebomwonyi said. "We can't forget something like that."
Some faces were somber, but many more were excited.
Attendees, especially those holding signs, seemed to latch onto a particular aspect of King's work. Some looked to his work in support of voting rights, while others latched onto his adversity to massive wealth inequality.
In conversation, some attendees pointed toward the figurative walk that lies ahead in progressing toward King's dream. One of those was the Rev. Donna Dolham, who leads the Denton Unitarian Universalist Fellowship.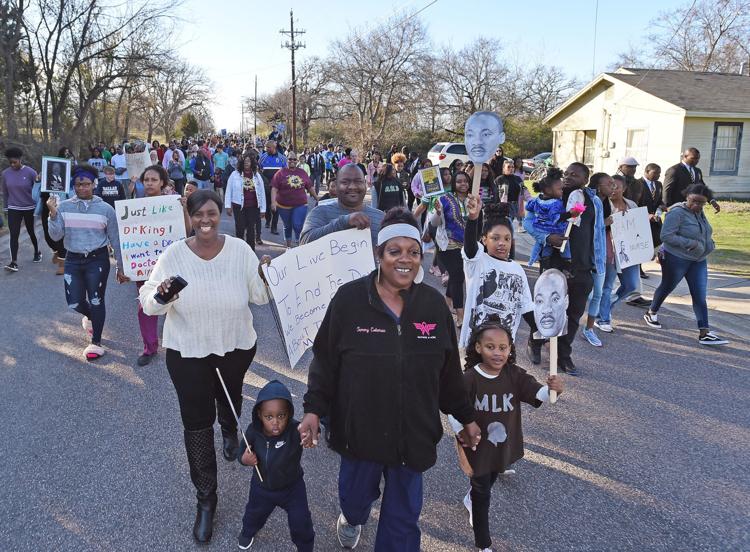 She said members of the church came out as a way to be in community with others and as a show of faith.
Beyond the church's part in the march, she said the march is important because King's work isn't done yet. She pointed to the invasiveness of systemic racism within private prison systems and policing.
When working to root out racism in an organization, Dolham pointed to one question: "In what ways are we stuck by the barrier of white supremacy?"
Following a brief speech, marchers left at about 2:45 p.m. from Union Circle at UNT — a campus that wouldn't have enrolled many of the participants until 1956.
Just after 3 p.m., marchers were passing through Denton's downtown Square. They were sandwiched between a Confederate monument to their left and a rooftop of onlookers cheering them along on their right.
The monument was dedicated on the birthday of Confederate President Jefferson Davis in 1918, during the Jim Crow era.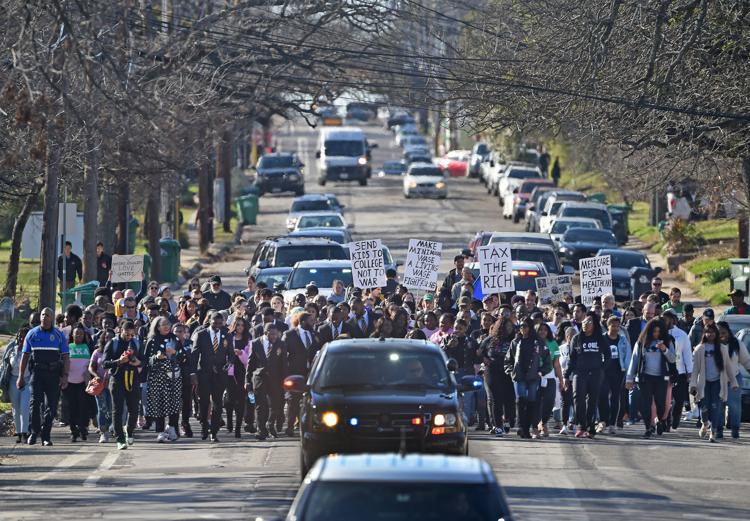 Twenty minutes later, marchers were passing Oakwood Cemetery. Land for the cemetery was purchased by black community leaders so black residents would have a place to bury their dead. One of those most prominent among that group was Fred Douglass Moore, who was buried in the cemetery after his death in 1953 at age 73.
On the other side of East Prairie Street, the crowd surged past Moore's namesake park. Not only was Moore instrumental in acquiring the 5-acre park that now bears his name; his namesake high school is within a half-mile.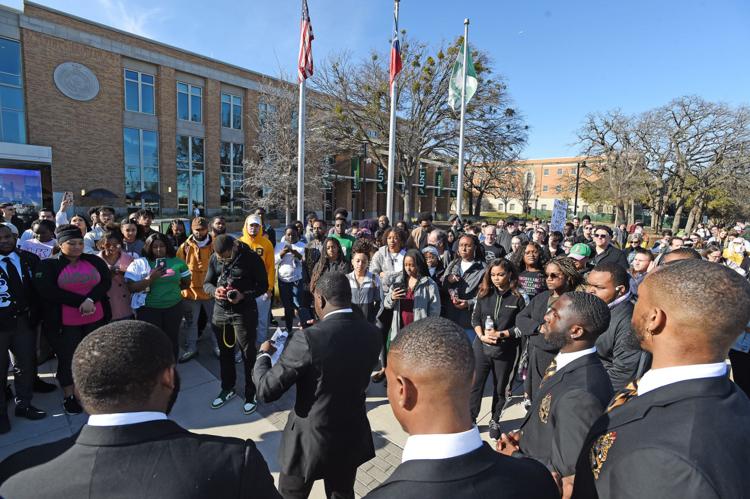 The section of town containing the march's last leg was a relocation site for some of Denton's black residents pushed out of the neighborhood now containing Quakertown Park.
Met by another contingent of marchers at Fred Moore Park, roughly 200 people made their way up the sidewalk to the Martin Luther King Kr. Recreation Center on Monday afternoon.