EDITOR'S NOTE: An earlier version of this story incorrectly stated that a 34-year-woman was arrested on an ordinance violation related to a weapon. She was arrested on two local violations: being out past curfew and having a sign with rigid components.
For more than five minutes Tuesday evening, chants of "I can't breathe" from protesters lying and sitting at Hickory and Locust streets echoed throughout the Square.
The crowd in downtown Denton was smaller Tuesday, but the message was as clear as Monday's: The United States needs police reform to end police brutality toward black people in America.
Protesters marched again against police brutality following George Floyd's death May 25 after a Minneapolis police officer — now fired and arrested — kneeled on his neck for about nine minutes. Floyd's death sparked a national outcry against police violence and demands for change in policing.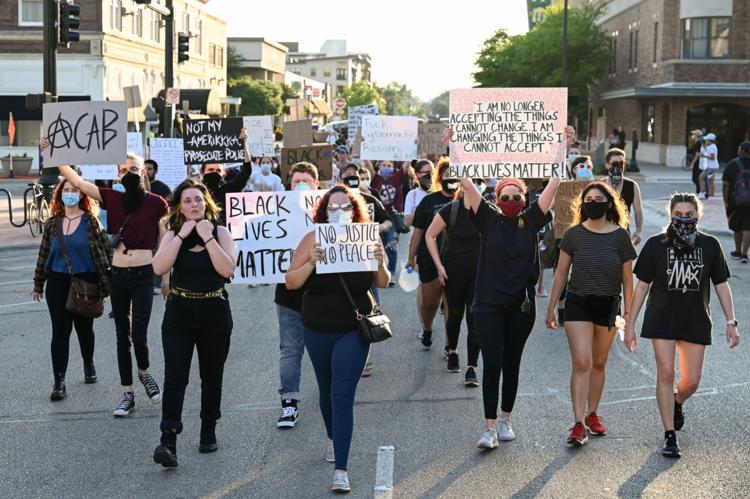 "This country was built on the backs of slaves," said protester Stacia Hallman. "White people do have a privilege, and if you're uncomfortable recognizing your privilege, it means something is off."
City streets surrounding downtown closed at 6 p.m. ahead of protests on the Square. As people left restaurants downtown ahead of the 9 p.m. curfew in select parts of Denton, several drivers honked their car horns in solidarity with protesters — a symbol that's become common across the country.
Arguments and discussions broke out between protesters and religious preachers, counterprotesters and people in favor of the Confederate monument that stands on the Square, but many ignored the others for the most part.
Demonstrators taped signs in favor of the Black Lives Matter movement on the monument Monday. On Tuesday, protesters brought a banner with the movement's name and held it up against the Confederate memorial.
Thousands continue to protest across the country following the deaths of Floyd, Breonna Taylor and other victims of police violence.
"[Floyd] was the last straw," Kashala Thomas said about the many protests. "It pushed it the point of no return and we're tired."
Veronica Chavez sat next to Thomas as they and Emma Chavez held their signs.
"My family was racist growing up or silent [toward racism]," Veronica Chavez said. "I just don't think that's the right thing to do."
Police Chief Frank Dixon said the Denton Police Department would handle Tuesday's protest as they did Monday: seek voluntary leave rather than force people away from the Square.
"My stance is going to always be as long as people are respectful like yesterday and we're getting the message across, we're not going to [say] at 9:01, everyone leave," Dixon said. "A vast majority of people who came out [Monday] left at 10."
As the sun began setting, the number of protesters didn't die down. Energy dimmed down, but rose again when night fell as protesters listened to speakers and marched again.
"We're tired," resident Julian Carter told the crowd Tuesday night. "We've been tired. ... If you catch people doing racist s--t, call them out."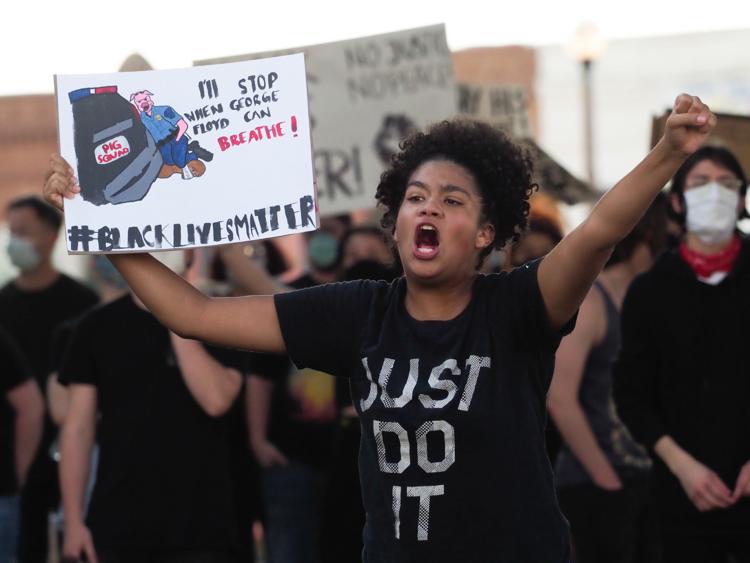 Several arrested Monday night
Denton police arrested two women late Monday for violating the city ordinance regarding peaceful protesting, a department spokesperson said Tuesday.
The city of Denton established an ordinance through June 7 to promote peaceful protesting after reports of rioting and looting in the U.S. surrounding police brutality protests after Floyd's death.
Dixon said Monday that people violating the order — which established a curfew from 9 p.m. to 6 a.m. and prohibits bags larger than clutch bags, weapons and projectiles or signs with components that could be used as weapons — could be arrested.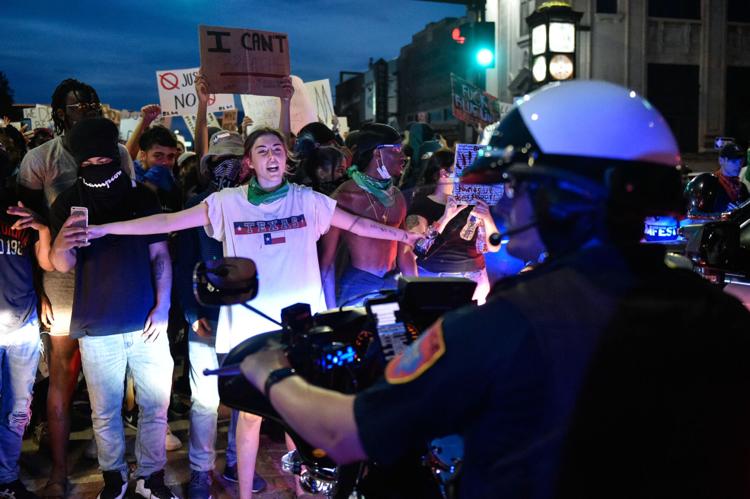 Denton police spokesperson Allison Beckwith said about 100 people were still at the Square around 11 p.m. Monday, two hours after curfew.
Three women were antagonizing police and protesters late Monday and fled on foot, but Denton police were able to arrest one of them. The 19-year-old woman was charged with Class C city ordinance violations.
Around 11 p.m., Beckwith said police had protective shields and riot helmets to protect themselves from any projectiles. Officers were announcing that the curfew was in effect and that protesters needed to leave.
A 34-year-old woman allegedly used a riot shield bearing the words "no justice, no peace" to hit officers' riot shields.
She was arrested on two local violations — being out past curfew and having a sign with rigid components. Beckwith said the riot shield was turned into a sign and had rigid components, which the ordinance prohibits.
An inmate booking report from the Denton County Sheriff's Office showed the department booked two people into the Denton County Jail early Tuesday on riot participation and criminal mischief charges.
Protests in the city have grown in size since Saturday as more people join in to stand up for African Americans and speak out against police brutality. Monday's protest brought out thousands of protesters as they marched across the city, chanting and calling for change from 6 p.m. until late in the night.
The veterans memorial on the Square was spray-painted Monday, and there were cardboard signs on the Confederate soldier monument, but both were cleaned up by Tuesday morning.
Indivisible Denton has announced protests at 6 p.m. through Monday, starting outside the Denton Police Department on East Hickory Street.
A third night of protests in Denton