CORRECTION: The spelling of Sarah Kuechler's name has been corrected in this story.
Denton recently joined other cities in a data-sharing partnership with Waze to help motorists deal with local traffic.
Waze is a free navigation application for smartphones that alerts motorists to traffic hazards. The information is compiled from the app's users and from official sources. The app was developed in 2006 as FreeMap Israel as part of Waze Mobile. Google bought the company and the Waze software in 2013.
Denton now uploads its road and utility construction plans to Waze once per week so Wazers (as the users are called) can see the latest information on local closures. In addition, the city's capital projects team can view information Denton motorists are sharing in real-time.
"The information is two-way," said Sarah Kuechler, Denton's director of public affairs.
The city announced the partnership with a news release in mid-February. Thais Blumenthal de Moraes of Waze said the partnership should help improve local commutes.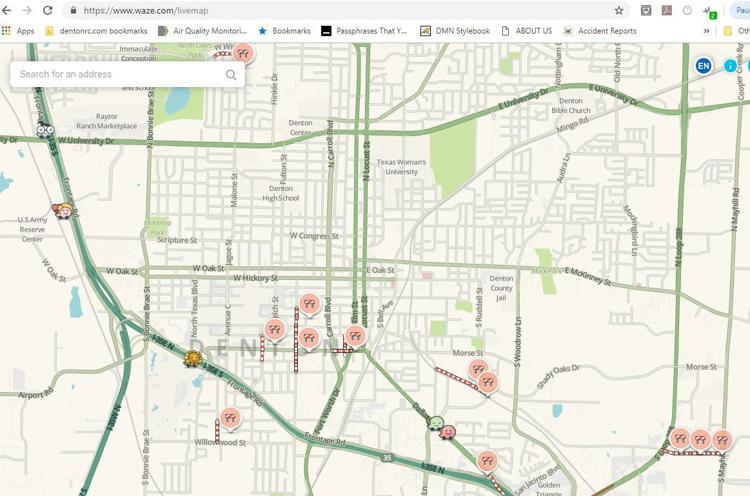 "The Waze map evolves with every driver and data point added, so through this effort, we're improving mobility on a local level," Blumenthal said in a statement.
With Denton's regular participation, Wazers can see real-time alerts of more local road closures and other obstacles, such as accidents or downed signal lights, and get navigation help to avoid traffic congestion, if needed.
The app's default settings let drivers report hazards and add or edit places, but it also allows other users see your approximate location. Motorists can switch to invisible mode to appear as if offline and keep identifying information off the map.
Wazers also can alert city officials to the location of potholes and other road hazards that need attention. (Denton has another free app, EngageDenton, for reporting a wider variety of issues, including sidewalks, signaling, street light outages and more.)
Waze is integrated with Apple CarPlay, giving motorists easy access directly from the car console. The app also has a roadside assistance feature that connects motorists with police, ambulances or the fire department in an emergency without leaving the app.
To learn more, visit waze.com/ccp. The app is available on Google Play and in Apple's App Store.