This story has been updated to reflect that the Denton Fire Department's response time to the Alicia Ridge residence took eight minutes.
Spaghetti was cooking on the stove when neighbors Alicia Ridge and Kari Edney were shocked by a lightning strike in the 3000 block of Armstrong Street.
Storms crawled their way across Denton County on Wednesday evening, bringing wind gusts upward of 70 mph.
That wind, coupled with at least half a dozen fires caused by lightning strikes, including one at Ridge's house, made life harder for people across the area. Ryan Adams, a Denton city spokesman, said more than 10,000 people experienced a temporary loss of power due to the storm.
Nearly 2,200 people were without power for a few hours, and seven Denton Municipal Electric customers experienced an outage lasting more than 12 hours. Everybody who had lost power during the storm had it restored by 10 a.m. Thursday, Adams said.
Five of six reported broken utility poles were located between University Drive and North Loop 288.
"Due to the sporadic nature of limb and tree falls, the city will not be conducting additional tree and limb pickups," Adams said via email Thursday. "Residents who have limb and tree debris are asked to cut limbs to 4-foot lengths and stack them into a single pile for pickup on your scheduled service day. If there are any questions, please call 940-349-8700."
Amid the aftermath
Edney, a neighbor from across the street, was reaching into the refrigerator to grab some juice while Ridge was working on a nearby computer when the bolt hit the roof above.
"It was a horrible sound," Ridge said. "It was like a big loud 'pop' almost."
"Like a gunshot, kind of," Edney said.
Edney said the light above her exploded before she collapsed to the floor. Both recalled a burning or tingling sensation in their hands.
"I fell to the floor and then crawled around to [Ridge] and couldn't hear anything — it was bad," Edney said.
Ridge said her daughter Brooklynn, 3, was crying, but nobody else was harmed. Her 9-month-old son Zane, who stared curiously from his perch on her hip Thursday afternoon, had been in a plastic highchair during the lightning strike.
"The next thing we knew, our neighbor was banging on the door telling us to get out," Ridge said.
She remembered thinking it might have been the police knocking.
"She said, 'It's your neighbor. Get of the house, your house is on fire,'" Ridge recalled.
The Denton Fire Department arrived within eight minutes after being dispatched.
Ridge said the bolt struck right above her 15-year-old son Kerrington's room.
"The kids upstairs were OK, and I'm thankful to God for that because it was above his room where it actually hit," Ridge said. "He was in there. He was in his room."
While the family took refuge in Edney's house, a friend brought them all fast food to replace the spaghetti left abandoned. At the advice of police, Edney stayed awake all night to watch for looters.
Several blocks away in the 3300 block of Cooper Branch East, J.T. King was cooking dinner — Korean pork chops — for his family when the storm rolled through Wednesday evening.
"The trees were just waving back and forth, and I didn't think much of it," King said. "I just thought, 'Wow, that's a strong wind,' but I thought more of it when the tree came down."
About 18 hours later, King was cooking a late breakfast for his kids while a two-man crew worked to clear the fallen branch from a flattened section of his fence.
A few miles west, in central Denton, Kevin Nielsen had to see his 1979 Pontiac Grand Prix crushed by a fallen tree outside his house in the 1800 block of Carlton Street.
Trinity Nielsen, his college-aged daughter, said Thursday afternoon that he'd been repairing the car over the course of several years.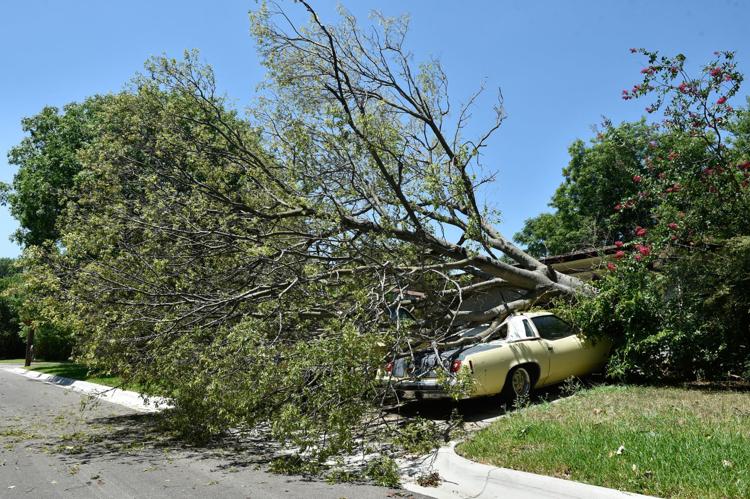 Back on Armstrong Street, a crew was clearing a bit of clutter out of Ridge's house Thursday morning. She had been told to expect repairs to take six to nine months. Until then, her insurance company is expected to put the family up in a hotel.
With electricity unavailable, the entire home was cast in shades of blue as sunlight filtered through tarps laid over holes in the roof.
Charred beams filled the house with a smoky scent that mixed uneasily with the damp insulation covering nearly every surface. Bits of drywall and popcorn ceiling crunched underfoot.
Shredded insulation dripped water from a second-floor walkway, making a puddle in the hallway below.
In 3-year-old Brooklynn's room, a framed Bible verse hung beside cutouts of an anchor and oars above the bare floor and overflowing crib.
"When you go through deep waters, I will be with you," Isaiah 43:2.