Editor's note: An earlier version of this story misstated how long Denton's curfew lasts. The curfew is in effect from 9 p.m. to 6 a.m. nightly through June 6, expiring at 5 p.m. on June 7.
Denton-area residents voicing concerns and frustrations over the death of George Floyd gathered for the second night of protesting Sunday at the Courthouse on the Square, where community members called for greater police accountability.
Protesters held signs with messages such as "Police the police" and "Let my people breathe," an ode to Floyd, a black man who died after a white Minneapolis police officer held his knee on Floyd's neck for more than eight minutes. The fired officer, Derek Chauvin, has been charged with third-degree murder and second-degree manslaughter. Floyd's death has sparked demonstrations and civil unrest in communities across Texas and the United States.
Zoey Smith, 22, said what brought her out to Sunday's protest was the status quo of policing actions against members of the community who are predominantly black. She said even in a progressive city like Denton, there's still racism and reminders of what the country was built upon — pointing toward the Confederate soldier monument on the courthouse lawn.
"I see the hurt, I feel the anger," said Smith, who was 13 years old when Trayvon Martin was killed. "I'm still seeing this stuff happen every single day. Nothing can change until our way of thought changes, because racism is taught — it's not natural."
She said as a black woman, let alone a gay black woman, she does not always feel safe but she is fighting for change.
"You see all these people and you see their support, but you also see all these people walking by, not saying anything, not caring and just going on with their lives, because it doesn't affect them," Smith said.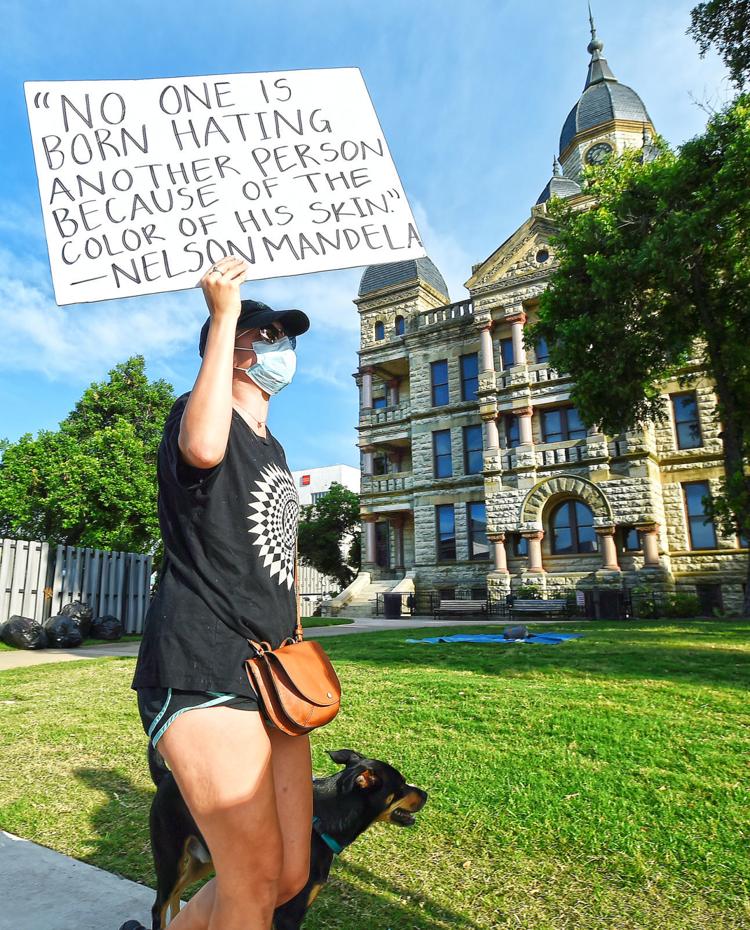 Sunday's protest in Denton drew scores of people and stayed calm. There were no arrests, and no confrontations were reported between protesters and members of the Denton Police Department or Denton County Sheriff's Office on Sunday, although there was a significant law enforcement presence throughout the evening.
The curfew is in effect from 9 p.m. until 6 a.m. through Saturday, unless extended.
While some of the protesting stretched past curfew by about an hour, Denton Police Chief Frank Dixon had noted earlier in the evening that violating the curfew is an arrestable offense.
"Like many of you, I was deeply shocked and saddened by the senseless killing of George Floyd," Watts stated. "I support the right of every citizen to peacefully protest to express their anger, sadness and call for reform; however, at this time we must do all we can to protect those in attendance, other bystanders, and the surrounding area from any potential harm. This order will help ensure our residents will make it home safely and protect private property from damage."
Dixon said it's frustrating to see other officers tarnish the badge — speaking, he said, as a black man who is a police officer and chief. As significant aspects of Sunday night's gathering focused on institutional racism, Dixon said the problem is not just a police issue; instead, it's a multitude of problems, including food deserts, educational divides and shortages of affordable living.
"With a number of different things in our society that builds up to this, the police department probably has the most visible representation of government itself," Dixon said in an interview Sunday. "Then, when you account the crazy national climate and all the rhetoric being spewed on both sides of the aisle and no one really working for true change, it spills down to us on a local level."
Dixon said now is the time to seize the opportunity to work together and be a model for the rest of the country.
Another protest is planned for Monday at 6 p.m. at the Courthouse on the Square.