CORRECTION: An earlier version of this story gave an incorrect date for Todd Hileman's last day as Denton city manager.
Incoming interim City Manager Sara Hensley has named Denton Police Chief Frank Dixon the city's interim assistant city manager.
"Beginning [Monday], the city will adopt a slightly-modified, interim organizational structure which will be in effect until a permanent city manager is selected by the city council," city documents state. "Denton Police Chief Frank Dixon has accepted an interim assistant city manager assignment with several departments reporting to him in addition to the Denton Police Department (where he will continue to serve as chief of police)."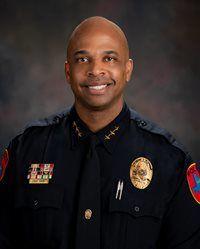 The Denton City Council chose Hensley on Feb. 2 as interim city manager to succeed Todd Hileman, who came to Denton in January 2017. Hileman has accepted the same position in Palm Desert, California, and his last day is set for Feb. 26.
Hensley has been deputy city manager since August, having joined the city in May 2019 as assistant city manager. The city resolution shows that Hensley will be paid $245,000 as interim city manager, and that her first day in the new position will be Feb. 20. Hileman's salary is $267,800.
Ryan Adams, the city's director of customer service and public affairs, said Dixon will serve in the same capacity "as any assistant city manager." Dixon will maintain his duties as police chief while also overseeing the Denton Fire Department and EMS, human resources, safety, facilities/airport, risk management and real estate.
Dixon was sworn in as police chief in October 2018 after spending more than 23 years with the Austin Police Department. He is a veteran of the U.S. Marine Corps, with a master's degree in criminal justice from Lamar University in Beaumont and a graduate of the Police Executive Research Forum's Senior Management Institute and the Major Cities Chiefs Association Police Executive Leadership Institute.
"Several cities in the metroplex have done this and doing it right now, including North Richland Hills," Dixon said. "When you look at the departments I'll be working alongside, it's really a lot of interconnectivity there. I've been in my profession over 26 years now, but I would challenge anyone that would say I'm not qualified."
Denton City Council member Paul Meltzer called Dixon's appointment "positive."
"It's certainly unusual," he said. "I wouldn't have anticipated it, but Chief Dixon is a very experienced and capable manager who I would have a great deal of confidence in."
Hensley's appointments do not require City Council approval.