Demonstrators rallied on the Square on Saturday afternoon in support of Darius Tarver — a 23-year-old University of North Texas student who was shot and killed by Denton police last year — with his father Kevin Tarver, civil rights attorney Lee Merritt and Denton City Council member Deb Armintor in attendance.
In mid-March, the Denton Police Department officer who shot Tarver was not indicted after a Denton County grand jury returned a no-bill in the shooting.
In January 2020, four officers responded to a call about an early-morning disturbance at an apartment complex. Tarver was shot a total of three times and was later pronounced dead.
About 50 demonstrators at Saturday's rally held signs promoting Black Lives Matter and social justice as well as remembering Tarver. They advocated for disciplinary action to be taken against the involved officers, with many holding signs referring to two particular officers as "Denton's killer cops."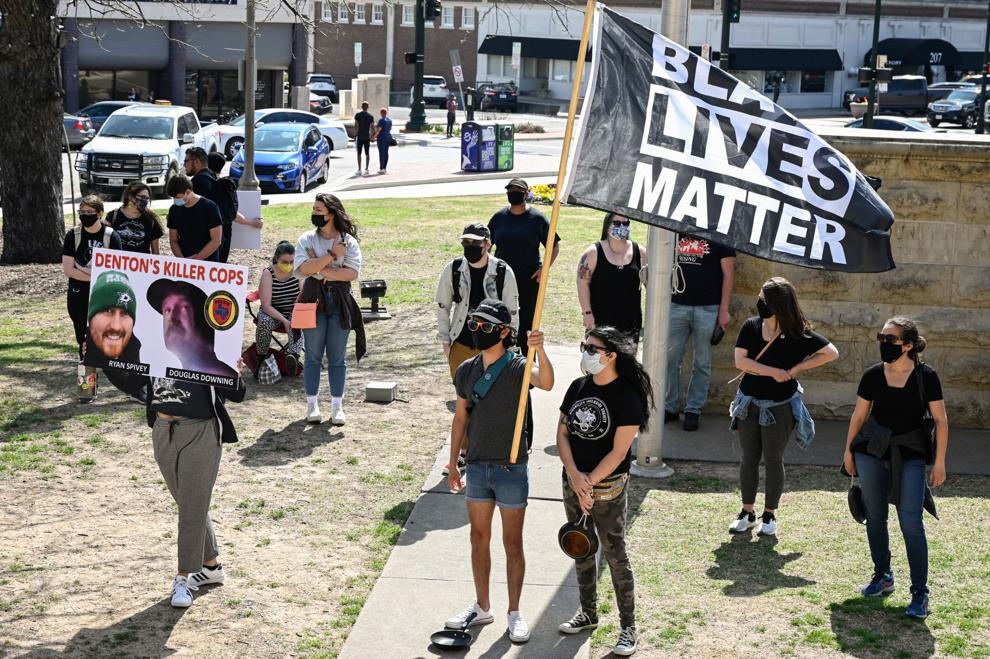 Tarver's father, Kevin Tarver, spoke at the rally, maintaining that the Police Department did not fairly break down the video footage of his son's shooting and stating that the department has lied to him throughout the process.
At a press conference last year, Denton Police Chief Frank Dixon released body camera footage of the incident, which showed officers telling Tarver to put down a frying pan and meat cleaver several times before he was shot with a Taser stun gun and then with a handgun. Dixon defended the officers' actions in the footage, though Kevin Tarver has disputed his review, claiming officers did not properly de-escalate the situation.
"I want to see the officers resign," Tarver said. "If they're still on this force, somebody else's kid is in danger."
Tarver was working on a second bachelor's degree in criminal justice at UNT. Friends and family told the Denton Record-Chronicle in 2020 that he'd been acting differently in the days before his death, which followed a car crash that sent him to the hospital.
Several other people spoke at the rally, including council member Armintor, who also advocated for the removal of the involved officers.
"I think it's ridiculous that that's controversial," Armintor said. "As far as I'm concerned, that is just basic, good governance."
Merritt, Kevin Tarver's attorney, said the next step for the family will be pursuing federal intervention in the case.
"I'm broken-hearted that Darius couldn't be here with us," said Merritt, who also represented the family of Dallas shooting victim Botham Jean in 2019 and recently announced a run for Texas attorney general. "With the amount of people who are here today, I think we can change Denton, North Texas and we can really change this country — we don't need to add any more names to the hashtags."
Kevin Tarver spoke last before the rally concluded, saying in part that he believes his son's death can result in major change and help other families avoid similar tragedies.
"Now, we're connected with so many families that have experienced this," Tarver said. "This is a club nobody wants to be in. So when I fight and I stand, I'm not just fighting and standing because of Darius — I'm fighting because of you."