Around 60 people turned out on the lawn of the Courthouse on the Square on Monday evening for a Disability Pride Month rally.
Co-hosted by local organizations the Disability Inclusion Society and the Self Determination Group, the Disability Justice Now rally marked the 31st anniversary of the Americans with Disabilities Act being signed into law. Activities included music, a presentation from American Civil Liberties Union strategist and disability advocate Alejandrina Guzman and a march around the Square to conclude the night.
"We are here to celebrate Disability Pride," Cindi Paschall, a Self Determination Group leader who led the event, said. "To let everybody know we are not ashamed of who we are and that there has been progress for the Americans with Disabilities Act that has not been fulfilled."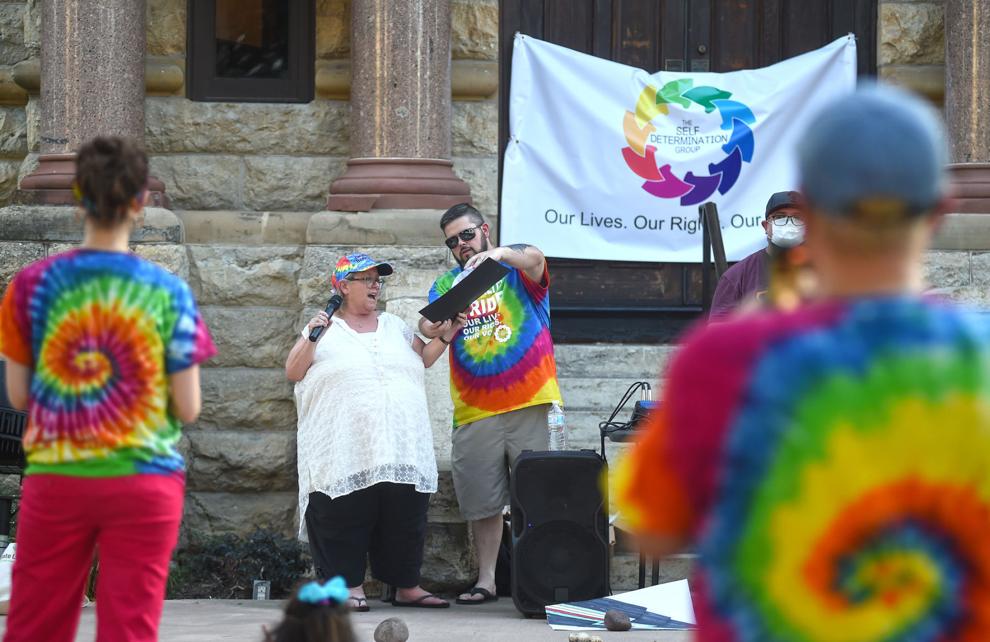 The ADA has provided protections for disabled Americans against discrimination. Also on Monday, President Joe Biden announced that Americans who suffer from "long COVID," in which symptoms of the virus persist for weeks or months, may soon qualify for benefits under the ADA.
However, for attendee Ray Soller, a Denton resident who has a mobility disability, the law provided the "bare minimum."
"Thirty years isn't very long and we haven't done much of anything since," Soller said. "We don't have marriage equality, a living wage; we're still allowed to pay disabled less than minimum wage. There are a lot of issues."
There was also the topic of accessibility for many. When the COVID-19 pandemic resulted in a nationwide lockdown, nearly every organization was forced to invest and switch to virtual means of communications, such as videoconferences for meetings and events.
For Disability Inclusion Society founder Val Vera, who organized Monday's rally but couldn't attend due to a family emergency, so much suddenly became accessible.
"The pandemic opened up this whole new world," Vera said during an earlier phone interview. "Suddenly, we had Zoom — being able to see your doctor on a Zoom call. We had curbside pickup, telehealth, telecommuting, tele-education. Suddenly, it was an even playing field."
Nearly 18 months after the country locked down in March last year, many of those same groups are transitioning back to a primarily face-to-face, physical model for interactions. For Vera, this means a step back in accessibility.
"I think when people say we're going back to normal, it means they're going back to ableism," Vera said. "The abled community failed to realize what disabled people had been asking for — telehealth, commuting, food delivery like curbside pickup, all of that had to be requested for years. Now that there's a perception that the pandemic is dying down, it's time to go back to normal, which just means what able people want and are able to do. Back to mobility issues, transportation issues, money issues, so it's back to the pre-pandemic days."
The transition also affected entertainment for some disabled, including Soller.
"For instance, I've been kind of sad to see a lot of music and art in Denton that used to have virtual options and assistance," Soller said. "Now they've gotten rid of it. Like, J&J's [Pizza] is closing and I wanted to be a part of that but I can't for two reasons — they only have stairs and no streaming options."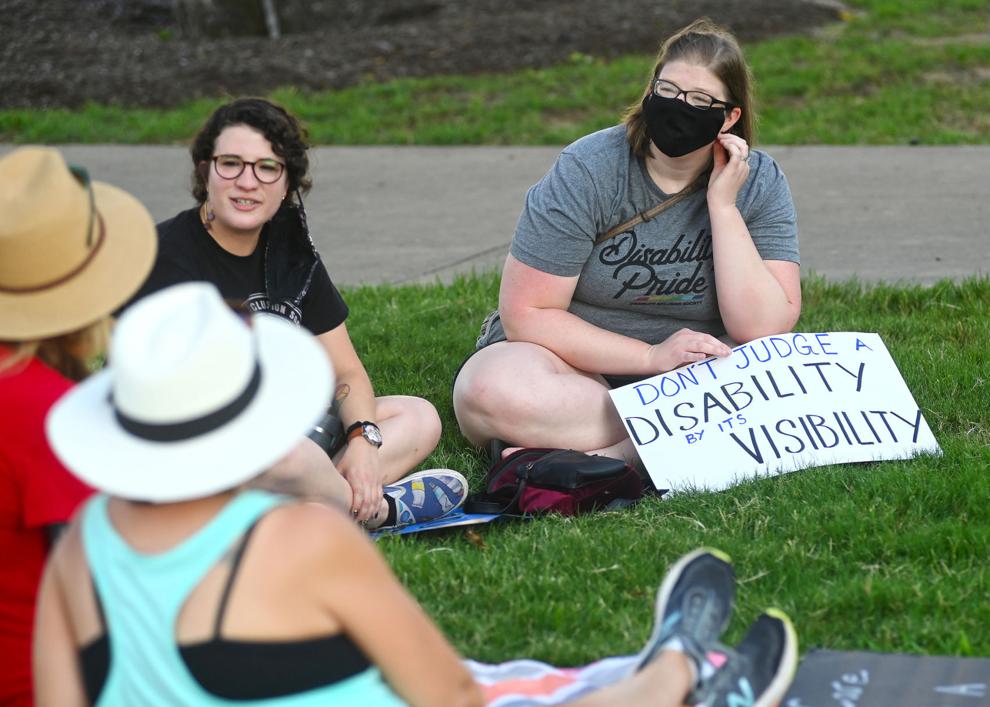 Then there was the discussion over current voting legislation. Both chambers of the Texas Legislature have either drafted or passed bills that would enact restrictions on voting-by-mail, drive-thru voting and other measures. For Guzman, who uses a wheelchair and has an assistant, this legislation is hostile to disabled people.
"Essentially, SB 1 and HB 3 creates a shilling effect for people who assist disabled voters," Guzman said of the legislation. "For someone like me, I need assistance to help me vote."
Soller also said they didn't think the bills would benefit any voters, disabled or abled.
"Voting is generally inaccessible already," Soller said. "People at the polls generally have very limited training and don't know how to work the equipment; getting to the polls is hard, and making mail-in voting hard impacts mostly disabled people — also, people who are busy or have kids."