Sarah Shirley felt a little lost as a freshman at the University of North Texas four years ago as she searched for her niche in a new school.
Shirley played in the band at Denton High School but didn't have time to join the Green Brigade, UNT's halftime show, so that was out.
"I was getting a little stir-crazy doing nothing but going to class and work and needed something to do," Shirley said.
The perfect path opened when she clicked on an email early on in her time at UNT. The school was looking for the next group of students to play Scrappy, UNT's lovable eagle mascot.
Shirley decided to answer the call (or caw, depending on the way one looks at it) and embarked on a life-changing experience.
Over the past 3½ years, Shirley donned the Scrappy suit, cheering at games, visiting with young fans and representing UNT at a variety of events. Shirley graduated this spring, a milestone she commemorated by posting her senior pictures on Twitter. She wore the familiar claw feet and a No. 1 Scrappy jersey for several of those photos.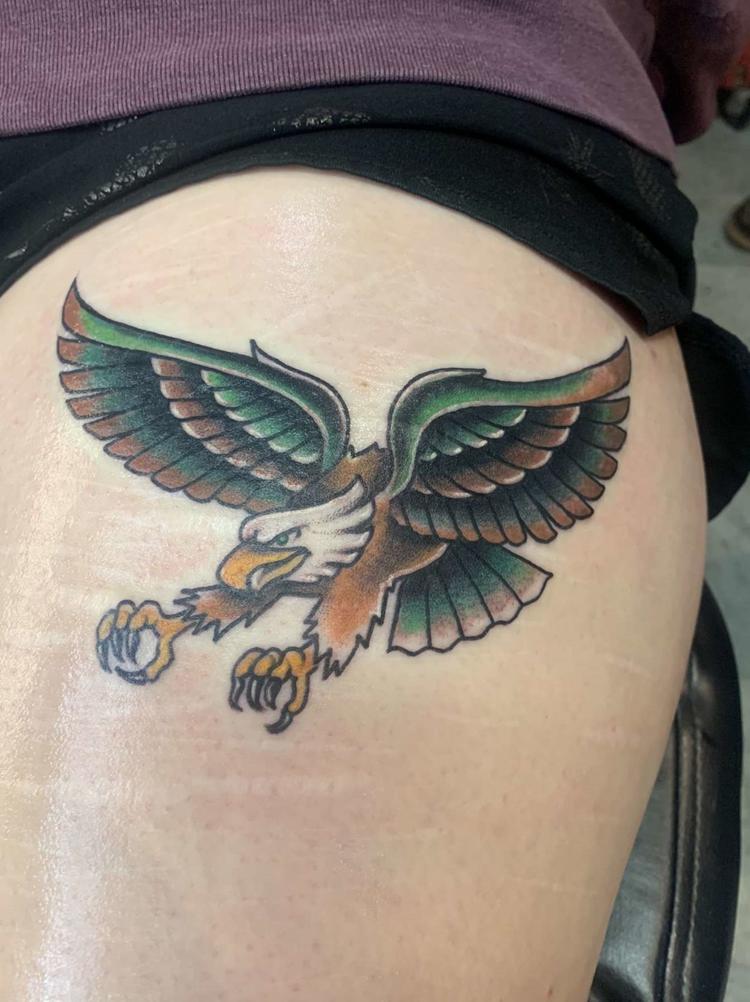 Shirley has a much more permanent reminder of her time as Scrappy in a tattoo of a green eagle on her thigh, an indication of how her time in the suit settled into her soul.
"It was my place," Shirley said.
The role meant so much to Shirley largely because she could see the impact her efforts made, especially for children. Shirley has saved some of the drawings and scraps of paper young fans have given her over the years with phrases like "Go Mean Green" written on them.
"The kids love it," Shirley said. "They get so excited that they have tears streaming down their face because Scrappy is just the best thing to them. Scrappy is a superhero. I have teared up at times. The kids give me a hug. To see people so happy makes my day."
Making children smile is just one of the memories Shirley has made in her time as Scrappy.
She sneaked up on Dallas Cowboys quarterback Dak Prescott while he was sitting at The Star in Frisco during the Conference USA basketball tournament.
"I scared the living daylights out of him," Shirley said. "He almost fell out of his chair."
Shirley also cheered the Mean Green on at the New Mexico Bowl in 2018 and represented UNT in a national spirit event last spring in Florida, where Scrappy finished third in the mascot competition.
Shirley wasn't in the Scrappy suit that day but played a key role in UNT's performance as well as the growth of UNT's spirit program over the years.
UNT moved its spirit program from athletics to the student activities department just before Shirley joined the ranks of students who play Scrappy.
Tracy Frier serves as UNT's assistant director for spirit and traditions. She led the search for students to play Scrappy and quickly brought Shirley into the fold after seeing what she had to offer at an audition. UNT usually has about half a dozen students rotate to cover the 250 or so appearances Scrappy makes at events throughout the year, including games and university functions.
Shirley fit in the role right away.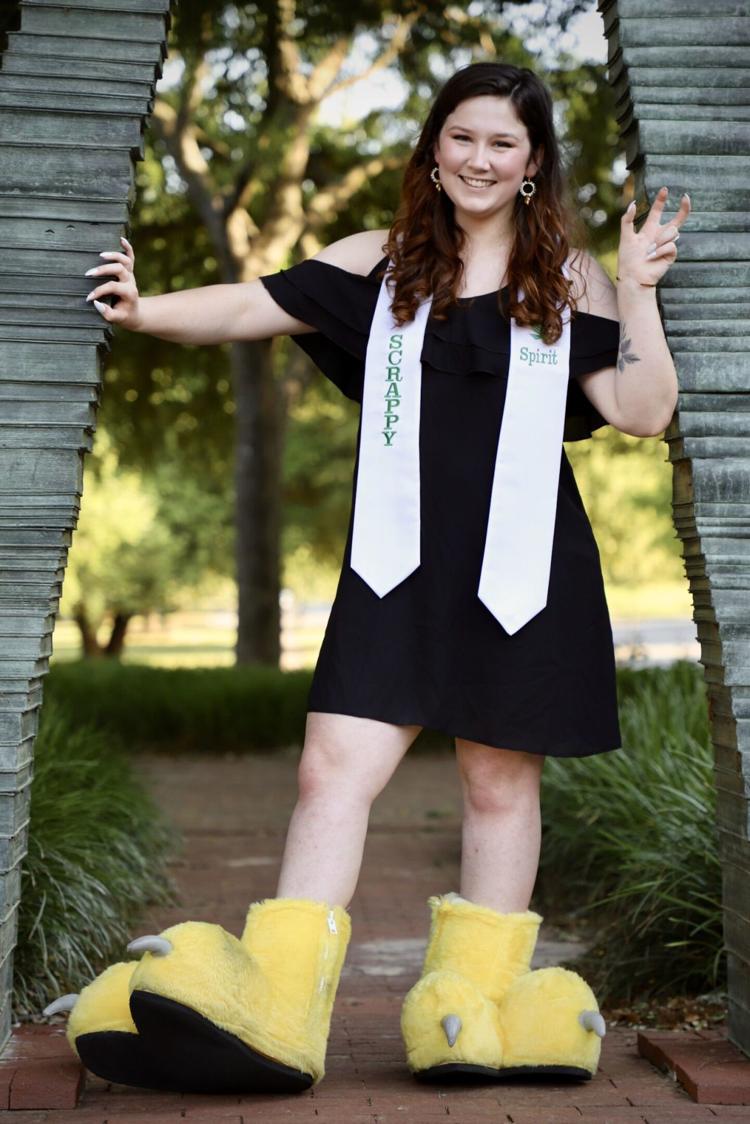 "Sarah's a leader on our team," Frier said. "I'm really going to miss her. When you need someone to do something, she steps in and does it. She's made the most appearances of anyone on our team this year and was a close second last year. We are going to feel it when she is gone. She is still doing things for us now."
Frier made sure Shirley was in the right place when UNT played the University of Texas at San Antonio last fall so that her boyfriend could propose to her in an elaborately staged moment.
Shirley said yes and is planning to get married later this year.
While Shirley's time as Scrappy lasted just a few years, her love of the school dates back to childhood. Shirley's father, Mike, has worked at UNT since 1997 and currently holds a job in information technology at Discovery Park, a branch campus dedicated to the sciences, technology and engineering.
Mike Shirley has had season tickets to UNT football games since the early 2000s, when he enrolled his daughter in the Junior Mean Green Club. The program for young fans is now known as The Scrappy Squad.
Young fans were assigned a member of the team as a buddy when Sarah joined the program.
"She became a diehard fan back in the day of Darrell Dickey and run the ball, run the ball, run the ball," Mike said. "She got to the point when she was 6 or 7 that we couldn't leave a game until it was over, even if we were up by 50 points. We had to stay, so she could go out of the field to see her Mean Green buddy and try to find Scrappy."
Mike once suggested that Sarah look at other options for a college when she was in high school. The tears immediately started to well up in her eyes.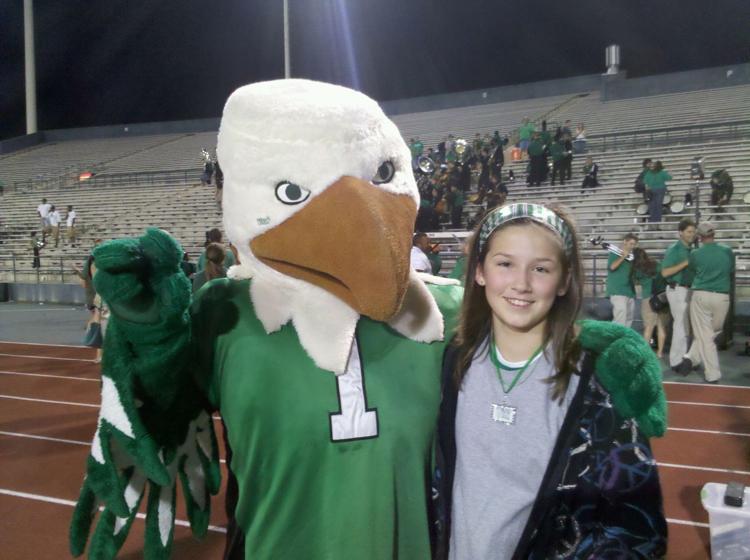 Mike quickly realized there was only one place his daughter wanted to be, the school where she grew up loving to listen to Boomer the Cannon on Saturdays. The Talons, a UNT spirit organization, fire off a shot after the Mean Green score at home games.
Shirley persuaded members of the group to teach her how to fire the cannon. They let her fire off a shot during a student orientation event.
"It was like I was a kid," Shirley said. "I thought it was the coolest, loudest thing ever when I was young."
The memory is one of several Shirley will cherish as she moves on in life. She majored in rehabilitation studies and hopes to work with at-risk children and people battling substance abuse issues.
Shirley is also holding out hope that she can find a role as a mascot coach at a college. Opportunities are scarce, even in the growing field.
Shirley gained plenty of experience while keeping her role as Scrappy secret, a standard in the program that helps maintain the illusion that UNT's mascot is a single person.
It isn't until graduation that students who serve as Scrappy unveil their identity by wearing the claw feet that are part of the costume when they walk across the stage.
Shirley didn't have that opportunity after graduations were canceled due to the spread of the novel coronavirus. She settled for wearing her Scrappy gear in her senior photos.
The time she spent taking those photos was one of the final steps in a journey in Scrappy's claws she cherishes.
"Everyone wants Scrappy at their events," Shirley said. "I have traveled all over the country for football games and competitions and met mascots from all over. It's been crazy."