Both politics and public health drove the Denton City Council's 5-2 split decision to increase the distance between old gas wells and new homes earlier this month, the first major change to the city's rules for gas wells in almost five years.
The vote followed about 90 minutes of compelling public testimony and another hour-plus of deliberations during the council's regular meeting on Nov. 19. Both council members Gerard Hudspeth and Deb Armintor opposed the stiffer requirement — more than a year in the making — but for different reasons.
The decision could affect how thousands of acres of land on the city's southwest side develop in the coming years. Hunter and Cole Ranches, for example, are dotted with old gas wells and miles of high-pressure pipelines. Developers plan to build 15,000 homes on the land over the next 10 years or so.
Armintor tried, but failed, to postpone the decision-making before ultimately voting against the change, after many people asked for the delay. Other council members called the measure to increase "reverse setbacks" — the distance between old gas wells and new construction — progress, even though many residents testified that a greater distance would better benefit public health.
Hudspeth asked each speaker whether they owned a home or business within 250 to 500 feet of an existing gas well, a move that caught the first few speakers off-guard. Eventually, most residents then identified themselves not only by name and address, but also whether they lived, or worked, or their children attended school close to wells.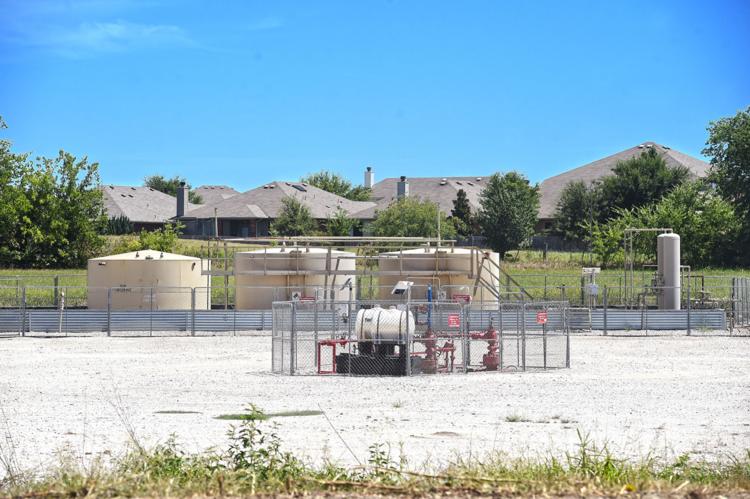 Hudspeth later said that he asked in order to find out whether any affected property owners were among those testifying.
The city staff estimated that increasing the reverse setback from 250 feet to 500 feet will make about 1,000 homes "nonconforming." That can make it tougher to rebuild after a disaster. For example, if homes in the neighborhoods along Vintage Boulevard were severely damaged in a tornado, some homeowners might have to go before the Zoning Board of Adjustment to rebuild. The Vintage neighborhoods already have some homes that are nonconforming, council members learned, because they were built within 250 feet of an existing gas well. The new reverse setback makes even more homes nonconforming. But those homeowners did not have the ability to appeal until the council plugged that gap this month with the new rules.
Still, Hudspeth opposed the new rules on behalf of those property owners, he said, adding that the city was not being consistent.
Mat Pruneda, one of two members of the Planning and Zoning Commission to address the council that night, took the opposite tack, saying the city was being inconsistent with property owners now. He told council members that current conditions appeared to protect current property owners but not future ones.
"We're creating a separate class of citizens and exposing future Dentonites to risk," Pruneda said.
New gas wells cannot be drilled within 1,000 feet of existing homes and other protected uses, such as schools, churches and hospitals.
Pruneda and several other speakers said more information was needed on health effects, or cited studies on health effects of proximity to gas wells, as they called for a distance greater than 500 feet between old wells and new buildings.
In addition, University of North Texas geography professor Matt Fry shared highlights from recent peer-reviewed studies of how gas well pad sites change over time. He cautioned council members that future conditions and risks would likely be different for Denton if the industry returns to the Barnett Shale.
"When gas wells are reactivated, it will be quite different than in 2011," Fry said, referring to the previous peak of development. "The intensity [of gas well development] inside cities has increased over time. The size of pad sites and the number of wells has increased."
"The largest operator in the city right now is EagleRidge [Energy]," he added. "They do not have a good track record with the city. They don't have a corporate social responsibility statement. If they reactivate wells, I have no doubt that they would not be too concerned about neighbors. They would do as much as they can on the pad sites that they have."
Council member Jesse Davis also peppered nearly every speaker with a question, asking if they knew why the city wasn't considering a larger distance than 500 feet.
During deliberations, Davis asked the city staff to display a longstanding analysis to the crowd. The display showed the city's potential financial risk in requiring greater distances between old gas wells and new buildings.
Council members first reviewed the analysis in July. The analysis showed that the city risked affecting less than 1,000 acres of land — and about $210 million in value — by increasing the distance to 500 feet.
By contrast, that risk increased almost eight-fold in acreage, and to $710 million in value, if the city increased the reverse setback to 1,000 feet. At 1,500 feet, the city risked nearly 15,000 acres and $1.2 billion in value — about the same as the city's entire annual budget.
After, a founding member of the Denton Drilling Awareness Group, Ed Soph, asked whether anyone had ever visited with developers about what the city was trying to accomplish with the new rules. Davis said that he had, and that he had filed disclosures with the city manager about those discussions.
But, he added, the conversations fell short because the developers weren't going to reveal their legal strategy during those talks.
Council member Keely Briggs called the change an improvement.
"I know it doesn't seem like progress, but it is," Briggs said.