While the finishing touches are added to Denton ISD's Union Park Elementary School, summer construction projects are popping up across the district.
Current and upcoming construction on several campuses is funded largely through a $750.5 million bond passed by voters in 2018.
Even before construction got underway on Union Park, the district's 24th elementary, plans for additional campuses were being laid out in the 2018 bond proposal.
Roughly $215.9 million is slotted for growth, much of which will go toward a 25th elementary school and the district's ninth middle school. Union Park was funded by a bond package passed by voters in 2013.
Aside from Union Park, which is on track to open in the fall, the district's biggest summer projects include renovations to Strickland Middle School and replacement campuses for Wilson Elementary School and Denton High School.
The new Denton High campus is set to open near the intersection of Bonnie Brae Street and Riney Road for the 2022-23 school year, vacating the current campus on Fulton Street. That campus, following renovations, will be filled by the students and staff of Calhoun Middle School.
It is not yet decided what will complete the cycle by filling the middle school campus, said Ray Croff, co-chaiman of the district's bond oversight committee.
Alongside Kathy Lawson, another co-chair, Croff and other committee members are responsible for ensuring that district construction adheres to what voters decided on May 5, 2018.
The bond was passed with support from nearly three-quarters of voters, according to the district bond website, www.dentonisdbond.org.
Union Park Elementary
When it opens to students in the coming school year, this elementary school is expected to have fewer than 600 students. That leaves room to grow into the 740-student building capacity. Situated in Little Elm, this school will serve one of the fastest-growing parts of Denton ISD.
Whereas newer construction is funded through the most recent bond package, this elementary is the final holdover from the 2013 bond election.
Other 2013 bond projects included, in part, the construction of Rodriguez Middle, Bell Elementary and Braswell High schools, all of which sit in the same attendance zone. Braswell was funded partially through a 2007 bond.
Union Park Elementary will be located at 7301 Fieldwood Way in Little Elm, just north of Braswell High School.
Strickland Middle School
Renovations on Strickland Middle School began earlier this summer. Updates to all classrooms and core areas of the building are planned, according to district documents.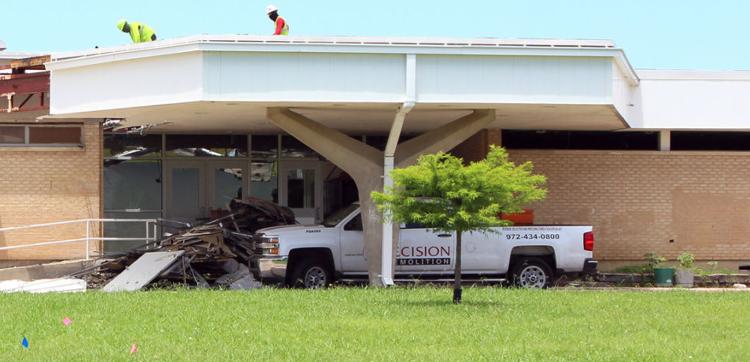 Construction is expected to continue for roughly two years, and students will continue to attend classes in the building during construction.
The campus is expected to finish with more than 155,000 square feet of renovated space and more than 37,000 square feet of new construction.
Denton High
Construction of a new campus came along with a branding effort. Decisions revolved around the maintenance of school traditions. Out of seven existing versions of the school logo, branding committee members selected a unified version.
The high school will move to the new location off Bonnie Brae Street after more than six decades in the current building at 1007 Fulton St. The project will go out to bid in July or August, and construction is expected to begin late this summer, though no firm date has been selected.
Wilson Elementary
Even though Wilson Elementary will have an entirely new campus constructed, it differs from Denton High in a major way: Construction will take place on the same plot of land the existing campus sits on.
The new campus will sit between East Windsor Drive and Emerson Lane. Board members took into consideration complaints from local homeowners that construction and the relocation of the campus would harm the neighborhood in the short and long terms.
Minor adjustments were made to the campus design, and construction is expected to begin later this summer and be complete in time for the 2021-22 school year.