It was not a normal day in the Denton High School gymnasium. High school students picked at their sack lunches while scanning job applications or talked quietly to recruiters.
Just over 200 students signed up for the first Hiring Event open to DHS students at least 16 years old. The quiet murmur and polite smiles filling the gym belied the anxiety just beneath the surface for some students.
Fourteen of the 22 companies, schools and military recruiters had set up their booths by early Thursday afternoon, with several more expected to show up before the event officially closed down at 2 p.m.
One of the companies to set up shop was 84 Lumber, which has a major distribution center in Denton. Edwin Trevino, regional recruiter for the company, was holding down the table as potential lumber yard workers filed past with the occasional question.
He was happy to give students a foot in the door, but he was clear that he had jobs to offer graduating seniors.
"Hey, we want them all to go to college and stuff," Trevino said. "For guys that are looking for a summer job or, hey, [if] college is not for you, I've got full-time jobs."
Overall, he was happy with the amount of interest he'd gotten a few hours into the event.
"We've had a pretty good turnout so far," he said. "I had 25 business cards stacked all the way along [the table]. As you can see, they're gone."
For those who still weren't convinced, he offered up some advice: Go fishing through your options, see what bites and go from there.
Students hoping to attend the event had to sign up in advance. They also had required assemblies to learn basic interviewing etiquette.
If that wasn't enough, representatives from Workforce Solutions North Central Texas greeted students as they entered the gym Thursday with a few final tips.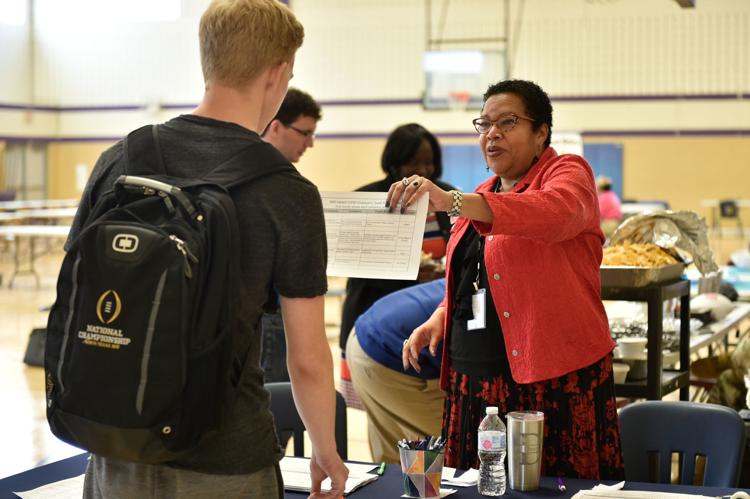 Debbie Best was one of those workers giving out advice. She recommended students play up volunteer work where they lack real job experience.
"And also, when you go for a job interview, you want to make sure you're dressed appropriately," Best said. "We say a step up from the position you're going to be holding."
For example, she said, a full suit isn't necessary when hiring for a warehouse position, but a pair of khakis and a polo will go a long way.
Despite the pointers, many students went into the event not sure what to expect. Would they be leaving with a job offer or an application? Should they seek advice or were they just looking at their options? Beyond that, many of the recruiters were interested only in students who were at least 18, leaving younger students looking toward the few groups that would hire them.
WinCo Foods and Beth Marie's Old Fashioned Ice Cream were a couple of the only options available to minors at Thursday's event. Jazmine Machuca, 16, fell into that category, but she was happy not to see a lot of fast-food chains trying to recruit underclassmen. In fact, there weren't any.
"I was really scared to come in here because I was really scared about having to present myself and having to show resumes, and it's just really nerve-wracking," Machuca said. "I'm learning a lot, actually. I still have to wait a couple years until I can get to where I want to be, but it's a learning experience."
She has vague plans of studying social work and real estate down the road, but for now she'll be happy to have some extra money in her pocket.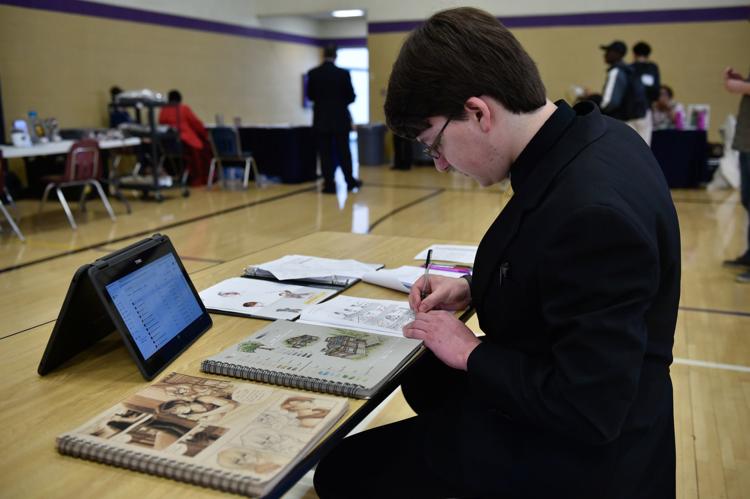 Evan Stout stood out. For starters, he was wearing a black suit with a gold tie, hair styled to the side. While students within 10 feet teased each other loudly, Stout worked in silence with a full spread of notebooks and sketches on the table in front of him.
An open tablet showed a few seconds of an animation he had made in a loop. A small character, a protagonist named Cuboid who features in some of Stout's work, exits a well-lit doorway and walks into a darkened alley.
If his 17 years didn't betray him, he would have looked more the part of a recruiter for an animation studio than a student looking for advice. In fact, he had been waiting on a trade school for film and television to arrive.
He was looking to get some advice about potential schools and jobs. Stout is already thinking several steps ahead for his career, and he sees higher education as a necessary next step to further his ultimate goals.
He hopes to eventually open up his own small-scale media production company. Still, he wants to keep the business small so it can have a more intimate relationship with the community.
Like many teens in his position, Stout is excited and terrified about graduation, recognizing that he doesn't have everything figured out at this point.
Perhaps unknowingly, he easily summed up a sentiment the hiring event was meant to combat: "I'm afraid I'm a little unprepared, but I guess I'll just take it one step at a time and see what happens."