Denton County's Republican legislators tiptoed around disturbing revelations from a secretly recorded conversation of House Speaker Dennis Bonnen, but state Rep. Michelle Beckley, D-Carrollton, leaned right in Wednesday.
Beckley was among five legislators to address business leaders in a luncheon organized by the Denton Chamber of Commerce. The program was a bookend to the chamber's "Denton County Days," a 30-year-old program that brings local government and business leaders together each biennium to visit with the delegation about community needs when the Legislature is in session.
"I have a different speech than what I prepared for today," Beckley said.
She then called for Bonnen to step down as speaker.
Ever since a right-wing activist suggested in June that he had secretly recorded a meeting with the House speaker, Bonnen, a Republican from Angleton, has faced criticism from Democrats and within his own party. The activist finally released the full 64-minute recording Tuesday. In the recording, Bonnen can be heard, among other things, criticizing freshman Democrats in the Legislature and calling Beckley "vile."
Beckley told business leaders it wasn't Bonnen's insult but his remarks in another part of the conversation that offended her most. She read aloud from a transcript: "Any mayor, county judge that was dumb ass enough to come meet with me, I told them with great clarity, my goal is for this to be the worst session in the history of the Legislature for cities and counties."
She encouraged local leaders to read the recording transcript for themselves. In the conversation, state Rep. Dustin Burrows, R-Lubbock, says he hopes the next session will be worse for local governments, and Bonnen echoes that.
About 84% of Texans live in cities.
"What's going on in Austin is the same as at the national level, and it's not acceptable," Beckley said. "I'm happy to work with you no matter what side of the aisle you're on."
Earlier in the luncheon, state Rep. Tan Parker, R-Flower Mound, avoided the controversy, except to thank the county judge, county commissioners, city council and school board members, and other local officials for their service and sacrifice.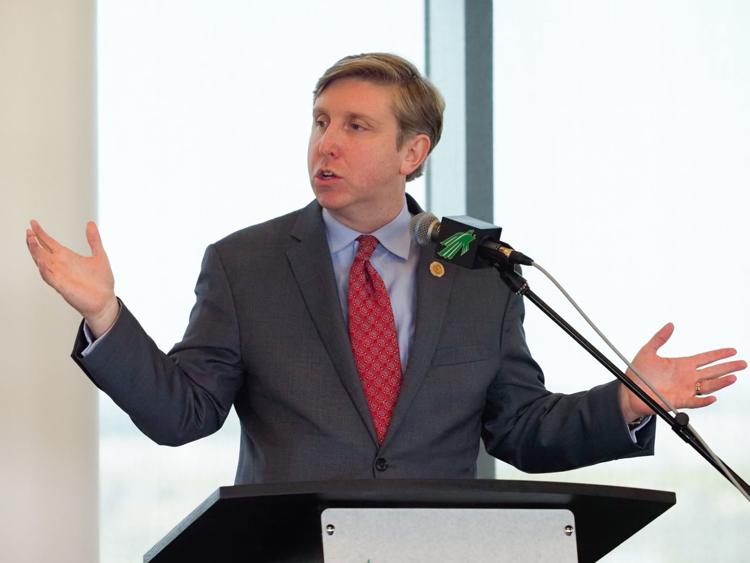 "We'll fight passionately to protect those institutions and what you do," Parker said.
He reminded the crowd that the only thing the Texas Legislature is required to do every two years is pass a budget to keep the government running.
Parker flirted briefly with a run for House speaker himself before it was clear the job would be Bonnen's. Several Texas media outlets reported that Parker was on a list of 10 current legislators targeted by Bonnen for a primary challenge.
Following the luncheon, Parker declined to comment on whether he agreed with Beckley that Bonnen should step down as speaker, deferring instead to his previous statements on the matter. He also declined to say whether he was thinking of running again for speaker.
But late Wednesday evening Parker issued a statement, calling for Bonnen to step down as speaker in order to provide the Texas House a chance to restore confidence in its leadership.
What was said on the audio recording directly conflicts with the values of the Republican Party," his statement began. He went on to state that the release of the full recording substantiated the fact that current members were being targeted for a primary challenge. "If we cannot honor our commitments as elected officials between each other, I'm not sure how the Texas House upholds the trust of the people of Texas," Parker wrote.
In other matters, state Rep. Lynn Stucky, R-Denton, told the crowd he expected an announcement Thursday on the location for a new driver's license office in Denton. The Department of Public Safety plans to open a new building in December 2020 that will be equipped with 12 work stations and 200 parking places — three to four times the size of the current building on Loop 288.
State Sen. Jane Nelson, R-Flower Mound, had a staff member read a letter to the crowd as she was unable to attend. State Sen. Pat Fallon, R-Prosper, arrived about 30 minutes after he was scheduled to speak. He encouraged people to vote for Proposition 4 on the November ballot, which will make it more difficult for the state to adopt an income tax.
"Businesses need certainty," Fallon said.