The Dallas Drug Enforcement Agency made its largest methamphetamine bust in Denton County in October, the agency said Wednesday.
The drug bust on Oct. 8 in Denton County led the Dallas DEA to about 1,930 pounds of methamphetamine worth about $45 million. Although the bust happened in October, the agency hadn't released information until now because agents are still trying to conduct more arrests and get suspects indicted. The agency declined to specify where in Denton County the bust happened.
Eduardo Chavez, the special agent in charge of the Dallas division, said Wednesday they stopped an 18-wheeler in Denton County off Interstate 35. Agents pulled about 663 hidden packages that contained more than 1,930 pounds of meth stuffed into them. While agents stopped the semi-trailer in Denton County, Chavez said they don't know if a city in the county was its destination.
"The greater DFW area, to include Denton, has been identified as one of those major [meth trafficking] hubs," Chavez said. "The natural geographic location with Interstates 35, 20, 30, 45 makes it a very natural fit for a lot of these drug trafficking organizations to be able to use it as a destination to fulfill whatever local market needs are, but then be able to repackage and ship to other points."
He said drug traffickers will look to mask their illicit activity in bigger cities with big businesses to hide among normal, law-abiding citizens. Chavez compared it to legal corporations establishing hubs in large cities like Dallas.
Based on what the DEA believes is the current market price for meth, Chavez said they seized about $45 million in drugs from the Jalisco New Generation Cartel, led by Nemesio Oseguera Cervantes, or "El Mencho."
"That's a big dent regardless of total volume [drug cartels] may try to do," Chavez said. "The Cártel de Jalisco Nueva Generación is one of the most powerful and ruthless drug traffickers running in Mexico right now. [El Mencho] is one of our most wanted. … While he may be potentially hundreds of miles away in Mexico, this seizure hurts his bottom line, so we're happy to be able to do that, and this is one step further toward identifying networks leading back to him [to hold] him and his conspirators accountable."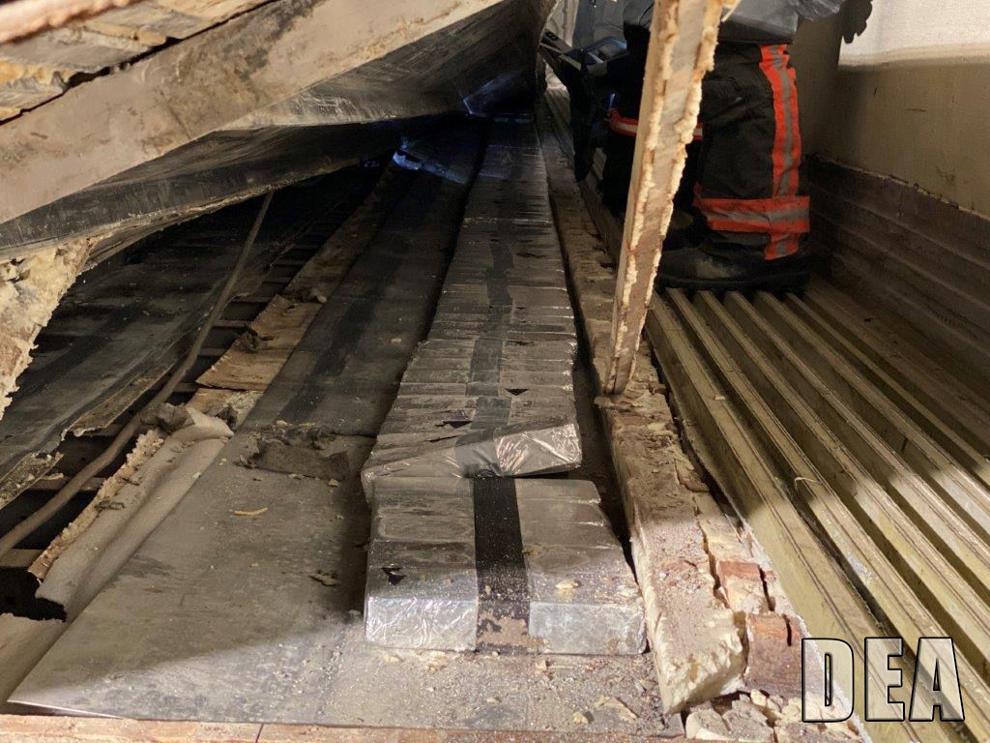 Because of the COVID-19 pandemic, Chavez said traffickers had to change transportation methods since there initially were fewer cars on the highway.
"Once we saw the pandemic hit one of its first peaks with a lot of stay-at-home orders … it became harder to get products from point A to point B because no one was on the highway," he said. "They felt they would stick out a lot more trying to run passenger cars from the border to Dallas, Dallas to Chicago. So they relied on taking larger risks and compiling shipments, hoping the one truck would get through unnoticed versus 10 passenger cars with smaller amounts."
Drug prices also rose due to the pandemic.
"Previous to COVID, around March of 2020, the average illicit price for a kilogram of meth was about $4,000 … about 2.2 pounds," Chavez said. "Toward May and June, we saw meth rise to almost $14,000 to $15,000 a kilo. Meth has plateaued now to about $9,000, $10,000 and $11,000 per kilo."
People were arrested in this bust, but Chavez said agents are keeping more information sealed as they're still in the midst of investigating.
"We anticipate several more [arrests] in the near future," he said. "People will be held accountable, the people who will go to jail behind this, because at the end of the day, people's lives are at stake. Not only people who are addicted to this drug and the propensity to overdose, but because the inherent nature of drug trafficking is violent. … We're excited to close some of the loops on these organizations."