Brianna Greenwood sits by herself on a near-empty bus. The engine idles as more riders take their seats in the cabin. The riders are here, but the bus must wait. The minutes tick away at her day.
Greenwood, 22, of Dallas is used to waiting. Every day, she sits on a bus at the Downtown Denton Transit Center for a 25-minute layover on her way to class at Texas Woman's University. She commutes for four hours each day from Dallas, longer than the time she spends in class.
She relies on a combination of Dallas public transit, the A-train and Denton County Transit Authority buses to attend her marketing classes.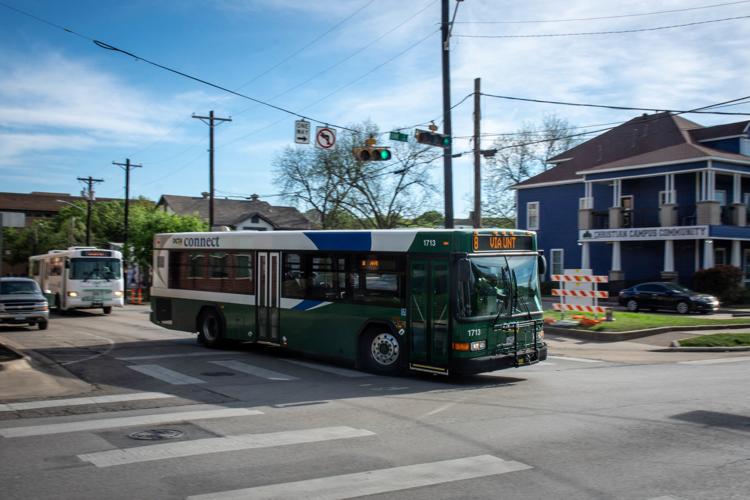 The engine revs up and the bus heads out for its designated route.
"Getting on to campus on time is a problem because sometimes they come late," Greenwood said. "You have to wait like 30 minutes to get on [DCTA buses] because they schedule things differently."
Over a two-week period, University of North Texas journalism students rode the DCTA buses using the system's mobile application, text alerts, voice updates and website maps to plan their trips. During their field study, they found extended wait times at various transfer locations. They also found issues with the mobile app, which is supposed to help with trip planning and minimizing the inconvenience that comes with waiting for rides.
In addition, they reported getting passed by while waiting at bus stops a few times.
UNT student Linoshka Rodriguez said she knows that experience well.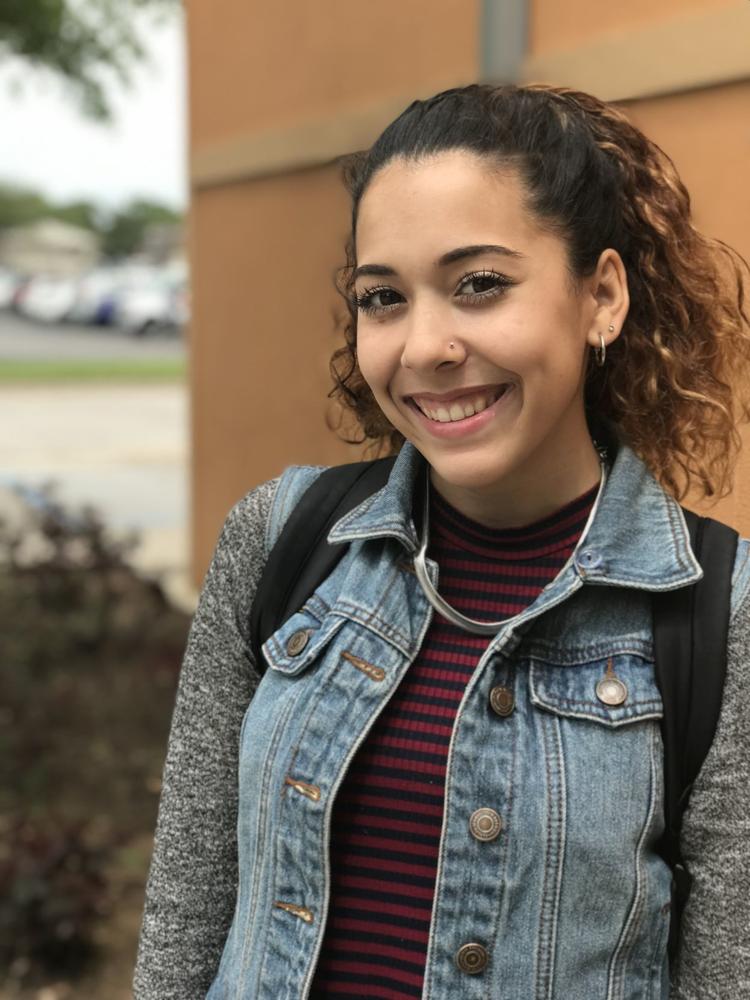 "Right now, [the bus] just left, and I was right there, but I'm not going to run in heels, so I just said, 'Forget about it and I'll wait 40 more minutes,'" Rodriguez said. "It's happened to me like three times already where they don't see nobody, and they just go."
Other riders interviewed along the routes, like Greenwood, said they depend on public transportation, but the lack of reliability and connectivity between routes makes getting across town more difficult, even if it is cheaper than owning a car.
Riders often must build long wait times at the Downtown Denton Transit Center into their daily schedules. DCTA has offered solutions, but the success is mixed, the field study found.
One of DCTA's solutions was a new app designed to help commuters navigate their daily rides. The Transit Tracker initiated in 2017 provides the rider with route information, departure times and real-time location services.
"The Transit Tracker app is provided by a third party at no cost to DCTA," said Sara Bagheri, former secretary of the DCTA Board of Directors. "Annually, DCTA budgets approximately $80,000 for costs associated for the GPS units, cellular data plans and Swiftly software license."
From October 2017 to September 2018, riders downloaded the app not quite 2,200 times, according to DCTA data. That usage accounts for 66% of the agency's target of 3,300 downloads.
UNT journalists noted several issues while using the app, including late arrival of buses, or departure times, of up to six minutes, compared to the information in the app. The app also did not properly track the real-time location of buses during the field test. In addition, some destinations were served only by Lyft. (DCTA has a 2-year-old contract with Lyft to subsidize rides in Highland Village and after hours at UNT.)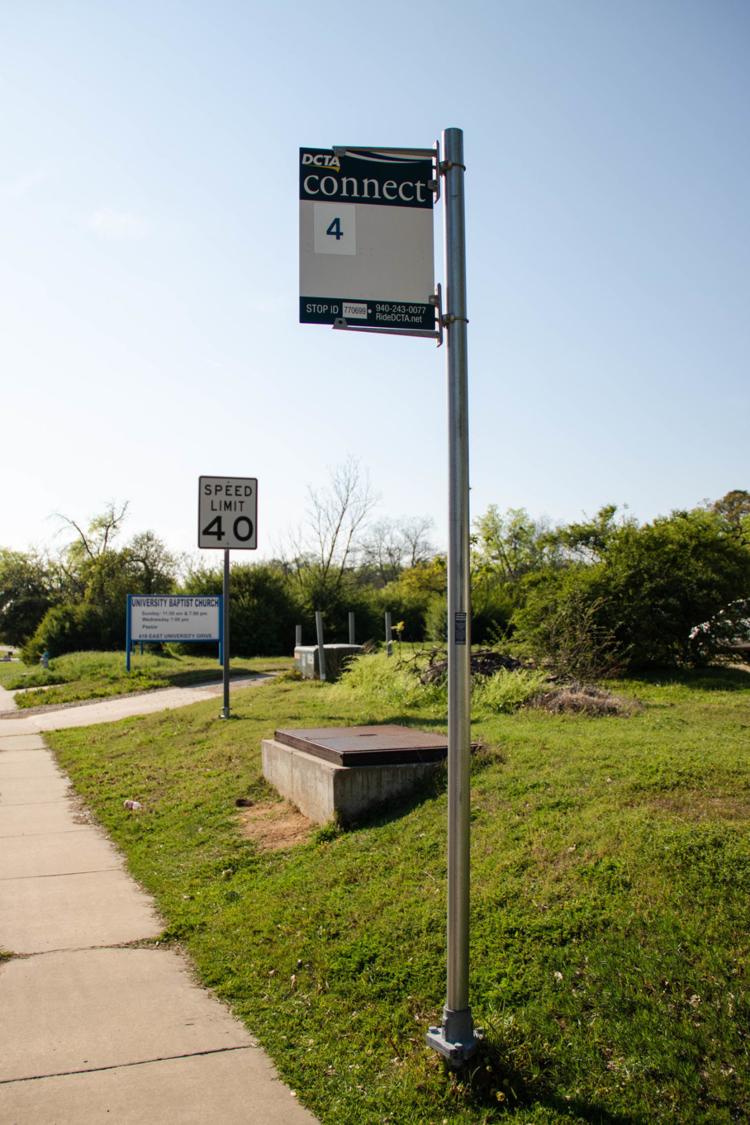 While interviewing riders, the journalism students found that most riders preferred to memorize their route rather than use the app. Then, they adjusted as best they could when encountering long wait times.
For system updates, the DCTA text service was the most used tool for commuters in 2018, according to the transit agency's data. To use the text service, riders can text a bus stop number to 642-55 and receive an automatic reply that estimates the arrival time of the next two buses.
Ravyn Crear, a visually impaired commuter, said she leaves her house at 6:25 a.m. to accommodate her 25-minute layover and be at work by 8 a.m.
"I can't drive. ... So I depend on it," Crear said. "It [the bus system] gives me the independence I want because I don't have to depend on family or Lyft."
Officials want to hear what the community is thinking, said Claire Powell, assistant city manager of development services for Lewisville, one of the DCTA member cities.
"Sure, we have complaints that we are providing our sales tax dollars when the system is not being utilized," Powell said. "There are complaints about low [ridership] and bus systems that don't run into neighboring cities like Flower Mound or Coppell."
Commuters like Greenwood and Crear rely on the services provided by DCTA. Long waits for getting to class, going to work or running necessary errands can be difficult for those who rely on public transportation alone.
As Greenwood exits the bus, earbuds in and backpack in tow, she fades into the throng of other students going about their day. One half of her four-hour commute is done; she'll start her second half soon.