For 60 years, Gene Hartman would begin his day like any other. Entering the barber shop, he greets his fellow barbers who have become a second family.
He goes to tidy up his station, ready to welcome a returning customer. Everyone who enters the Campus Barber Shop receives a warm and genuine "How do you do?" and those who get their hair cut by Hartman all know him well.
Hartman has been snipping and shaving the hair of his clients and their families for generations, but now, after a lifetime of work, he has decided to retire from the shop at age 78.
"I just kind of figured that maybe this might be a good time to call it a career," said Hartman. "I know that I'm going to miss the customers, the people that I've been seeing all these years, keeping up with things around town. It would be an understatement to say that I'm not going to miss it."
Cutting hair has become so much more than a job for Hartman. In 1968, he opened the Campus Barber Shop on Fry Street and began building personal relationships with his customers. He stepped down as owner in 2011, when the shop moved to East Hickory Street, but he continued cutting hair.
Hartman is known around the shop for having a great memory for people's names, their family members' names, and what they do for a living or interests that they have.
"He definitely remembers everything about each one of his clients," said Campus barber Jed Bell. "Not only their haircut, but he remembers their grandkids' names, what their grandkids do, where they go to school, what sports they're into, extracurricular activities they do, different community things. It's mostly what I think is impressive about him, that how in 60 years he can still remember everybody. I mean, that's a lot of clients to remember."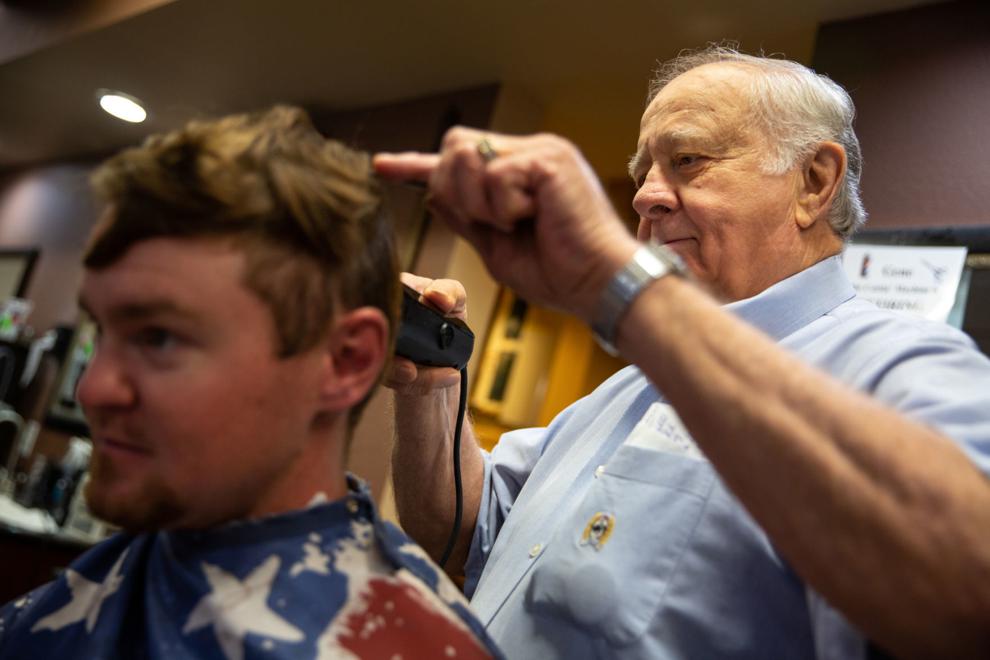 Among Hartman's many clients is Ted Wisdom, a baseball and football coach at Liberty Christian School who's a family friend four generations deep. Wisdom's grandfather, who was a body shop owner in Denton, was a regular of Hartman's for several years. Now, Wisdom has come in on a Tuesday morning for a trim as they discuss their families and recent baseball games.
"I've been coming to Gene for about 20 to 21 years," said Wisdom. "I've been getting the exact same haircut with him for years and it's just hard to beat the way I look when I come to him. I don't know who's gonna cut my hair now."
Like Wisdom, many of Hartman's clients have been going to him for most of their lives and are are reluctant to let someone else style their hair.
"The people down at the barbershop joke," said Hartman. "They say, 'Ah, you don't want to retire. You'll be back in a little while.'
"But I take pride in quality work," he said. "I've never been somebody that tried to see how fast I could cut a head of hair. I worry about the person that I'm cutting rather than somebody waiting."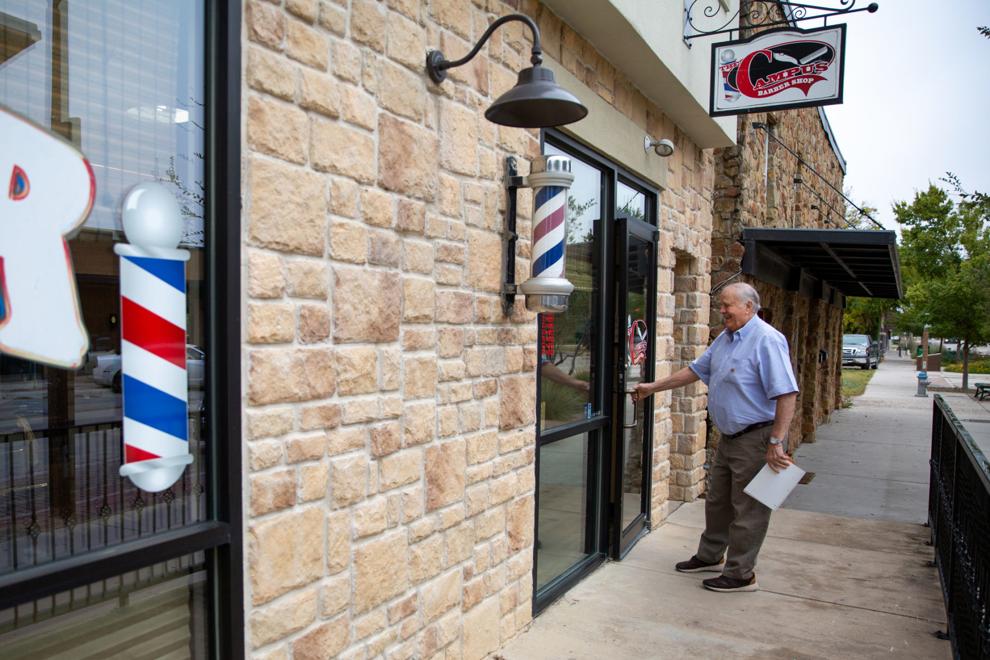 Bell believes that whoever eventually takes Hartman's chair will have some very large shoes to fill.
"There's nobody that can fit that spot, it'd be impossible," said Bell. "As a barber, he is one of the best. Being a little older, his hands are tooled different but that doesn't affect the actual look of the haircut. He could probably do a haircut without ever touching the hair."
Friends and family of Hartman are planning a retirement party for him from 6 to 9 p.m. Saturday at the Knights of Columbus Hall to celebrate him and his work.
As his retirement nears, Hartman has already made plans to spend time with his wife, grandchildren and hopefully visit the Campus Barber Shop again, this time as a customer.
"I would spend a little more time going up to Gainesville at Moss Lake and go out boating and fishing with my grandsons," said Hartman. "I'm not going to totally ignore the shop, for sure. I'll probably sneak in and try to see some of the old-timers that I look forward to seeing. But they've got a good crew and I'm leaving it in good hands."