The icy touch of Winter Storm Uri might feel faint, but brown, crunchy plants are a reminder that pipes and flooring weren't the only casualties of the deep freeze that paralyzed the state in February.
Specialists in Texas' horticulture and pollinators have good news and bad news.
The bad news is that some of the plants in Denton's landscapes didn't make it.
The good news is that a lot of the plants did make it, even if they look a little drab. And a bonus? Texas pollinators — varieties of native bees, beetles, butterflies and moths (and don't forget the wasps, which pollinate, too) — largely survived the frigid temperatures.
"The good news is we are, as far as what survived, in good shape," said Molly Keck, an entomologist with Texas A&M AgriLife service in the Bexar County office. "We don't think it had an impact on any of our pollinators. They are just fine; they have things in their body that help them get through the winter and the cold. What we've been worried about is a possible lag in the plants that provide food for them. They might be starving, or don't have a place to lay their eggs."
A lot of pollinators seek shelter in wooden tubes when temperatures drop, Keck said, and during the freeze, some of the pollinators survived as pupae. Now as they emerge and search for food in trees, flowers and gardens, they might be met with slim pickings.
Michael Arnold, a landscape horticulturalist with Texas A&M in College Station, said Denton's home and business owners should be patient if they're despairing over dead plants and shrubs. He said Denton residents will see their plants coming back to life in the next two to three weeks.
"We had an unusual freeze event," Arnold said. "It was a 100-year event. There hasn't been anything like this since the mid-1980s. This is not a good year to evaluate how things will grow."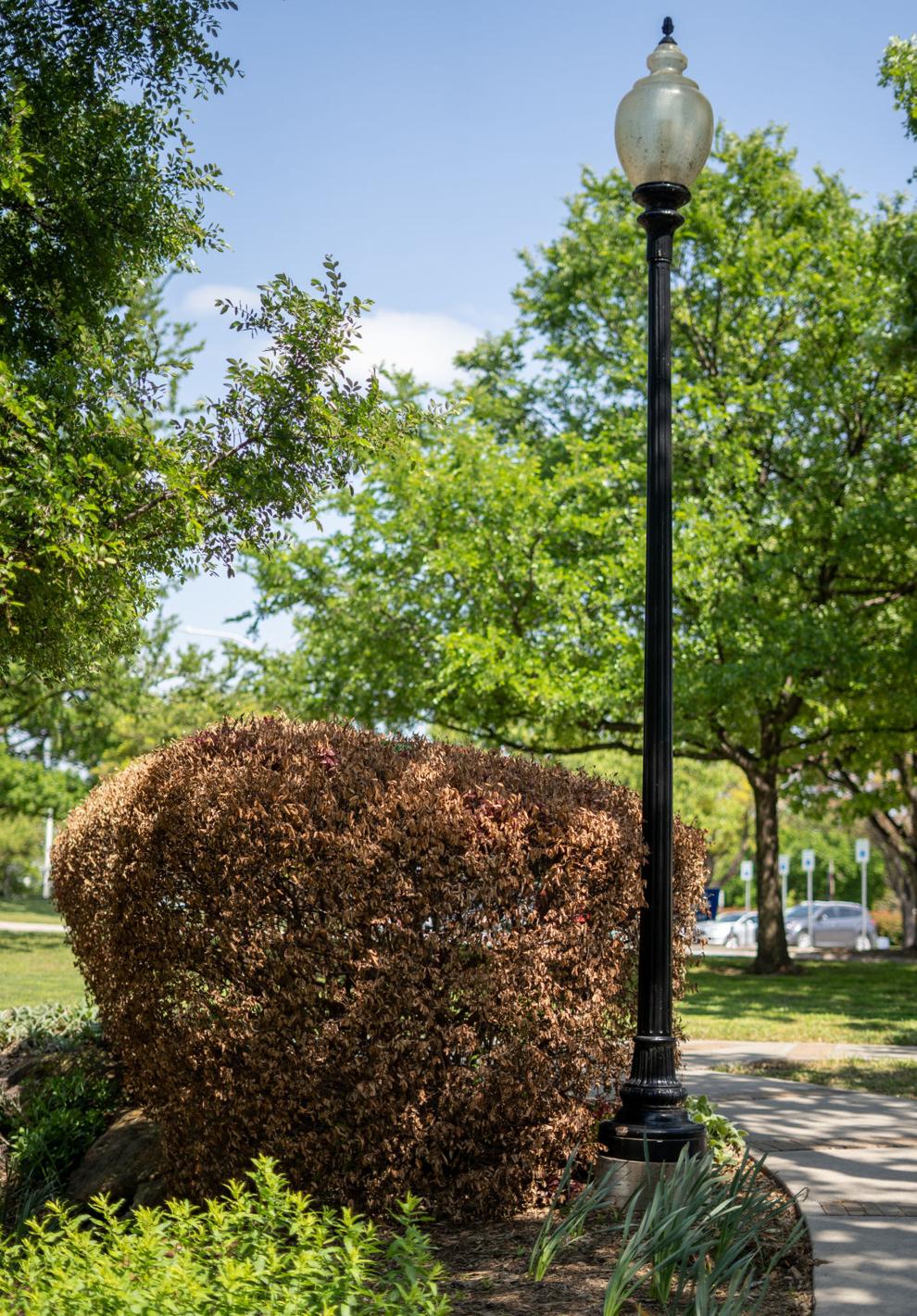 Arnold said, through most of the state, any pollinator plants — milkweed, alyssum, begonias — that had plants living above the snow line saw that portion of the plants die.
"The truth is, for as serious of an event as this was, we really dodged a bullet," Arnold said. "We had snow cover across the state, which is a good insulator. Plants that extended up above the snow line took it on the chin.
"Toadflax, luneria — everything up above the snow line died. Our Indian hawthorn, those all went out. Those aren't extremely important pollinator plants, but it was indicative of what was happening to native plants."
Denton has already seen bluebonnets and Indian paintbrush emerging, and Arnold said Texas wildflowers were under the snow and have already started appearing in Central Texas. And if wildflowers struggle in 2021, it's more likely the cause was the lack of rain in September, October and November in 2020 than the freeze.
"North Texas and the Dallas-Fort Worth area is behind us a little," he said.
Palms and agaves might have been damaged by the freeze, but homeowners can keep an eye out for fresh growth.
"Another question I get is about palms," Arnold said. "If you have green on the growing point, and if that spear leaf is still green and nice, it will almost surely come back. If you lose that spear leaf, that usually means we lose the entire palm, they don't have advantageous buds like other plants."
With plants like agave, which attract moths (which are unsung pollinators) after sundown, gardeners should keep their eye on the center of the plant, where firm, green leaves poke out and unfurl.
"Some of our Tecoma stans, our yellow bells, I was really scared about some of those having serious damage here in College Station," Arnold said. "We're now seeing them sprouting back from the ground. Everything above ground, expect a two- to three-week delay. You can start to see some little sign of life. Some of our grapevines really took it on the chin, but they are starting to come back.
"I suspect by midsummer you might not see too many signs of damage. My message would be one of hope. We probably do not have as much damage as we thought we did."