A 23-year-old man recently released from the Denton County Jail is accused of assaulting his mother and grandmother Tuesday, according to a police report.
The Denton Police Department arrested Jacob Watts Tuesday after he allegedly assaulted two women in his family while they were on the road. The two women drove to the Police Department around 1 p.m. to report the incident, and while there, the suspect's mother collapsed.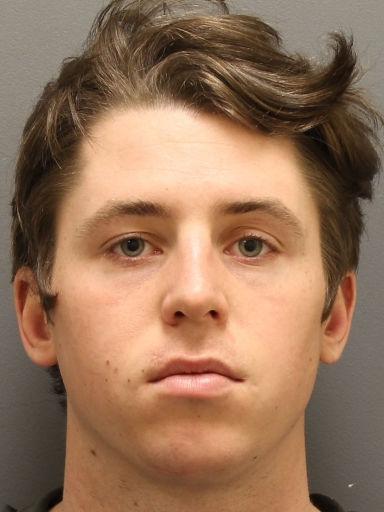 Both women were taken to the hospital for treatment. The report says the mother had visible injuries around her face, neck and chest as well as dried blood on her hands and arms. The grandmother had a laceration on her arm.
The mother said she believed Watts had been drinking. She alleged he began punching his seat at one point, yelling at the two women while in the car.
She said she was driving and reported he became angry and grabbed her throat with both of his hands. The report says the grandmother tried to fight Watts off her daughter, which then turned his attention to her and he also grabbed her by the throat.
Both women said they couldn't breathe and the mother reported she thought she was going to die. Watts allegedly took both of their phones when they said they would call the police.
Watts was arrested at Motel 6 Denton, 4125 N. Interstate 35, after police responded to a disturbance with motel staff. He was charged with assault causes bodily injury family member, injury to an elderly person with intent to cause bodily injury, two counts of assault family member impeding breath or circulation and two interference with an emergency request for assistance.
Denton County Jail records show he was released on bond on June 1 after being booked in March for two incidents in January. Those charges were assault causes bodily injury family member and continuous violence against the family.
Watts was still booked into the city jail Wednesday afternoon on a $80,000 bail. Assaulting and preventing someone from breathing is a second-degree felony in Texas if the parties involved are family members.
Other reports
1700 block of Sam Bass Boulevard — A tenant at Westwind Apartments said his ex-girlfriend has been harassing him over the phone repeatedly, according to a police report.
His ex called 911 around 2 a.m. Tuesday to report her boyfriend pulled a gun on her. The report says she hung up when police arrived at Westwind and dispatchers noted she wasn't answering their repeated calls to her.
Officers spoke with the tenant and another woman at the apartment and learned of the exes history. The man said he's reported the harassment to police already and he wishes to pursue charges. An investigation is ongoing.
Roundup
From 12:01 a.m. to 11:59 p.m. Tuesday, the Denton Police Department handled 415 service and officer-initiated calls and made four arrests.
From Tuesday to Wednesday, 29 people were booked into the Denton County Jail.