In an interview following his tour through Denton's Peterbilt facility on Friday, U.S. Sen. John Cornyn said he is willing to look at high-capacity magazines when it comes to gun control measures in reaction to last Saturday's mass shooting in El Paso that killed 22 people.
"I'd be willing to look even at these magazines that hold as much as 100 rounds of ammunition, much like we looked at the bump stocks issue post-Las Vegas," the Texas Republican said, referring to that city's shooting massacre in 2017. "So I would say everything is on the table, except denying law-abiding citizens their constitutional rights under the Second Amendment. To me, that's not a negotiable item."
With the Peterbilt general manager, assistant general manager operations and a plant manager, Cornyn toured the production process, drove a truck off the assembly line and greeted Peterbilt employees while walking through the facility.
"I think the main reason [I visited] is because it employs 3,000 of my constituents and there's sort of this myth out there that American manufacturing is on the wane, but obviously it's not," Cornyn said. "It's here and operating very powerfully and very significantly here in North Texas, so it's quite an eye-opening tour."
It was in an interview following the tour that Cornyn spoke on gun control and what his priorities are when Congress reconvenes in September.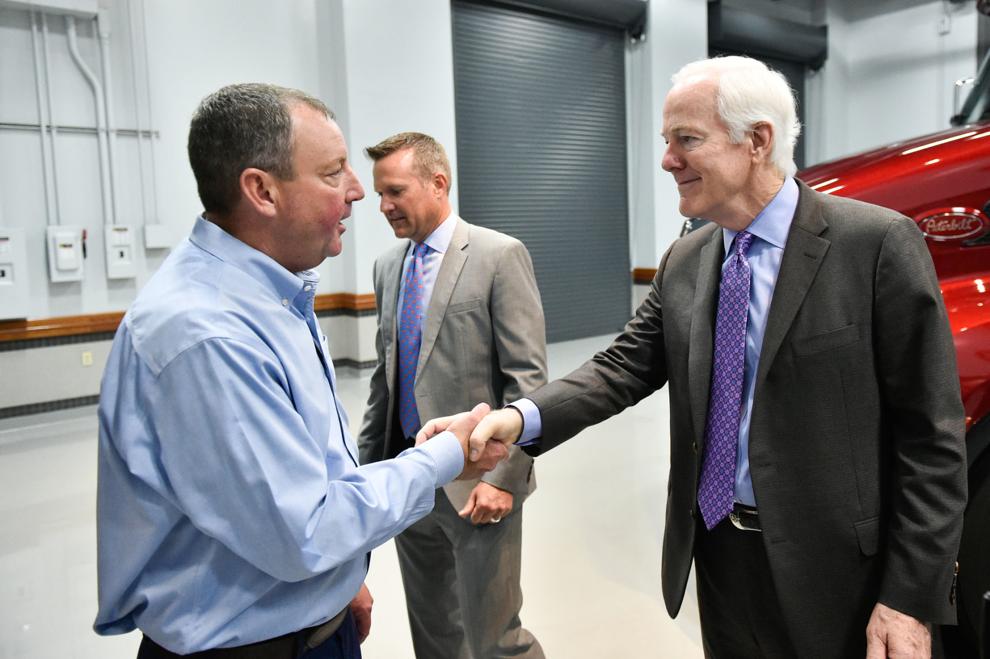 "I think we need to try to be responsive and responsible," he said. "In the past, we've passed reforms of the background check system after Sutherland Springs, we've tried to address some of the challenges of people who are mentally ill or suffering a mental health crisis and getting access to guns, something we want to avoid and prevent. We've also tried to figure [out] ways to help make our schools safer."
Cornyn said that "there seems to be a lot of momentum toward trying to figure out what we can do to make the situation better."
"I think we're talking now about so-called red flag laws to try to identify people before ... the ticking time bomb ... goes off," he said. "That's a little more challenging to do in terms of making sure that due process is observed and people's rights are protected."
When asked if he would support renewing the ban on assault weapons, Cornyn said "there's a lot of misunderstanding in terms of assault weapons."
"Really, these are semiautomatic guns," he said. "Fully automatic guns are illegal, unless you have special firearms license. So I think if you're going to ban semiautomatic weapons, then that really implicates everything from pistols to hunting rifles to shotguns."
He went on to say that when people talk about assault weapons, they are talking about "how ominous and threatening they look, not how they actually function."
"So I'm happy to try to figure out things that will actually make a difference," Cornyn said. "I'd be interested in trying to solve the problem, not just to make a statement."
Cornyn's Peterbilt visit followed a visit to The Gatehouse in Grapevine on Thursday to discuss his bill to reduce backlogs in untested rape kits.