The Denton County Confederate soldier monument was removed from the south lawn of the Courthouse on the Square as crews transported the statue to county storage.
The removal began before 4 a.m. and took about 10 hours, with crews working to dismantle the statue, placing pieces of the statue onto a flatbed truck for transportation.
Denton County Judge Andy Eads, who was seen monitoring the progress of removal before 7 a.m., said that neither the public nor media was notified before the removal began because of concerns of public safety.
Eads described his reasoning as "common sense," saying that removing the statue "without fanfare," would limit the opportunity for people from out of town to cause disruptions.
"The people who have advocated for this removal have said that for years that out of town people come here and cause hostility [from] the people who want to keep [the statue]," Eads said.
Denton County Commissioners Court voted to remove the statue June 9, and the Texas Historical Commission approved the statue's removal last Wednesday.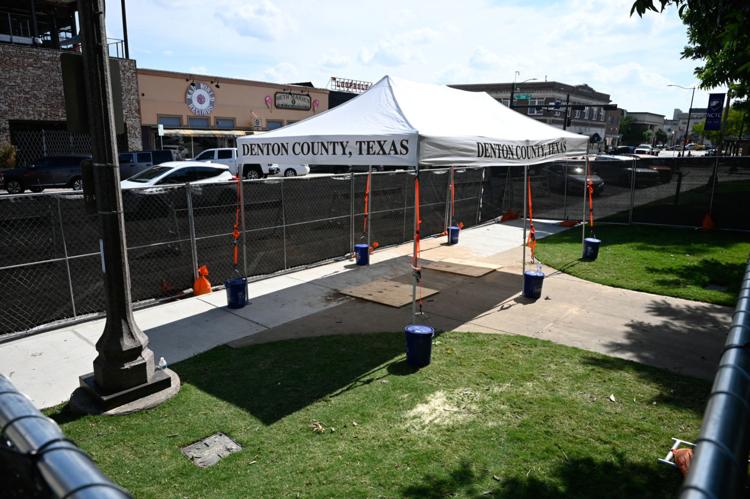 While the statue has been a focal point of protests in recent weeks, some advocates have called for its removal for decades.
Willie Hudspeth, of Denton, a vocal proponent of more than two decades for removal of the statue, said he was overwhelmed to see the statue finally being removed. Hudspeth, who discovered around 4 a.m. Thursday morning that crews were dismantling the statue, said when he found out he had immediately rushed to the downtown Denton Square.
"I tried to keep my emotions in check as I waited, so that I wouldn't be disappointed like I have been over the years with other things that the county commissioners have said they would do — thank god that it actually happened," Hudspeth said.
Hudspeth said he would have preferred for commissioners to disclose information about the removal of the statue, though.
"For 21-years, I have been going down there, talking about removing the statue, and it's just like these commissioners to do what they did," Hudspeth said. "We should have known that this was going to happen, based on their reason for moving, that it was for "the safety" of their citizens and officers, and that it was for no other reason," he said about systemic racism.
As several area residents made their way near the south lawn of the Courthouse on the Square, most were elated by progress.
For several years, Denton resident Eric Phillips has felt unwelcome when passing by the Confederate monument, saying that it was an embodiment of white supremacy and racism. But after becoming aware via a Facebook post early Thursday morning, Phillips said that he hustled from his Quakertown apartment to the downtown Square, in order to witness history.
"I was really excited," Phillips said. "I wanted to witness it coming down, but this is something that has bothered me and hurt my soul to see such an ugly monument to slavery still standing, but it's a beautiful day to see it finally coming down."
County officials have said that the monument will be restored, then reassembled and put on display with context within the next year. A definitive location for re-installment of the statue, though, has not been decided.
Displays Fine Art Services, an Arlington-based company, was contracted approximately $16,831 for removal and transportation of the monument including additional labor, according to purchase order documents.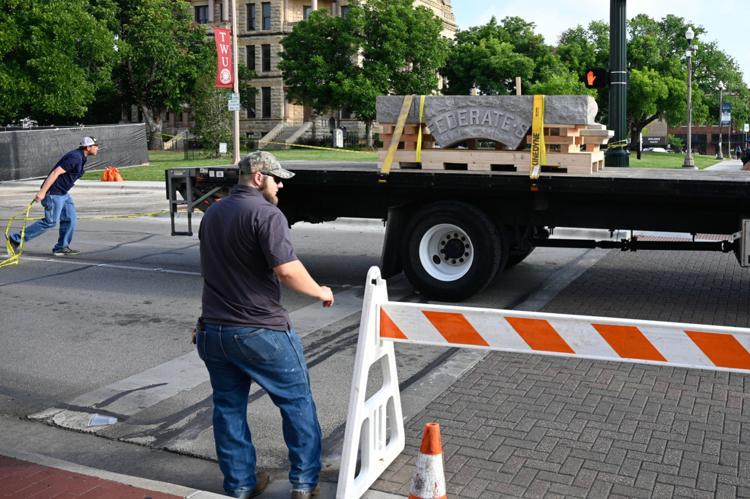 Eads refused to disclose on Thursday the location of where the monument was being taken to, other than that it would be taken to "county property." In a county press release later in the day Thursday, it stated it was being moved to storage.
When asked why he would not say, Eads said he was, "worried about vandalism of the property."
"There were people out here today, yelling how it needed to be smashed, instead of taken down appropriately," Eads said.
Local activist Queen Janata Montgomery has led numerous protests in recent weeks, calling on societal reforms in the wake of George Floyd's death. On Thursday, Montgomery was euphoric to find the statue removed, but noted existing next steps.
"I was so accustomed to [the statue] being there that I didn't even realize that it was removed," Montgomery said while watching crews. "But I'm interested in knowing where its going — but hopefully its not going anywhere where its visible."