One of the two candidates in the Place 5 Denton City Council runoff race has told the Denton NAACP chapter that his schedule does "not have any flexibility" for any candidate forum planned by the group.
Aaron "Fuzzy" Newquist told local NAACP President Willie Hudspeth and forum organizer Katherine Carrington that it wasn't feasible to add anything to his calendar between now and the June 16 runoff, according to an email exchange Hudspeth shared with the Denton Record-Chronicle.
Hudspeth's son, Gerard Hudspeth, serves as the District 1 representative on the Denton City Council.
In a prepared statement, Newquist said he planned to reach out to voters in person by block-walking and making phone calls every day.
"Anyone that might have questions for me are welcome to give me a call at my campaign number 940-295-6641 or any other way that is convenient," Newquist wrote in an email to the Record-Chronicle.
He did not return multiple phone calls and messages to say why he was declining to participate in the NAACP's public forum.
About a week ago, Willie Hudspeth invited Newquist and his opponent, Deb Armintor, to participate in a forum this weekend.
After Newquist replied that he had a prior commitment, Hudspeth offered to reschedule.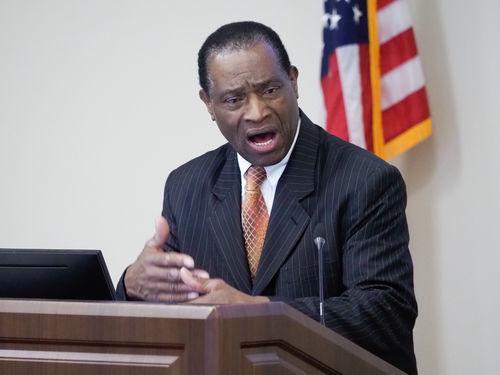 "We learned that the last time," Hudspeth said, referring to a forum the Denton NAACP organized for a runoff race in 2012.
The NAACP is the only local group that routinely holds a public forum for city runoff races.
Last year, runoff candidates for District 3 debated each other before the election. In 2012, after a runoff candidate was unable to attend the NAACP forum, organizers went ahead with their plans but received some criticism for doing so.
"We weren't going to make that mistake again," Hudspeth said.
Armintor said she told everyone involved she was willing to reschedule to another time that was good for Newquist.
But Newquist declined, writing to Hudspeth and Carrington, "I'm sorry, it's not going to be feasible to add anything to my calendar due to both professional and personal things that have been pre-existing and do not have any flexibility."
Hudspeth said he was skeptical that in the 28 days to the election, Newquist couldn't find two hours for a public forum.
"There are people that would like to know where he stands on the issues," Hudspeth said.
Local chapters of the NAACP are not allowed by the group's regional and national leadership to endorse candidates.
"We don't pick sides; we're very careful about that," Hudspeth said. "The questions are very general, and if you come Saturday, you'll see. They're about people's rights."
Armintor called the forum a chance for the two candidates to differentiate themselves after racing in such a crowded field during the May election. Four people were initially on the ballot for Place 5. Newquist got the most votes in May, followed by Armintor.
Armintor said she, too, was block-walking and believed that meeting with voters one-on-one was vital.
"But so are forums," she said. "Part of being a transparent and accessible and accountable public servant is not just meeting people one-on-one, but in groups and addressing people in groups.
"In a forum, a candidate gives the same answer to you and to the person sitting next you. It's a way to see what a person really thinks, not just have them agree with you and then move on to the next person."
Hudspeth said the forum will go on as scheduled at 10 a.m. Saturday at the Denton Public Safety Training Center — even if only Armintor participates.