The barber's pole slowly turns, its motor softly whirring, the vibrance of its red, white and blue stripes partially stripped away by time and the elements. The adornment is not just a marker for the Campus Barber Shop in downtown Denton, it's also a symbol for a bygone era and a gathering place for men.
Inside, cologne and aftershave form the unmistakable barber shop aroma. Clients draped in American flag capes can't use a broken 7 Up machine, which sulks in the corner, its continued presence a memory of its lost prime. A sheet of paper pinned to the wall behind the cash register reads: "Free haircut to any man 80 years old and accompanied by his Father."
With its two flat-screen TVs turned off (no football this Tuesday and not much on the news), the five-chair shop buzzes with the sounds of blow-dryers, razors and, of course, conversation. Sometimes the conversation is about politics, just like it was in the run-up to the midterm election — about the differences between Trump and Obama or the race between Beto and Cruz.
Sometimes it's about family — about babies learning to walk and 11-year-olds talking like teenagers. In the thick of the conversation is 44-year-old shop owner Jeremy Carroll, his pleasant smile framed by a thick crop of brown hair and a neatly trimmed gray beard. His nimble fingers work quickly but instinctively as he combs the hair of one of his regulars and turns to three men waiting for one of the barbers to finish.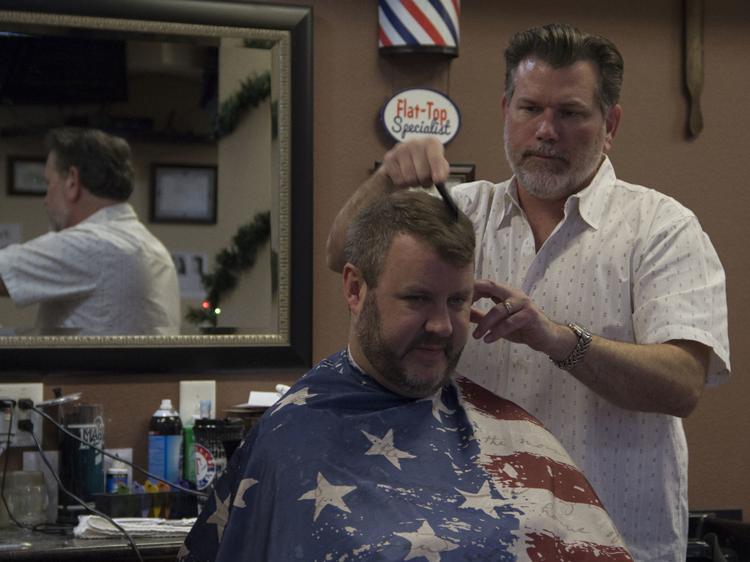 "Have any of you gentlemen tried a whole chicken out of a can before?" asks Carroll.
The question catches the two men seated on the leather couch by surprise, both laughing at its randomness. The other man, seated at a wooden table stacked high with newspapers and magazines, scoffs at the idea. "I think I'll pass," he says.
Most shops can't solely rely on this kind of personal touch and have entered the digital age to promote themselves. But when it comes to its internet footprint, Carroll's shop seems to be doing everything wrong. Its Facebook page is rarely updated; its website no longer exists. The idea of a small business surviving in 2018 with so little an online presence seems far-fetched. But the Campus Barber Shop is doing more than just surviving — it's thriving, and it's not alone.
The shop is indicative of a nationwide surge in the popularity of barber shops. Forbes magazine explored this trend in a 2017 article, citing industry experts and data showing that after a 23 percent decrease in barber shops in America from 1992 to 2012, there has been an estimated 10 percent increase since 2013.
The reason for the boom, the article suggests, isn't just about the haircut itself, but rather what comes with it. Good barber shops also sell the immersive experience of being there, and that experience is a decidedly masculine one.
According to the Bureau of Labor Statistics, "barbers cut, trim, shampoo and style hair mostly for male clients." Mothers may come in with their children along with the occasional woman looking for a cut, but the barber shop is a place where men find comfort — where they can relax, watch the game and engage in a sense of community by talking to other men.
"Everything outside these doors is changing," says Campus barber Anthony Proa. "The simplicity of just coming in to get a haircut is a good thing."
Shop's beginnings
The Campus Barber Shop didn't start in the downtown area; it didn't even start with its current owner, for that matter. Instead, it began on Fry Street adjacent to the University of North Texas campus more than 50 years ago.
The shop was started by Gene Hartman, who at 78 still works at the shop, cutting the hair of generations of regulars. On this Tuesday, he is clad in a plaid shirt and tan slacks, his right hand rhythmically working a razor through the hair of a regular who happens to be letting loose a string of opinions about the politics of the day.
As a teenager in the 1950s, Hartman knew a friend who had become a barber and thought it would be "good, clean, indoor work." He enrolled in American Barber College in Dallas, living in a cramped, rented room during the week and hitchhiking to his home in Muenster on weekends. A month after getting his barber's license, he got a job at College Barber Shop in Denton, but after 8 1/2 years, he figured he could do better on his own. In 1968, he bought a restaurant on Fry Street, using the building to open The Campus Barber Shop.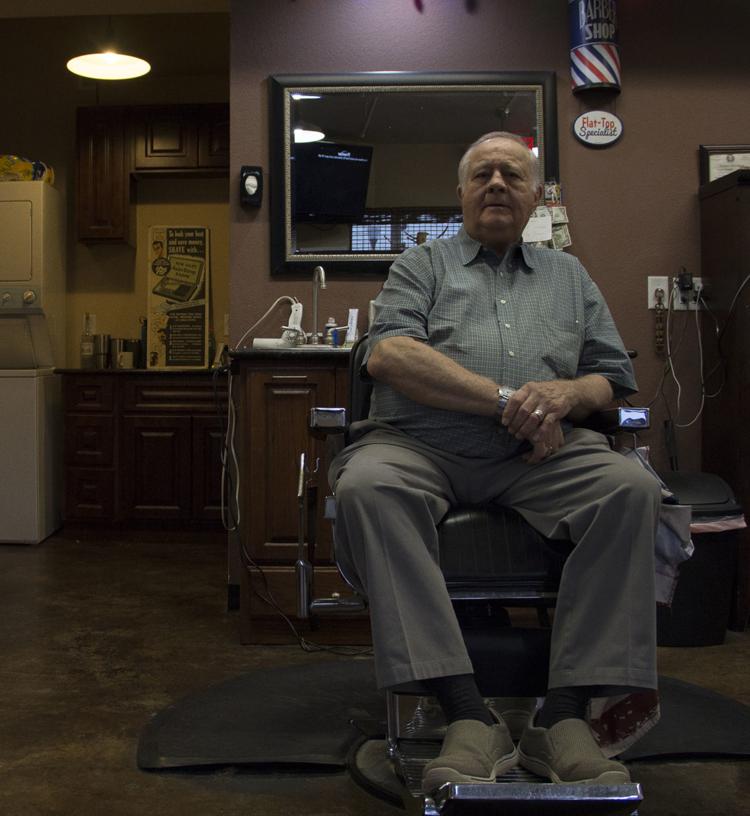 Hartman admits Fry Street was an unusual place to open his three-chair shop. "Long-haired hippies" were the trend on campus — and they didn't want haircuts. And the competition was fierce. "There was a barber shop on every corner and some of them in-between," he says.
Hartman adapted nonetheless. He took a styling course, learning how to handle long hair, and joined the Denton County Barber's Association, a collection of barbers that encouraged cooperation. Being close to campus gave him access to student athletes, with whom he formed many personal relationships.
New owner, same shop
Few had more knowledge of the Denton barber scene, so it was no surprise when, in 1995, a 20-year-old Jeremy Carroll walked into Hartman's booming Fry Street business wearing shorts and a backwards gimme cap. Carroll had earned his barber's license from Roffler's School of Hair Design in Austin. He moved to Denton because his father lived in Lake Dallas, finding a job with Imagined Image, the salon next to The Campus Barber Shop. Looking for better-paying employment, Carroll asked Hartman for a job, and Hartman put him to work the same day.
In 2009, a Houston development company approached Hartman and other Fry Street business owners, offering to buy them out to build apartments. The process faced considerable opposition from locals with sentimental attachments to Fry Street, but in 2011, the Campus Barber Shop left its original home and headed for downtown Denton. The decision made financial sense, but that didn't make it easy to leave the location Hartman had maintained for nearly a half-century. "There was some stress involved," he says.
Approaching his 70s, Hartman didn't want to remain owner of the shop as it transitioned to its new location. For more than 16 years, he had observed the quality of Carroll's work; he was dependable, skilled and reminded Hartman of himself. When the shop moved to 311 E. Hickory St., he transferred ownership to Carroll. "I didn't consider anybody else," Hartman says.
Now an employee, Hartman is no longer involved in a decision-making role, but Carroll says their relationship hasn't changed — Hartman still "does whatever the hell he wants."
Proa, who has worked at the barber shop for five years, describes Hartman as the shop patriarch, a title earned from 59 years of honing his craft. Hartman doesn't foresee retirement anytime soon, knowing "it would leave a real void" in the lives of his regulars.
Carroll has his own staple of dedicated regulars, one of whom enters the shop and waits patiently, sitting at the wooden table, thumbing through a copy of Texas Parks and Wildlife. Robert Page has been a shop regular for the past six years, most of his cuts coming from Carroll.
"We got off to good conversation right off the bat," says the 69-year-old Page. "He's a good guy, easy to talk to."
From Carroll's perspective, forming these relationships isn't complicated — he chalks up his success to greeting clients at the door, making them feel comfortable and giving good advice — along with a quality haircut.
"[Carroll] is very charismatic. People tend to gravitate toward him," Proa says. "Men don't vent to random people."
"It's almost like Vegas," Carroll quips. "What happens in the barber shop stays in the barber shop."
It's a few minutes past closing time and the last barber leaves as the glass door locks behind him. The Campus Barber Shop falls silent — only its lights are left on. The mirrors no longer reflect smiling faces and the five barber chairs, bustling forums of conversation moments earlier, no longer resonate with stories and laughter. But the barber's pole outside continues to slowly turn, keeping watch over the place where men from all walks of life come together to continue an American tradition.