PONDER — A controlled burn took place in a Ponder home Tuesday evening as the Ponder Volunteer Fire Department participated in a mutual aid training exercise.
Other volunteer departments taking part were Greenwood-Slidell, Justin and Krum.
The home, located next to the Ponder VFD, was donated by Ponder resident Kurt Bluhm, who said the home was beyond repair and in need of renovations. In lieu of renovating, Bluhm, said he inquired about whether the Ponder VFD could use the structure for training purposes. He plans to rebuild after the exercise concludes.
Ponder VFD Chief Charles Williams said this week's exercise offers an exceedingly rare opportunity to use a live structure for training, as opposed to one that's either concrete or metal. Williams, a veteran firefighter of four decades, said their training aimed to simulate the realistic, everyday conditions that firefighters will face in the field.
"For the newer guys, we can take them in and show them how the fire signatures and everything starts off," Williams said. "[Which includes] how the heat builds, what to look for, when it's going to get dangerous and when they're able to put it out."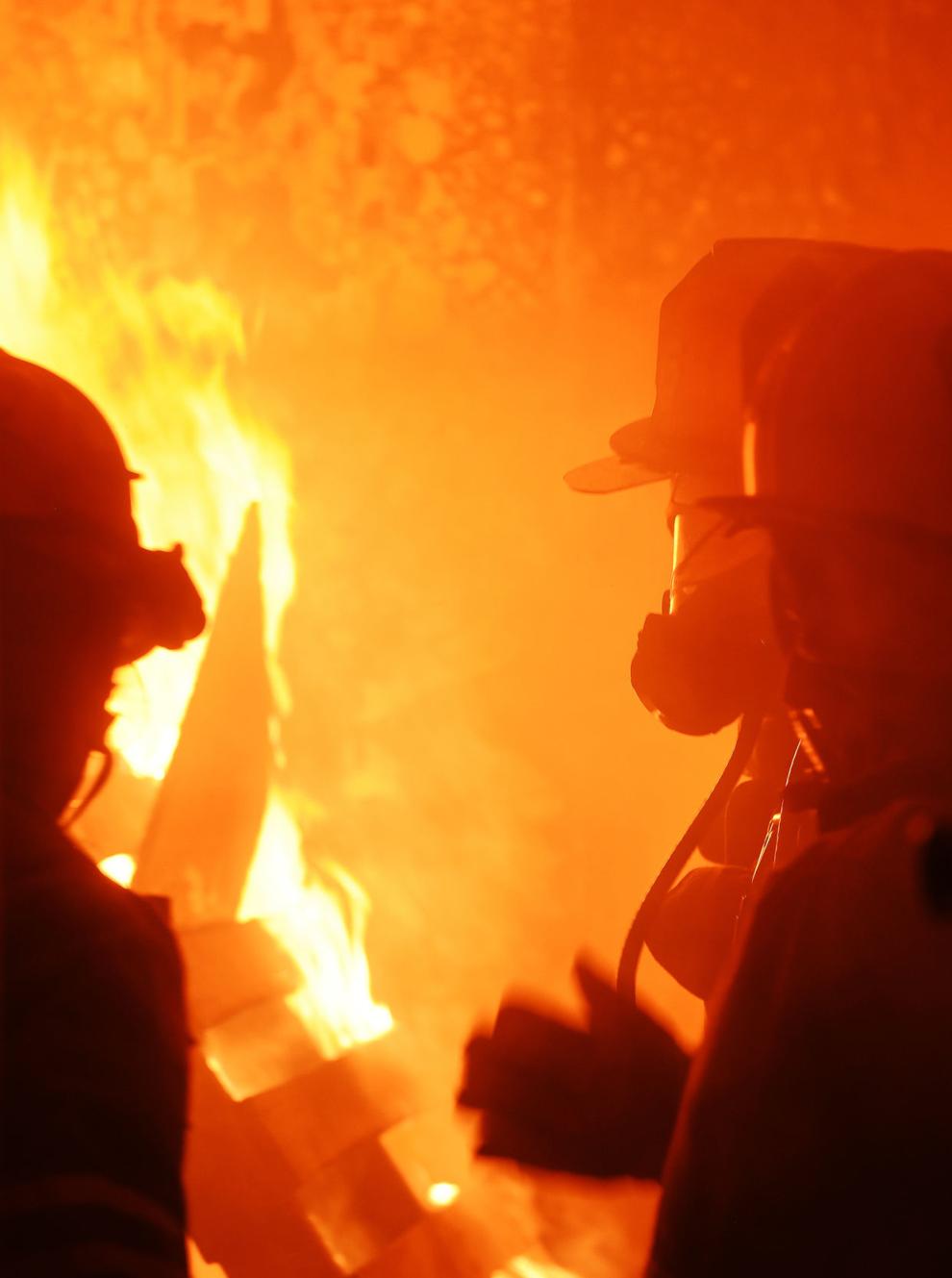 Donning their protective equipment weighing upward of 50 to 60 pounds, participating firefighters alternated through Tuesday's exercise in four groups. The chief said more than 20 firefighters participated in the exercise, which included fire safety and recognition techniques, such as defensive fires.
"There's a progression on any fire that once it gets to a certain stage, it's no longer safe to be making entry, and it becomes what we call a defensive-only fire," Williams said about non-entry scenarios, in which firefighters are only spraying from outside the structure. "That's part of what this is all about, is to teach these guys how to read the conditions and know for themselves and their crews when it's safe to go in and make a rapid entry."
As firefighting crews began their training exercise, smoke began to billow out of the one-story house as crews went through their muscle-memorized routines. Although Tuesday's training was contained to only one room in the house, it was an opportunity to practice one of the more important aspects of fire training and safety: communication.
Justin Volunteer Fire Department Capt. Wes Sheffield, who teaches fire special operations at Tarrant County College, said that communication, by far, is the weakest link during training and real-life scenarios.
Before and after each group entered the structure, Sheffield said a briefing and debriefing helped the firefighters further learn from and discuss what happened in the scenario.
"They're discussing what occurred inside [the structure], so that's a further learning environment," Sheffield said. "We bring everybody together when they do that, so others that weren't in yet can still learn something before they come in."
Although firefighter crews were exposed to real-life conditions during Tuesday's exercise, Sheffield said the nature of fighting fires has evolved over his 25-year career. In older buildings, such as Bluhm's donated home, fire crews typically have "a little more time" because the structures were built with solid lumber. But newer, more modern structures are built using synthetic materials — plastics, non-cotton furniture, etc. — which cause fires to burn twice as hot and develop twice as fast.
"Where fires used to burn at 8,000 BTUs [British thermal units] an hour [they] are now burning at 16,000 BTUs," Sheffield said. "The amount of time that there's a survivability window has decreased in these new structures."
Ponder resident John Estes said he and his son, Justin, attended Tuesday's exercise to support their local fire department. Justin Estes, who graduated from the Fire Academy at North Central Texas College in December, said he got the opportunity to support his brothers and interact with other departments.
"It's good to see that they've got younger guys — I see a couple of my buddies that I went to the academy with, and just seeing that they get that firsthand experience is great," Justin Estes said. "On top of that, you've got Ponder out here, Krum, Justin, [Greenwood-Slidell], so they kind of learn how each department works."
In Denton County, and other small communities, Sheffield said it's difficult to get enough volunteers for a department to function, so departments rely on their mutual aid partners and other communities to come and help. But, in the end, Sheffield said it boils down to a sharing of resources and communication between departments.
"When we train together, we'll know how each other works and understand that we're all the same," Sheffield said. "Whether you're a paid department or volunteer, we want to train together [because] it opens up the communication between different municipalities."
The Ponder Volunteer Fire Department, along with the Krum, Justin and Greenwood-Slidell departments, will conduct additional mutual aid exercises — weather permitting — at the corner of Fredrick Street and East Bailey Street, next to the Ponder VFD, on Nov. 19 and Nov. 26.