Denton ISD librarians are galvanizing support for a mobile library program they hope will roll out this coming summer.
Those involved in the program hope easier access to books will combat the seasonal summer slide, during which students push off learning while not in classrooms.
"Every librarian in the district is involved in a certain component," said Kelly Born.
Born is a librarian at Newton Rayzor Elementary and leader on the Denton ISD Library2Go Bookmobile project.
"You could go into any school and go, 'Hey, librarian, what have you done?'" she said.
Research from 2010 published in Research Psychology adds context to an idea that has become all but common knowledge: Reading over summer helps children do better in school.
"Our data simply offer additional support for that not very new policy direction," researchers said.
The researchers gave a subset of third- to fifth-graders at a school access to books of their choice over summer break. They found that students who read frequently over summer recess were able to minimize damage done by their time away from formal education.
Beyond that, research indicated a further achievement gap was widened each summer between students from different socioeconomic backgrounds.
A leadership team of seven Denton school librarians have spent month after month of their time to make it easier for students to get free books when classes are out of session.
Denton ISD donated a recently decommissioned school bus to act as the walls and means of conveyance for the future mobile library.
District transportation department workers removed seats from the bus and made sure that all maintenance was up to snuff.
Much of the design work for the bus is being completed by 25 Lunch by Design students at Rodriguez Middle School under the direction of librarian Kelly Korenek.
Students quickly volunteered to spend their lunch break working among four design teams while they ate. Each team took a section of the bus to make their own.
It was such a success, she's planning to continue the Lunch by Design program after the bus is on the road.
"They worked together to create their vision of what the shelving should look like," Korenek said. "I have to give them all of the credit. They poured their hearts into it, and, I think, walked away realizing that they, as kids ... can actually make a difference in their community."
The kids mocked up shelves of varying dimensions running floor-to-ceiling along the interior bus walls. Because of that, LED lights will be installed to make sure library-goers will be able to see what books they're picking out.
Shelves will be built by Earl LeRoy Rowe's woodshop class at Strickland Middle School, which was also responsible for building shelves for a related literacy project.
Eventually, those involved hope to have free Wi-Fi available to help parents enroll students in classes, as well as a wheelchair lift that will double as a back-saving way to load and unload books. They also want a custom wrap installed on the bus complete with Denton landmarks.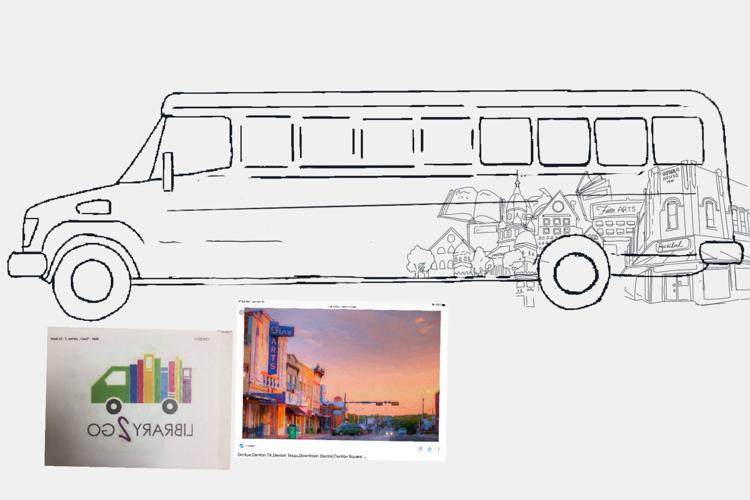 For now, librarians will be happy to have shelves installed and plenty of books to fill them.
Currently, they have about 500 books at their disposal for the project with plans for another 250 on the way through a grant, said Melisa O'Rear, a librarian at Adkins Elementary.
"We need a lot more than that," O'Rear said.
As of this past week, fewer than two dozen books written in Spanish were available.
Books meant for preschool through second-grade readers are projected to make up about 40 percent of the collection on the bus. Another 40 percent will be chapter books for fourth- through eighth-grade students, 10 percent for high school adult books, particularly from the Advanced Placement reading list. The final 10 percent will come from foreign languages.
Librarians currently are sorting out who will be able to work the bus during the coming summer. With a dedicated bus driver and two to four librarians, the buses are projected to take different routes throughout the week to help provide access to students, especially those on the fringes of the school district.
While Denton residents are eligible for public library cards, those outside the city limits aren't.
At this point, buses are expected to stop several times throughout the day in easily accessible locations. That could mean nearby schools or even retail parking lots.
Each stop would ideally last about 30 minutes, which might give drivers enough wiggle room to make it back to a central location to restock a dwindling supply.
Those involved in the sprawling project talk about it in preliminary terms with the concrete idea of getting books into students' hands, and further, loftier goals in the misty future.
With early success, generous donations and a bit of luck, librarians leading the Library2Go project would eventually like at least one bookmobile for each district zone, each of which serves a high school.
Donations — monetary and otherwise — have come from organizations, nonprofits and individuals alike. All manner of books are needed, such as young adult titles, books for preschoolers and books in foreign languages.
Those looking to donate books or supplies can do so by following the links at bit.ly/Library2Go or by going to any school library, as well as the Library Services building, 1212 Bolivar St.