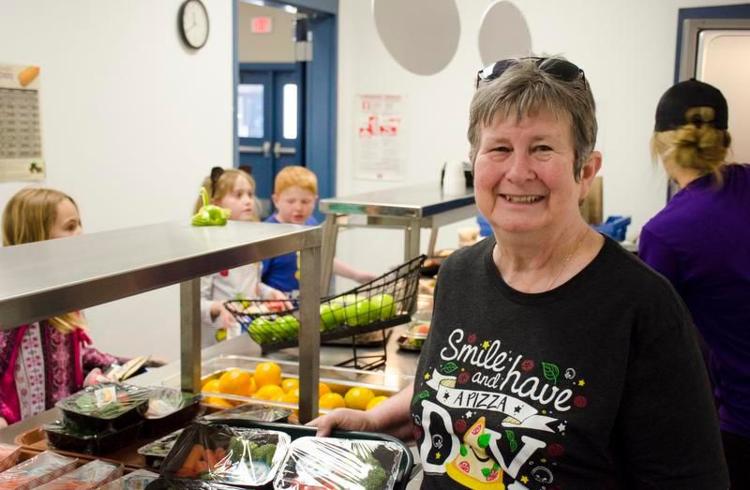 "Ms. Connie fed me when I was in school. Now she's feeding my kids."
It's a phrase you'll hear over and over in Krum ISD when it comes to cafeteria director Connie Sink. Nearly every food service employee in the district remembers a time when they saw Sink smiling at them from behind the lunch line when they were students. Now, as they talk about their boss' last days on the job, a sense of melancholy rises in their voice.
"It's hard whenever you've grown up with her around and then you start working with her to see her leave," said Brandi Jones, who has been on Sink's staff for five years. "She's like family."
Sink, 65, will retire at the end of the semester after 32 years with Krum ISD, the latest of which have her pulling double duty in the cafeteria and as a bus driver.
The district will have to find a way to manage without Sink's institutional knowledge, but like many retirees, she knows "it's time."
"There's been so many changes in rules and regulations," she said. "I'm not as computer-literate as some people should be, so I didn't want to feel like I wasn't doing my job as adequately as I should."
A daughter of a dairy farmer, Sink grew up down the road in Ponder with her three siblings and attended school there. She was hesitant when she went to work at the "rival school" in her 30s, but she didn't have much choice.
Her husband died in a plane crash, and she had a 5-year-old daughter to take care of.
"I was trying to buy a house, and I needed a job," she said. "The lady who was running Krum ISD had fed me when I was in school. I called her and asked if she had a job. I came in as a sub in the kitchen, and I never left."
Sink started doing "grunt work" as she called it, washing dishes and cleaning out pantries. She became a student in the kitchen, watching how things worked and soaking it up. Eventually, she moved up the ranks and now oversees all five kitchens in the district.
"It became a part of me," she said. "I didn't have any college education. I learned it all from just being here."
Sink starts her workday at 5:30 every morning, a pair of sunglasses firmly planted on top of her head. She'll sit in her office to catch up on paperwork until 6:30 when she starts her bus route.
When she gets back to campus about 8 a.m., she'll do more paperwork until lunchtime and then bounce around wherever help is needed. Once lunch is over, she'll finish up any lingering paperwork ("Every time I turn around, they want me to fill out another report.") and then start her bus route home until the end of her day about 5 p.m.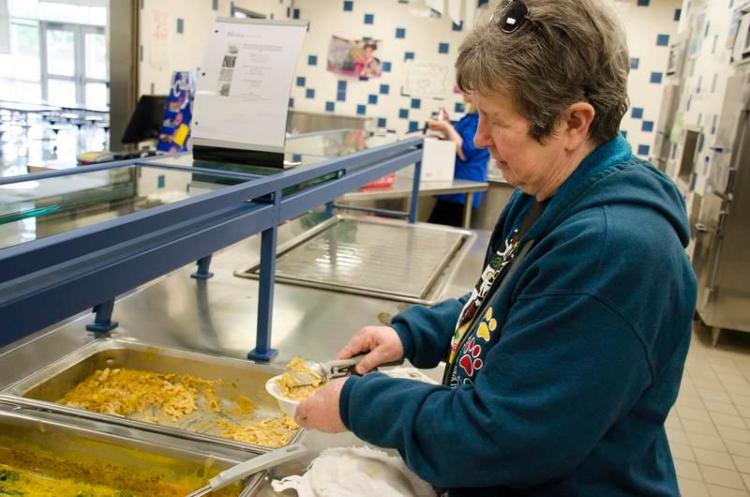 As she drives around in her district-provided minivan Wednesday afternoon, it's clear Sink rules the roost. Her 19-member staff respects her, but not because it's demanded of them.
They respect Sink because she's ready to do whatever needs to be done, whether that means fixing computer issues or refilling the milk refrigerator.
"One of my favorite things is still washing dishes," she admitted.
Cafeteria worker Kathie Sturgeon said Sink's generosity extends beyond school walls.
"She's willing to help anyone who needs it," Sturgeon said.
"That's what my daddy taught me," Sink replied.
But the Krum of her daddy's time is a lot different than the Krum today.
When Sink started, the district had one cafeteria that fed about 450 students, she said.
Now, each campus has its own cafeteria, and Sink helps feed more than 2,000 students, which translates to about 5,000 pounds of food per day, she said.
Outside the extra paperwork, Sink said it can be tough to get parents to pay overdue lunch tabs or fill out free and reduced lunch waivers.
"My dad always managed to pay for our meals, even if he had to go sell a cow," she said. "He would march down to the school at the end of the year and ask, 'How much do my girls owe you?' I don't know if it was pride that made him not fill out the [free and reduced lunch] application or if he even knew about it, but there's no shame in doing that."
Whatever hardships she might carry from the job seem to melt away when Sink gets hugs or waves from kids in the cafeteria or on her bus route.
To see how kids change and grow is one of the best parts about the job, Sink said. She's seen students go from rowdy first-graders to soldiers or quiet middle schoolers to mothers. She even gets stopped in the grocery store by people who attended Krum decades ago.
"It's nice to know that you made an impact in those kids' lives to where they still recognize you wherever you go," she said. "You've got to really care about the kids to do this job."
With the countdown to the end of the year in full swing, Sink plans to go visit her daughter in England for a few weeks.
A notorious gambler according to her staff, Sink sees several trips to WinStar Casino in Oklahoma in her future as well.
When she returns from her trip, Sink said she'll keep driving her bus so she "gets up and does something every day."
"I'm excited to retire now because it's the end of the year, and I'm ready to be done," she said. "But I wonder if in a few months I'll be asking myself if I made the right decision. I know I'm going to miss it."
CAITLYN JONES can be reached at 940-566-6862 and via Twitter at @CjonesDRC.