The soccer fields were still wet from Friday's rain, but it was still a hot and sunny day for kids in their cleats as they ran around passing balls to each other and scoring goals to break in Denton's newest athletic facility Saturday.
Denton Parks and Recreation opened the new G. Roland Vela Athletic Complex in northwest Denton with soccer games, clinics with FC Dallas coaches, music and snacks.
"We're honored and proud to break in the complex. It's a beautiful day for the GOAL program and Denton," said Chris Ice, a community engagement specialist with Denton ISD and one of the founders of Guys and Girls Operating as Leaders.
The athletic complex is adjacent to the Linda McNatt Animal Care & Adoption Center, and across the street from the University of North Texas' Discovery Park.
FC Dallas hosted soccer clinics for elementary-aged kids on one of the four fields. Kids rushed to get free FC Dallas T-shirts and leaned against the fence in anticipation while they watched FC Dallas coaches set up the field for them.
The pro soccer team's mascot, a bull named Tex Hooper, was also out taking pictures with families and hyping up the kids for their games. One kid shyly approached the costumed character, who responded by crouching down to encourage them to come forward.
G. Roland Vela Athletic Complex grand opening
GOAL, a local soccer and leadership organization, showed up with their own young soccer players and merchandise. The program serves at-risk kids in Denton, Sanger, Little Elm, Lewisville, Lake Dallas and Dallas' Oak Cliff and helps them stay engaged in their education.
Ice joked about Friday's rainstorms nearly affecting Saturday's opening and said GOAL attracted rain like a magnet during the spring.
Denton's new $7 million facility also has a playground with swings, slides and seesaws. The complex is named for G. Roland Vela, who became the Denton City Council's first Hispanic member in 1979 and retired as a UNT biology professor in 2000. Vela, who is in his 90s, cut the ribbon to the facility during a private ceremony in May.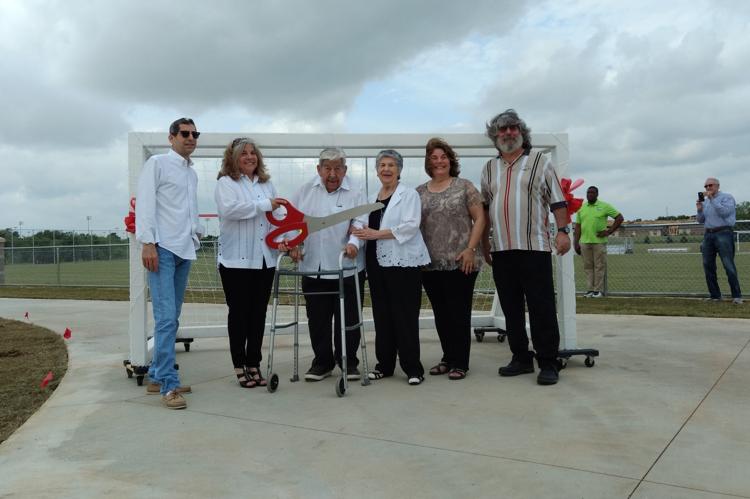 "Dr. Vela did a lot for the community," said Jason Barrow, an adults sports supervisor for the city. "That's why there was a big push on the naming."
Mayor Pro Tem Gerard Hudspeth said Vela has been a trailblazer for the Hispanic community in Denton.
Naming the complex in his honor, Hudspeth said, is "a way to acknowledge someone who donated a lot of their time to the city."