With new vehicle technology like electric and autonomous vehicles, Drew Campbell, senior partner of Capitol Insights, said the notion of "don't text and drive" could change in the future.
U.S. Rep. Michael Burgess, R-Pilot Point, hosted the 14th annual Energy Summit and Fair on Saturday morning at the University of North Texas' Discovery Park. Leaders and experts showcased energy-efficient technology and showed residents how they can conserve energy.
"Just like we make consumer conscious choices in every other aspect of our lives, so should we include our energy purchases [in those choices]," Burgess said about getting consumers educated on efficient energy.
State Sen. Kelly Hancock, R-North Richland Hills, spoke in depth about the supply and demand for electricity in Texas and how the state is moving forward with legislation regarding autonomous vehicles.
Electric vehicles, including a few Teslas, were on display at the summit and were a recurring topic at the summit.
Campbell focused his presentation on electric cars as well. Capitol Insights is a Dallas-based legislative and consulting firm whose partners serve as lobbyists.
"Electric cars — it's happening," Campbell said. "It's going to be just like your cellphone or your smartphone. One day, you're going to wake up and you're going to go out and unplug your car and you're going to drive to work."
A number of Tesla vehicles were just outside the classroom as Campbell spoke of how soon electric cars will be the new normal, as well as autonomous vehicles. Campbell also echoed Hancock's point that the demand for electricity in Texas will go up with these new vehicles.
"Texas is growing, growing, growing, and it puts a tremendous demand on the electric grid and that type of power," Campbell said.
Autonomous vehicles are vehicles that drive themselves. Campbell said he was sweating the entire time he was in an autonomous vehicle traveling from south DeSoto to Denton — about an hour drive.
"I never sweat so much in my life," Campbell said. "I kept thinking, 'Will somebody please grab the steering wheel?' but the car just drove itself."
With autonomous vehicles, Campbell said he could see the next generation using their phones, laptops and tablets while in the car.
"[Today it's] 'don't text and drive,' 'don't drive distracted,'" Campbell said. "Well, these things are going to change."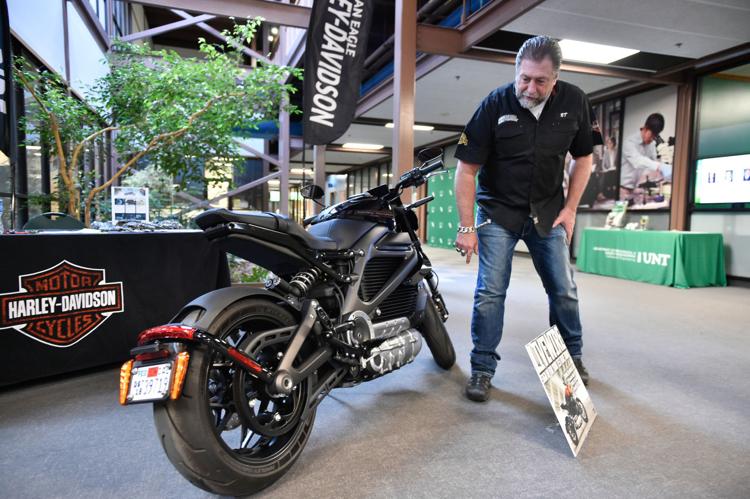 A highlight at last year's energy summit was Harley-Davidson's prototype of an electric motorcycle. During Saturday's event, the production model of the Harley-Davidson LiveWire was on display in a section full of electric cars and hybrids.
The LiveWire motorcycle will be available to the public in August and will cost just under $30,000.
Bryan Tynes, general manager of American Eagle Harley-Davidson in Corinth, said the company is getting into electric motorcycles to be a world leader among energy-efficient vehicles.
"[Harley-Davidson] want to be able to get into the global market [of electric vehicles] where they have these other motorcycles to fit everybody's needs globally, and that's the way they're going to survive," Tynes said.
Tynes said the company started working on electric motorcycles two years ago after learning that electric vehicles could become the new normal.
"Yesterday's power is going to be few and far in between," Tynes said. "I see it in my lifetime — my kids will definitely see it because they're young. In 10 years, gas-powered vehicles will not be able to be sold, you'll have to go electric."