For a fleeting moment when she was younger, Argyle senior Rhyle McKinney enjoyed not being able to hear heckling, jeers and crowd noise during games.
Born with a cleft palate and perforations in both eardrums, McKinney is considered legally deaf. McKinney's cleft palate left her with a gaping hole spanning from the roof of her mouth all the way to the back of her throat.
As a baby, McKinney had to be fed with a syringe. Her mother, Traci McKinney, described the first five months of Rhyle's life as a feeling of helplessness.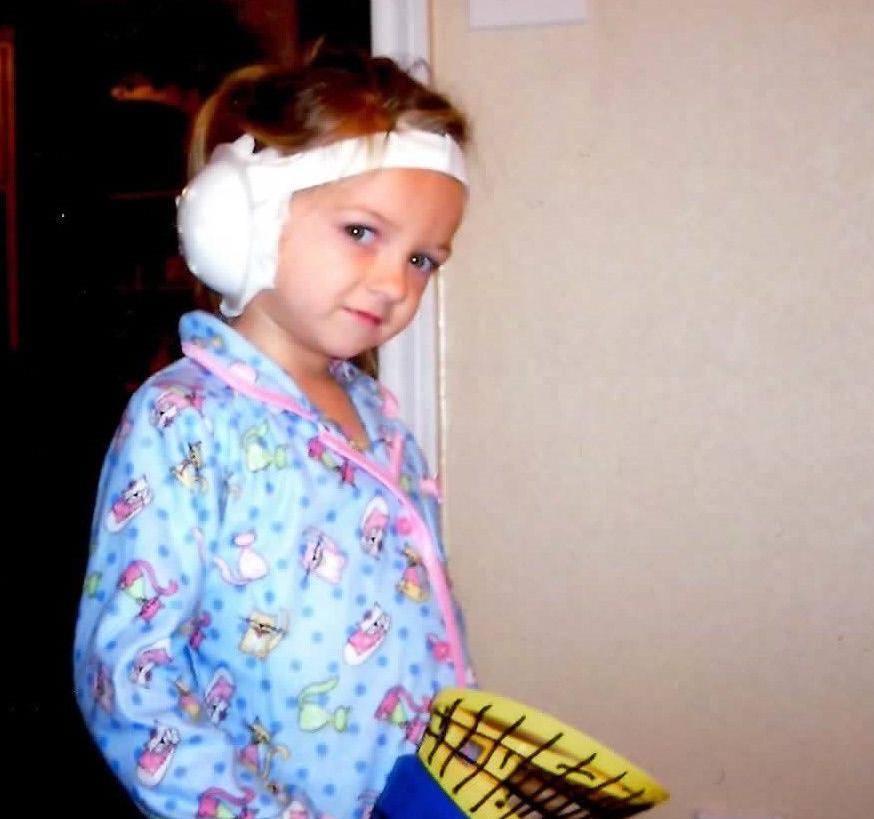 As she grew older, doctors repeatedly told Rhyle she would likely not be able to play sports, much less ones that involved extreme amounts of running.
She never cared what they said.
In her four years at Argyle, Rhyle is a three-time state champion, currently going for title No. 4. She is the Texas Girls Coaches Association reigning Class 4A-and-under Player of the Year and reigning 4A state title game MVP.
Many consider her to be one of the best and most decorated basketball players in the entire state.
And Rhyle has done it all despite a host of medical issues that doctors said would keep her from becoming exactly who she is today.
"I never stopped when they told me I needed to stop," Rhyle said. "I never did. I just wanted to be something I was told I couldn't be."
'She was never happy'
Traci McKinney and her husband, Michael McKinney, didn't know about Rhyle's cleft palate until the moment she was born.
Admittedly old fashioned when it came to the birth of their children, Traci and Michael did not want to know whether Rhyle was a boy or girl until she was born. As a result, their final sonogram occurred when Traci was three months pregnant.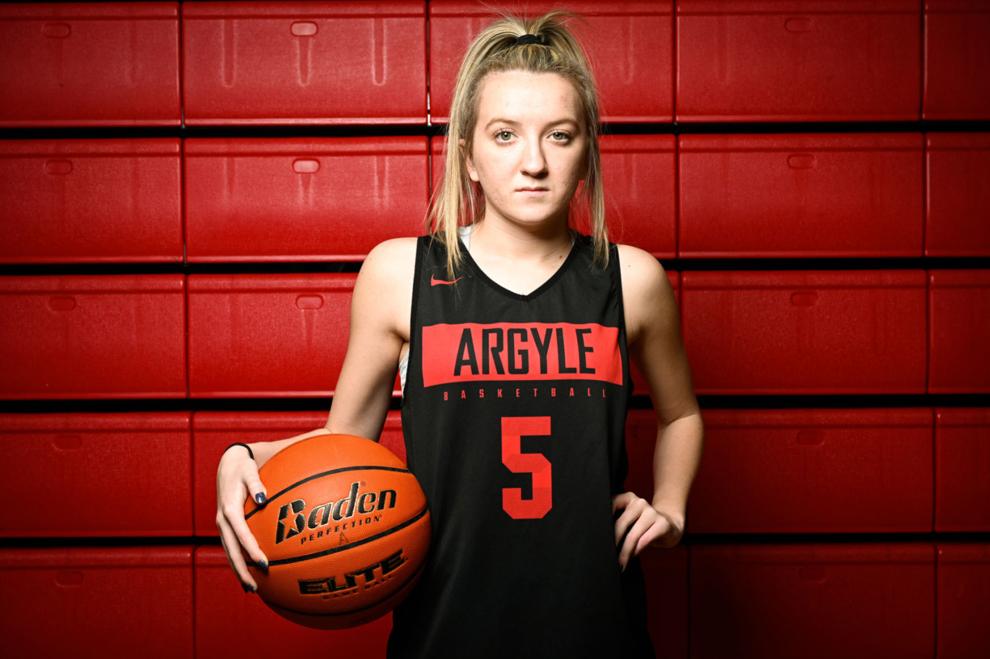 "We didn't know anything," Michael McKinney said. "When my wife was delivering Rhyle, she was turned, so they had to break her collarbone in order for her to give birth. We were a little bit concerned with that. When Rhyle was born, I cut the cord. When they stuck the little blue suction in her mouth, that's when they noticed [her cleft palate].
"That's when the shades got drawn and people started getting called."
Traci and Michael immediately broke out a medical book to start learning about Rhyle's condition. While the cause is mostly unknown, a cleft palate happens if the tissue making up the roof of the mouth does not join together during pregnancy.
Some babies are also born with a cleft lip, but in Rhyle's case, it was just her mouth that was affected.
"From the roof of my mouth all the way to my throat was completely open," Rhyle said. "Some kids, it goes to their lip and they will have a scar. But it didn't happen to me. I don't have a scar, which is why unless you hear me talk, which has gotten better, you don't realize that I had one."
Unable to get suction or even swallow on her own, Rhyle could not be nursed or use a bottle. Her parents had to fill a syringe with formula and squirt it down her throat.
"We came home and she cried so much," Traci McKinney said. "I felt helpless. She was never happy. I'm telling you, when I say that child cried for the first five months, it was non-stop because she was sick. Her ears hurt. She was never full. I was in agony for the first five months, to be completely honest."
Doctors waited until Rhyle was 5 months old until they performed the surgery to repair her palate.
But little did Traci and Michael know, Rhyle's problems were just beginning.
In addition to her palate, Rhyle also had perforations in both of her eardrums. By the time she was 3, Traci and Michael discovered not only did their daughter need additional surgeries and hearing aids — she was legally deaf, too.
"It's just the way I was born," Rhyle said. "God made me this way."
What doesn't kill you makes you stronger
When she was 6, Rhyle went to Florida to play in the championship game of a soccer tournament with her team.
At the time, her hearing aids were not waterproof, and it started raining before the game started. Michael made Rhyle take her hearing aids off and play without them.
Rhyle's team went on to lose the game, due in large part, Michael says, because Rhyle wasn't used to playing without her hearing aids.
She vowed to never let it happen again.
"She told me she was going to figure out a way, no matter what," Michael said. "I think that's part of the reason why Rhyle is as mean as she is. You go through stuff like that, and when you're little, you get picked on. It toughens you up."
But not being able to hear without hearing aids was far from Rhyle's only issue as a child.
Up until last summer, Rhyle never experienced a good night's sleep.
Growing up, Rhyle's parents had to check on her in the middle of the night to make sure she was still breathing correctly. She also had to sleep propped up with pillows behind her and on either side — a routine she still follows.
Rhyle is also prone to illness, particularly staph infections.
"She deals with a lot behind closed doors, and you'll never get her to say anything about it," Traci said. "It's an easy crutch. But that isn't her mentality, at all. And it's never been."
To date, Rhyle has undergone 18 different surgeries. Six were to fix her palate. Others were for her ears, mouth and sinuses.
Rhyle's mouth was especially problematic, as some of her teeth started growing upward into her sinus cavity.
"A lot of times, it got hard to watch," said Rhyle's brother, Shane McKinney. "Especially when she was really young, she was constantly going through surgeries, or she was sick all the time. The easiest thing for me to do was do anything I could, like go get food or do anything for my parents.
"I think she's a great inspiration. Going through what she's gone through, it kind of helps me. I push myself in my career and in other areas because of what she has been able to accomplish given her situation."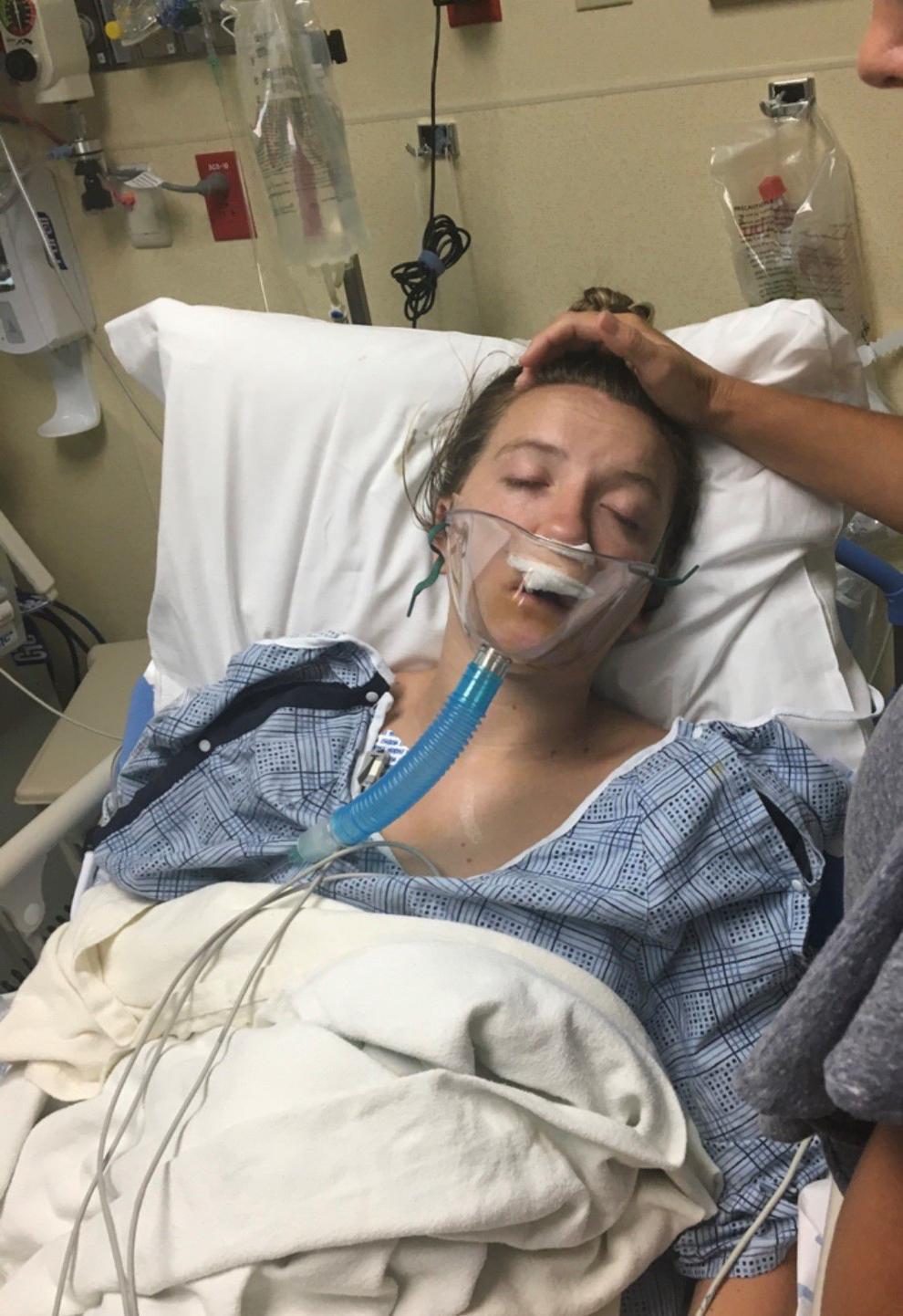 Rhyle's most recent surgery came last July, when doctors shaved down skin on her pharyngeal flap. Last season, as Rhyle led Argyle to its fifth straight state championship, she was unable to breathe through her nose because scar tissue had sealed off her airway.
During the state tournament, Rhyle was on a dose of antibiotics to battle a sinus infection.
She went on to score 25 points in the Lady Eagles' championship game victory, a performance that earned her MVP.
"It's definitely been a lot [to deal with], but my dad has played a really big role in how I have handled it," said Rhyle of her numerous medical issues. "He's pushed me to every limit I thought I had. I was told from the beginning I wasn't going to be able to play a lot of sports that involve any type of running. That's completely changed. My dad pushed me completely away from what they said. He has big goals for me and I've just tried to reach them."
One of a kind
Argyle was on the verge of a rare home loss.
The Lady Eagles trailed Krum by three with 0.7 seconds left and had struggled offensively all night. Needing a 3-pointer to send the game into overtime, Rhyle caught an inbound pass and was fouled going up for a shot.
But that was only half the battle.
Rhyle then had to sink all three free throws just to tie the game. One by one, Rhyle calmly drained each shot.
Argyle went on to win 53-52 behind another signature performance from Rhyle, who finished with 28 points.
"She's without a doubt one of the top players in the state," Argyle coach Chance Westmoreland said. "I think what makes her so special is just the kind of kid she is. She's humble but yet ultra-competitive. You can see the focus she has on the court."
Rhyle McKinney's archive of basketball accolades may be the only thing longer than her medical history.
She is a three-time state champion, state championship game MVP, TGCA 4A-and-under Player of the Year, 4A all-state selection, 4A Region I Tournament MVP, District 8-4A MVP and the Denton Record-Chronicle's reigning All-Area MVP.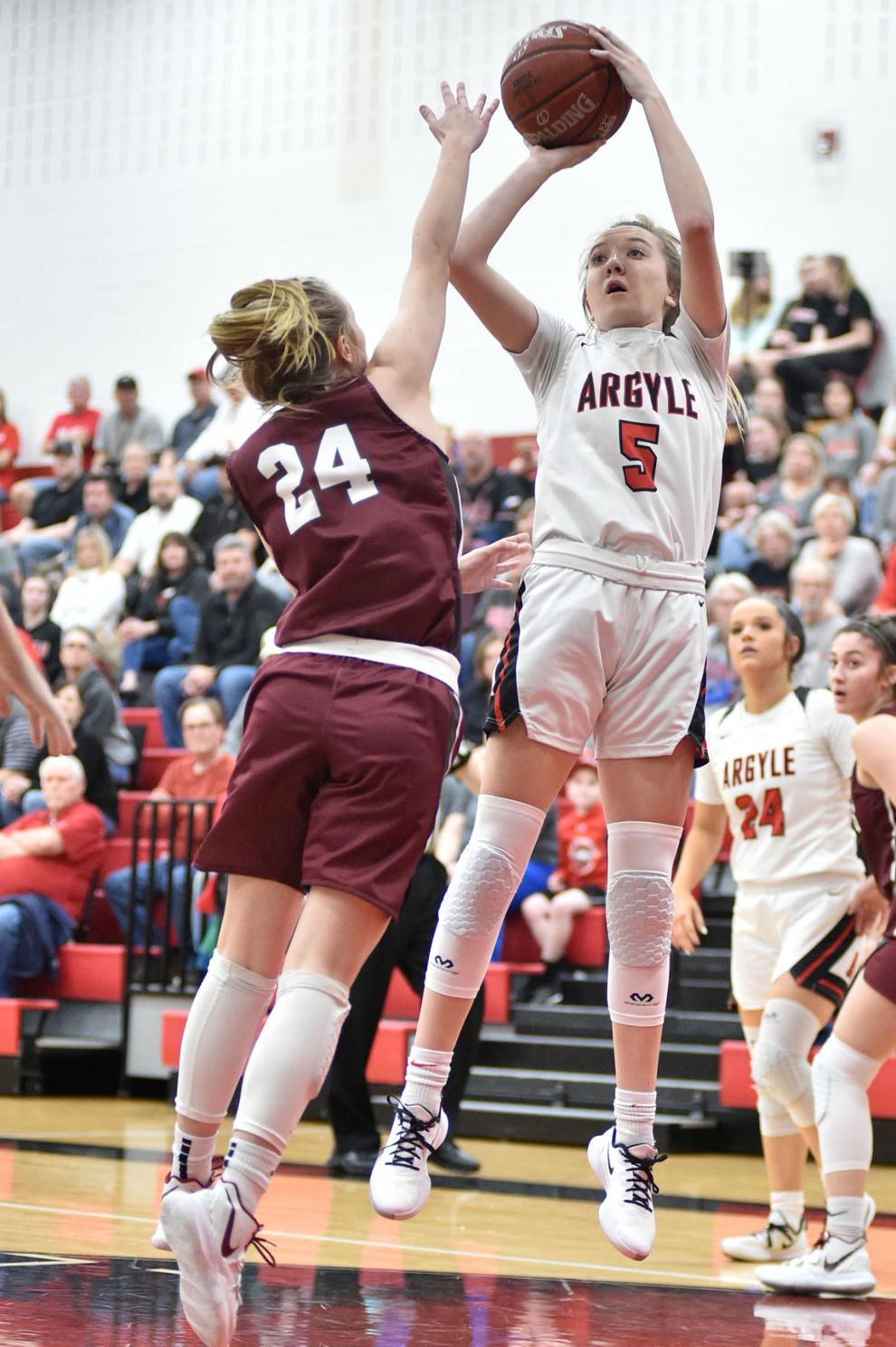 Rhyle has also signed with SMU and will get to play Division I basketball when her time at Argyle comes to an end.
"I don't really ever talk about what my problems are or the issues that I have," Rhyle said. "I would much rather people know me for who I am and how I play basketball. I don't go into any games trying to stand out differently for my issues."
Yet, perhaps unintentionally, Rhyle does stand out every time she steps onto the hardwood.
In four seasons at Argyle, Rhyle has gone 131-22, winning 85.6% of her games while dealing with problems hearing, breathing, sleeping and just staying healthy.
"She's always been a basketball player for us," Westmoreland said. "But I also think what's neat about it is she has been an inspiration for other people. Other people and players say they look up to her and the way she handles not being able to hear, the cleft palate and all the surgeries she's had. She's been able to impact our team and the younger generation. She's making a lasting impact on a lot of people."
For Rhyle, that is exactly how she wants to be remembered.
The championships and awards are memorable, sure — but she is hoping to inspire someone she might not even know that is dealing with a problem of their own.
"I love people looking up to me, like the little kids," Rhyle said. "That's really all I care about. I like to set an example. With my story and everything, you can do whatever you set yourself to."
Whether it be doctors or spectators, doubt has fueled Rhyle over the past 18 years.
She knows no limitations, as evidenced by her laundry list of accomplishments.
And while there used to be a time she enjoyed not being able to hear negative comments during games, these days, Rhyle craves them.
"If someone were to scream at me the whole game and root against me, I thrive off that," Rhyle said. "I like people doubting me. I like people thinking I can't do it. And I always have. I like people saying I can't do it. Then, I go out there, do it and prove them wrong."