Cameron and Felicia Hall are getting quite good at their signatures.
The local son-and-mother duo spent the summer perfecting their technique during signings for their new book, The Elite Force and Middle School Madness. After spending a year and a half writing the fictional chapter book, the two let out a sigh of relief when they held the finished product in their hands. But the feeling didn't last long when the pair set out on a whirlwind marketing tour.
"The demand caught us off-guard," Felicia said. "We did want to make a profit from our work, but it was never going to be a 'get-rich' scheme. Everything happened so quickly, and I wasn't ready."
The Elite Force follows a group of elementary school friends through the trials and tribulations of middle school. A new student comes along with some surprising talents and creates conflict in the group. Though the group is made up of boys, Felicia says the book will resonate with both male and female students.
Hall, a middle school teacher in Eagle Mountain-Saginaw ISD, said she always wanted to write a book as a young girl. In July 2016, she decided to actively pursue that goal and asked her son Cameron, now an eighth-grader at Argyle Middle School, to help. He agreed, and the pair got to work.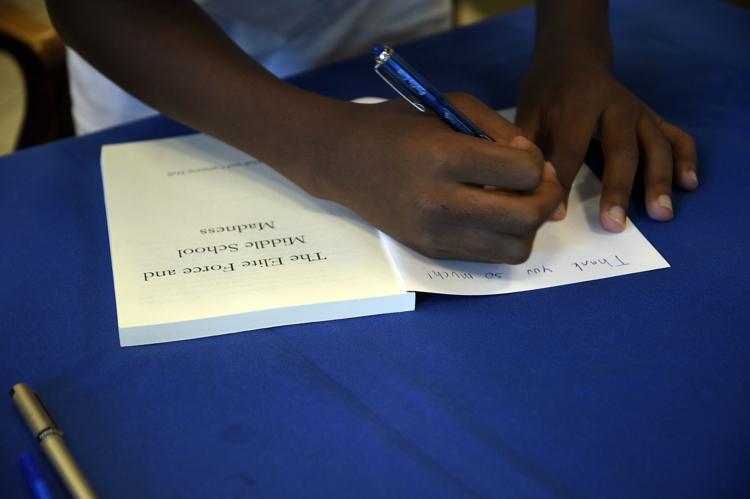 Felicia drew inspiration for the book from her experience as a teacher and administrator. Cameron made sure the characters' actions and dialogue stayed consistent with how kids act and talk today.
"Our writing process was a little bit unorthodox," Cameron said. "Whenever she would be sleeping, I'd pick up the computer and start writing. When I would be outside, she would be working. We were both contributing to the story."
The co-authors did the bulk of the writing during the summers and reserved writing and editing for the limited free time they had when school started again. Finding a balance between sports, homework and family time proved challenging at some points.
"Cameron already has a rigorous schedule, and I didn't want to put any added stress on him," Felicia said. "I wanted this to be something he enjoyed. I didn't want it to be a task."
When the two did sit down to write, they enjoyed a collaborative relationship. Sometimes, feelings had to be pushed aside when an idea was scrapped, but they found a way to keep their shared vision alive.
"We knew going in that we wouldn't always agree, but that's OK," Felicia said. "We had a common purpose."
The two disagreed at times, especially over the ending point of the process. Felicia would say she felt like they had finished writing, but Cameron would disagree.
"I felt like we needed to add more details, strengthen the plot, add a more interesting climax," he said. "We had a good book, but what were the things we could do to make it better?"
Felicia also used the book as a way to talk to her son about issues he's been facing in middle school, something she hopes other parents will do after reading Elite Force.
"A lot of times, parents don't always know what kids are dealing with," she said. "If they can just talk to them, they can better understand and help them."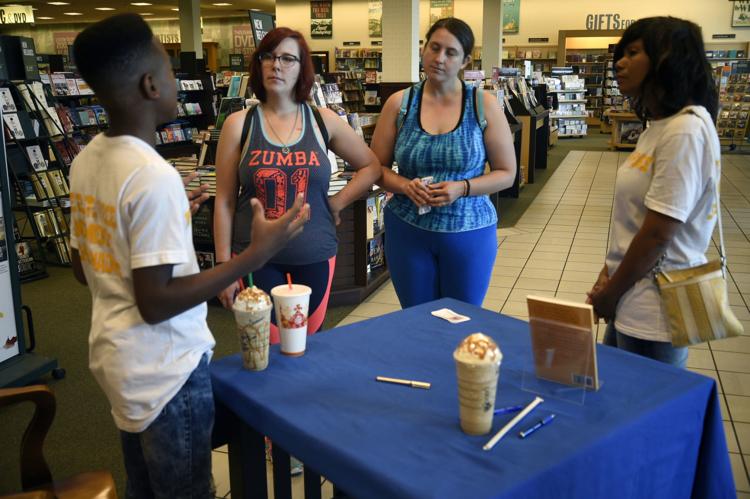 By March, the Halls were ready to publish. They wanted to maintain creative control of their book so they went through an Amazon company called CreateSpace, which allows authors to self-publish.
The pair kept their writing a secret up until then, just in case the project fell through. When friends, teachers and co-workers found out, they were shocked, Felicia said. Cameron's friends asked him for copies of the book, while language arts teachers asked Felicia to come speak to their class.
While Felicia accomplished her childhood dream with the book, Cameron has some other goals he'd like to accomplish outside of writing. Penning more books in the future, though, still is an option for him.
"It's always been in the back of my head," he said. It's one of those things where you can start young or do it after retirement. I won't rule it out."
The ending of Elite Force leaves room for a sequel, but the authors say they won't make that decision until they get more feedback about the initial book over the next few months. Sequel or no, Cameron and Felicia say the experience forged a stronger bond between them.
"It brought us closer together, and we learned more about each other," Cameron said. "It became less of her being my mom and more my best friend."