Argyle High School opened an investigation of Tate Wallis shortly after he left the school to take a job as an assistant football coach at the University of North Texas in January.
Wallis was arrested on Thursday and charged with two counts of an improper relationship between a student and an educator, according to Denton County Jail records.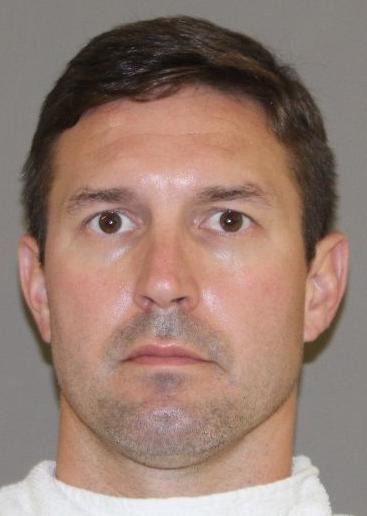 Wallis was later released after posting $20,000 bail.
UNT placed Wallis on administrative leave following his arrest.
Argyle ISD released a statement on Friday regarding Wallis' time at the high school. The statement said the school investigated reports of inappropriate behavior reported by multiple students.
"The initial report of alleged inappropriate behavior came in the spring of 2020 when a student told an Argyle High School teacher, who immediately reported it to the Argyle ISD Police Chief and the Argyle High School Principal," the statement read.
The alleged incidents occurred during 2018 and 2019, according to the statement. Wallis was Argyle's offensive coordinator during that time.
One of the accusers was a manager for Argyle's football team, according to the arrest affidavit, obtained Friday by the Denton Record-Chronicle. Wallis allegedly began commenting on the manager's appearance in summer 2019 and later started groping her at practices and during games, the affidavit says.
Wallis' conduct allegedly escalated from brushing against the victim to the point he touched her buttocks and breasts with his hands, the affidavit says. He also allegedly "cupped" the manager's genitals, according to the affidavit, which says she was 16 at the time of the alleged incidents.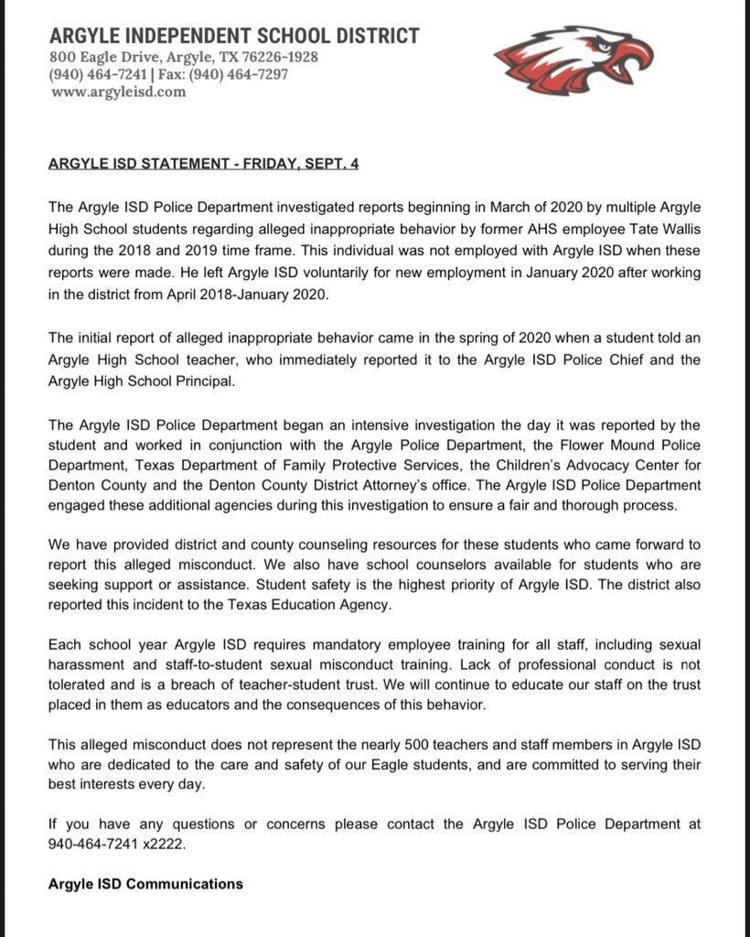 Argyle head football coach and athletic director Todd Rodgers has not responded to multiple requests for comment.
Wallis has hired Stephanie Luce Ola of Sorrels Hagood to represent him.
"We are asking the public to keep an open mind," Ola said in an email to the Record-Chronicle. "Coach Wallis is a good man. Unfortunately, we cannot discuss specific facts with the media, but we look forward to his day in court so we can properly confront these allegations."
UNT officials have emphasized that the alleged incidents involving Wallis took place before he joined Seth Littrell's coaching staff. The university has initiated a review of Wallis' conduct.
UNT released a statement shortly after Wallis was arrested.
"We have been made aware of charges brought against a member of our football coaching staff for a matter unrelated to his employment with the university," the statement said. "The employee has been placed on administrative leave and will not be allowed on campus or to participate in any job-related duties while on leave. We have initiated a review of the available information, and we will take appropriate action following completion of the review."
UNT is set to open its season on Saturday with a home game against Houston Baptist University.
Wallis worked as a high school coach at North Forney High School prior to his time at Argyle. He spent seven seasons at Baylor University from 2009-15 under Art Briles before Briles was fired in 2016.
As a quarterback, Wallis led Ennis High School to the 2000 Class 4A state title as a senior and went on to play at Southern Methodist University.