Dino Bo led children through parts of the Cretaceous Period on Sunday afternoon at Explorium Denton.
Beau McDaniel, also known as Dino Bo, has been teaching kids about dinosaurs through hands-on classes since the beginning of the year, and his time at the children's museum was only his most recent stop.
McDaniel considers his work as an amateur paleontologist as more of a "side hustle," but his day job is only a hop, skip and a jump away. He's a middle school teacher for the COMPASS program at Asbury United Methodist Church in Denton, a K-8 enrichment program for home-schoolers.
He's nursed a fascination with dinosaurs for most of his life, but a bad experience with a paleontologist early on turned him off the field for many years.
"I wanted to be a paleontologist until I was about 9," McDaniel said.
He said he saw a paleontologist give a program at Emily Fowler Central Library, but the speaker was unfriendly and just not good with kids. The paleontologist seemed bothered when questions were asked and didn't seem excited to share his knowledge, McDaniel recalled.
"I remember leaving at 9 with a very bitter taste in my mouth," he said.
He associated the bad experience with the entire field of study, and it took him a while to bounce back.
In a poetic end, McDaniel returned to Emily Fowler on Friday as Dino Bo.
"I had this bad experience, which is part of why I started this program," McDaniel said. "And here I am at the exact place, hoping to actually put a positive face and actually inspire people toward [paleontology]."
McDaniel sets himself apart by allowing kids to handle the fossils he brings. In his experience, kids learn better when they can actually touch what they're learning about.
While many museums, such as the Perot Museum of Nature and Science in Dallas, have great exhibits for dinosaur fossils, McDaniel said, the displays may be harder to grasp for young minds.
"They've got some great dinosaur bones and stuff up there, but it's all either 30 feet away or behind 2 inches of glass," he said. "I know my kids would get so much more out of handling the fossil and looking at it with magnifying glasses."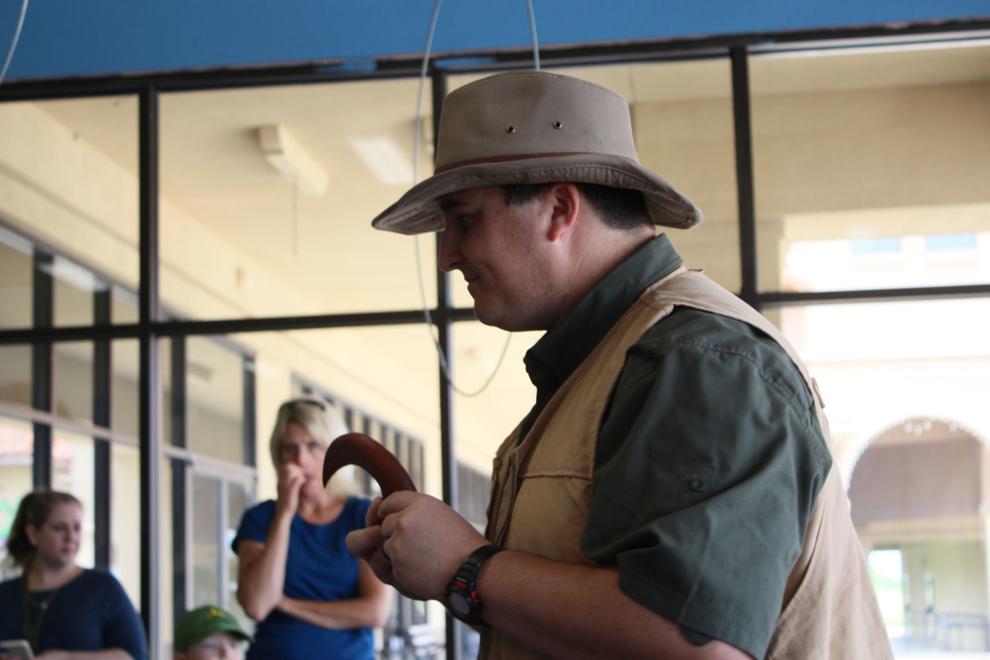 Some of the fossils on the museum tables Sunday were his own finds, and some were either purchased at discount rates or given to him as gifts through his professional contacts.
He said his regular haunts include several spots around the region, including Sherman, which is full of prehistoric shark teeth, and sections of the North Sulphur River, which contains some of the best spots in the country to find mosasaur teeth, the marine dinosaur made famous through digital appearances in Jurassic World.
Much of North Texas was either underwater or a shoreline during the Cretaceous Period. McDaniel says that makes for great fossil finds across the region.
Dino Bo made his debut presentations at the Explorium shortly after starting work as the character.
Anyah Martinez, executive director of the nonprofit children's museum, said she'd heard about McDaniel's plan to start leading children's events as Dino Bo through a mutual friend.
"He's kind of new on the scene," she said. "Dino Bo just became."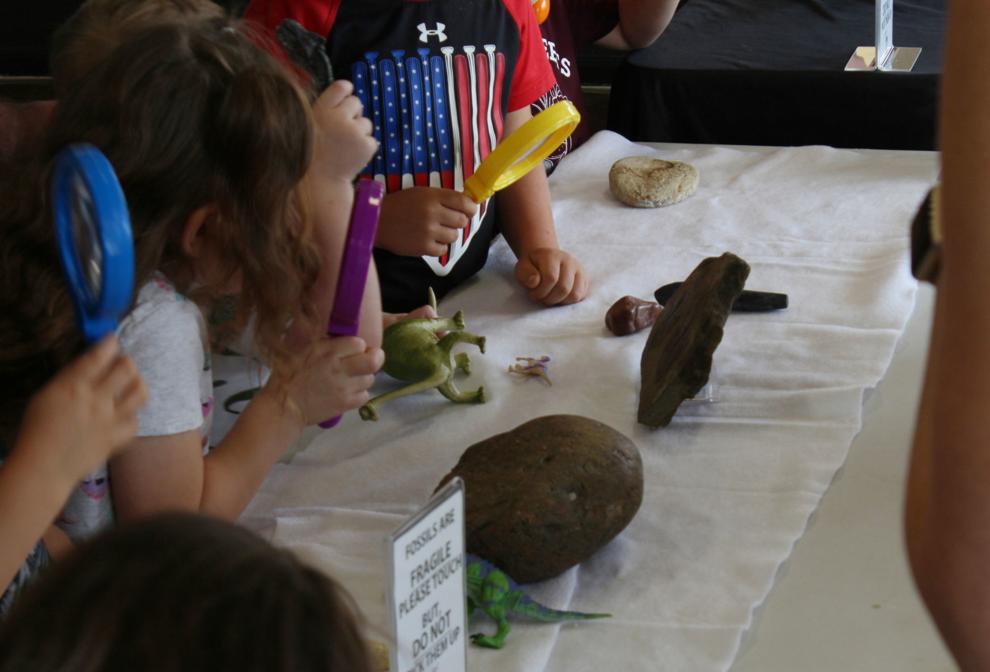 With his toy dinosaurs, his suburban Indiana Jones look and colorful magnifying glasses, McDaniel fit right into the Explorium atmosphere.
Martinez said the event was a test run to see if families would come out on a Sunday. When McDaniel gave a similar presentation in March, Martinez said roughly 150 people came out to hear him talk.
By 1:30 Sunday afternoon, Dino Bo was busily setting up his display for an upcoming presentation. While he carefully placed each fossil under the watchful eye of a curious child, another kid across the room noisily pounded a tambourine and a series of kids slid down a rolling pipe slide, creating a sound not unlike a massive rainmaker.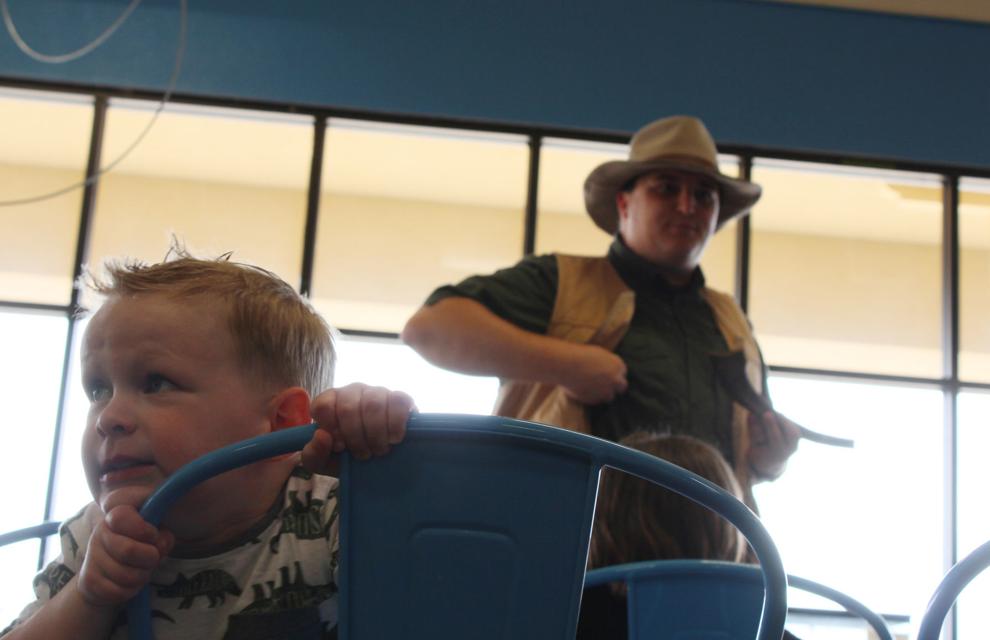 A few moments later and one patron had detached himself from his activity to tell the nearest people, "I found this cricket," while staring proudly at his temporary friend. An interactive milking cow statue, dubbed "Moona Lisa," mooed occasionally to herself beneath the din of children at play.
Nearly all commotion and quick changes of activity ceased immediately when McDaniel announced his class was about to begin. Soon all eyes were on him and the bone petting zoo was open for business.