Rose Costumes has designed and built costumes it would rent and sell to schools, shoppers and theater companies for 44 years.
But without help — and a lot of it — it could be curtains for the Denton business.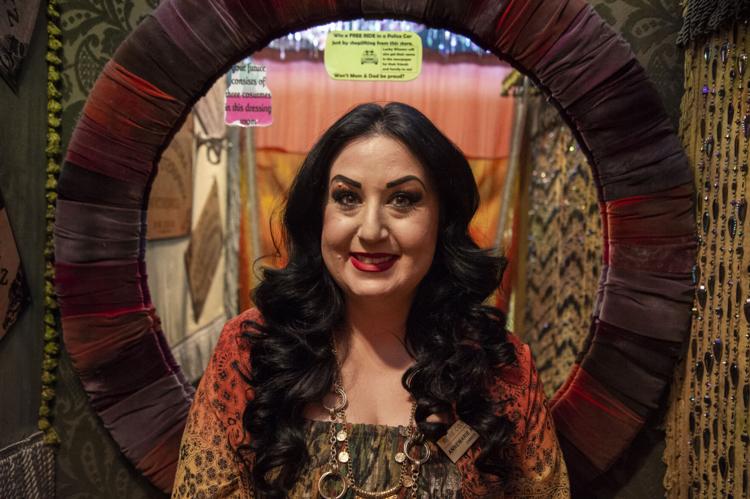 "We were on the road to rent costumes for 125 UIL one-act plays [at high schools]," said owner Annemarie Aldrich. "That's a lot of costumes and a lot of work to do with my wonderful staff. Then COVID happened and that was gone. Then all of our Easter bunnies — we were ready to rent something like 30 of our Easter bunny costumes — were all canceled. Summer musicals, that was the next to go. Then fall musicals, that was the next to go. It all kept disappearing."
The popular Denton business started out on Elm Street, where founder and original owner Judy Smith turned the space into an adventure (the bathroom was Sherlock Holmes' study, and another corner of the shop was the blood-soaked shower from Alfred Hitchcock's Psycho). Smith expanded, moving to Stonehill Center off Loop 288, where it is today.
The pandemic caused Aldrich to change her practices, closing the doors to shoppers and shifting to curbside pickup and mail order. She fought to keep her staff, with two full-time employees sharing the now socially distanced workspace with two part-time staffers. And when the virus started cutting a swath through the country, Aldrich and her team applied their scissors, thread and sewing machines to making masks the shop has given away to people who can't afford them and workers who need cloth masks to safely do their jobs. As of today, the shop and its volunteers have sewn and donated 15,000 masks through Project Mask Makers.
Aldrich said she means to fight to save the business, which has been woman-owned since it opened. She said the shop's history and ties to the community are motivating her to leave no stone unturned. Within 24 hours, the fundraiser had pulled in almost $6,000.
She's dipped into her savings, leaving a sizable dent, all while home-schooling her 9-year-old son, who has autism. She even resorted to selling some of the shop's vintage pieces online, dropping prices and "practically giving these costumes away to stay afloat," she said.
"We're at a desperate moment," Aldrich said. "I'm not one to put my hand out. I and my staff, we still want to give to the community. We're still making free masks for vulnerable communities, [like] the Navajo Nation and the homeless, just hoping the same kindness will come back to us. We've been taking photos of the costumes and posting them. Selling these costumes, God, it's hard. It's a 45-year-old collection."
Mike Barrow, the managing director of Theatre Denton, said Rose Costumes' history is stitched into the history of the theater company.
"We're so fortunate to have the costume closet that we have," Barrow said. "And we draw from it as often as we can, of course, because it's the best financial decision for us. But it doesn't have everything we need. I would say the majority of our shows, we get something from Rose. If they don't have it, we have to go out of Denton to get it. And not only do we have to go out of Denton to get it, we have to go out of Denton to return it. We're hoping they can make it. High schools are going to be impacted if that happens."
Daniel Bernardo, the director of education at Rose Costumes, has been at the local shop for 10 years. He came into the shop as a prop builder, a maker who can turn materials like cardboard and thermal plastic into objects that look like metal, stone, wood or almost anything.
Joining the shop required him to learn his way around a sewing machine. Then, he began leading workshops for high school students and other groups, teaching them how to turn materials into props and how to sew.
"I'm only an all right sewer," he said.
Bernardo said the shop staff pivoted quickly when COVID-19 started whittling projects away.
"There are over 10,000 items in the store," he said. "What can be immediately be put online, what can be fixed and get that up online, we're putting it online for sale. After being here for 10 years, there are some things I've built that we're selling, and it's like parting with children. I feel like I'm rehoming puppies or something. Something we've learned is that costumes can be remade. But when you sell a costume that has a history, you're giving the memories along with the costumes."
Bernardo said a lot of the people who are buying the costumes, vintage clothes and accessories are locals.
"A mother purchased a dress her daughter wore when she was a lead in a show, and she's giving it to her as a Christmas gift," he said.
The staff says Rose Costumes sometimes seems like a community center. Bernardo said high school theater students would come in groups for fittings, and he's seen a young theater teacher look across the shop to see the renowned theater teacher who directed the theater program that incubated her.
"It's not just theater kids, either," he said. "We've had a few trans boys come into the shop and tell us they need something for prom. We don't just fit them for a tuxedo, we teach them how to be gentlemen."
Bernardo said the mother of one transgender boy recounted a story of taking a picture of her son in a tuxedo, and watching how the clothing seemed to make him assured and at ease.
He said it's more than a place where people go to rent costumes for Halloween. And it's more than just "a place people go because they're involved in theater."
"In 10 years, I've seen two sets of freshmen go through their high school years, graduate and go into theater professions," Bernardo said. "It's a place where people grow into the people they want to be."