Paul Weigenant of the Denton Sewing Center said he and his wife, Debbie, are used to donating items for fundraisers. Now that the tables have turned, he said it's been overwhelming, but in the best way.
The Denton Sewing Center is one of two buildings that burned down in fires in late May. Denton Sewing Center closed the doors on its 1510 Malone St. building that Monday but reopened Wednesday in an adjacent building the couple owns. Since the fire, Weigenant said customers have stopped by to offer their support.
"The support from the community has been stunning and we just got to keep the store up and running," he said. "Some days, it's really busy, and insurance and adjusters and contractors are all getting lined up and we're making progress [on the old building]."
The fire to Holiday Lodge and the exterior of Drug Emporium, which happened a few days before the Weigenant's business fire, were determined to be arson by the Denton Fire Marshal. Debbie Weigenant's daughter, 45-year-old Jennifer Spillane, was arrested in connection to three fires and charged with arson. Spillane remains in the Denton County Jail.
Community support includes a fundraising weekend organized by Box Car Quilts, a quilting supply store in Cross Roads. The owner, Laura Turner, said the weekend event scheduled June 25 through June 27 came together in about an hour after a customer said she wanted to raffle quilting equipment with the benefits going to the Denton Sewing Center.
"I was a little bit in shock when I saw those videos [of the fire] because it hit so close to home," Turner said. "Not because we're in the same business, but we're in the same community of quilters. I couldn't fathom waking up to a call that my business is on fire."
Turner said she knows the little things people have done to help the Weigenant family add up, but she wanted to see if she could do more. She said a customer of theirs, Barbara Collins of Aubrey, had a Singer featherweight she wanted to donate as a raffle item to help out the Denton Sewing Center.
"It is a vintage sewing machine that, if you're a quilter, you love that machine because it sews a perfect straight stitch," Collins said. "If you're a quilter, the only world you live in is a straight stitch. … For collectors, it's something really cool because it's hard to find in good shape. I've had it for over 20 years and it's not banged up, and I have others."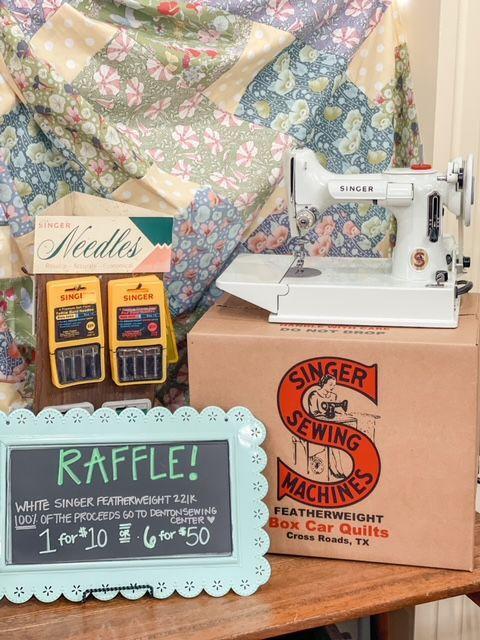 Turner said Collins' offer of a raffle item sparked the idea to turn her donation into a larger event.
"We wanted to do as much as possible for the Denton Sewing Center and let them know the community cares about them, just in any way we could," she said.
Businesses can sponsor the fundraiser in donations ranging from $100 to $1,000. Friday and Saturday will mark the "Piecing Together for Friends" sewing weekend from 10 a.m. to 6 p.m. at Box Car Quilts, 51 S. Highway 377 in Cross Roads. Half of the business' profits those days will be donated to the Denton Sewing Center.
The main event will be a silent auction from 1 to 5 p.m. Sunday at Box Car Quilts. Tickets are $25. All proceeds from ticket sales will go to the Denton Sewing Center and half of Box Car Quilts' sales that day will go to the sewing center. Turner said sewing and quilting items won't be the only things up for auction.
"We have all kinds of options from photography sessions, a margarita basket and gift cards from multiple businesses," Turner said.
Community support has also come in the form of thoughtful messages and art, Weigenant said. Parts of the original building have been boarded up and Weigenant said people have come by to write messages and doodle on the boards.
"We're so used to giving things for fundraisers and then to have your name on there, it's just kind of overwhelming," he said. "It just brings tears to your eyes just to think about it."