This story has been updated to reflect that state Rep. John Raney, R-College Station, and state Sen. Joan Huffman, R-Houston, co-filed the bill.
Texas workers with disabilities will now earn at least minimum wage thanks to Senate Bill 753, a bill that was passed by the Legislature in May.
Blake Pyron of Sanger helped make it official.
Last Friday, the 23-year-old who has Down syndrome, joined Gov. Greg Abbott and U.S. Rep. Michael C. Burgess, R-Pilot Point, for the bill signing.
Blake Pyron's mother, Mary Ann Pyron, said she and her son have spent countless hours lobbying for fair wages for people with disabilities. Together, they've traveled multiple times to Austin and Washington, D.C., to petition lawmakers to revoke Section 14(c) of 1938's Fair Labor Standards Act. The disputed section allows employers to pay disabled workers less than the federal minimum wage.
"As Texans, we brag about our strong economy and how well people are paid," Mary Ann Pyron said. "We want that to include everyone."
Over the years, the Pyron family has formed a close relationship with Burgess, who flew to Austin from Washington to attend the signing ceremony.
"All people have inherent worth, and this law makes certain that each person's value is recognized," Burgess said in a news release.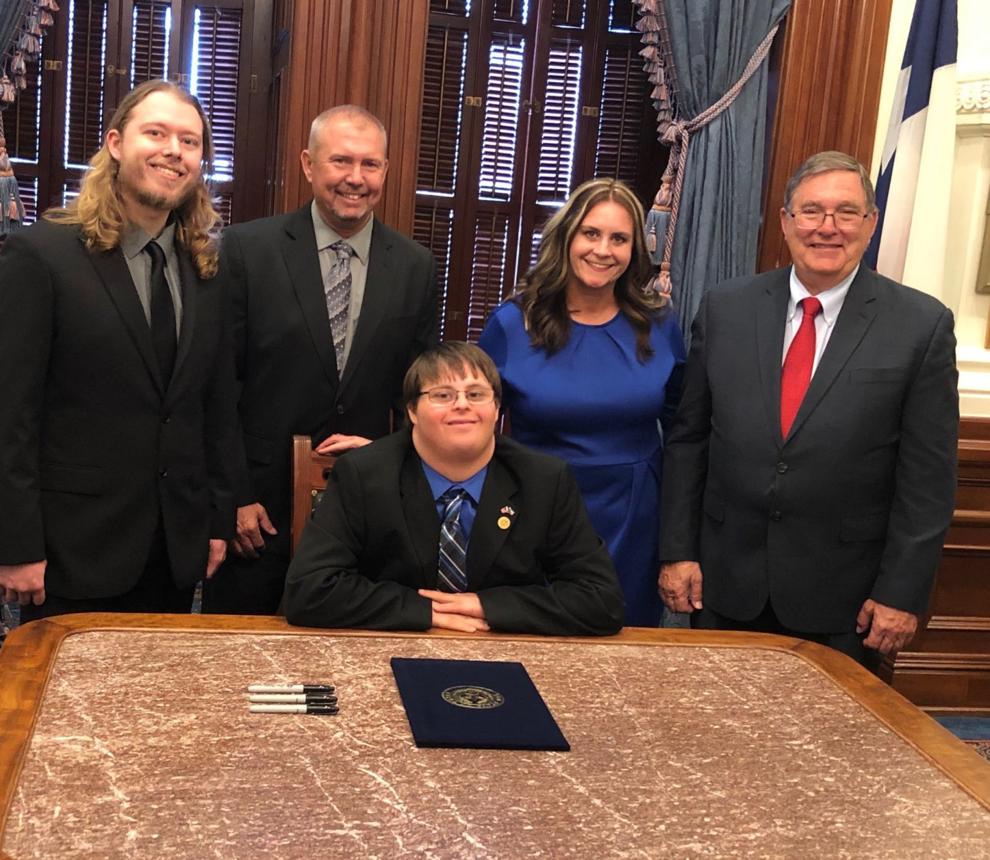 Filed by state Rep. John Raney, R-College Station, and state Sen. Joan Huffman, R-Houston, SB 753 will require contractors to pay workers with disabilities at least $7.25 an hour, the current federal minimum wage. Texas employers could previously pay disabled workers as little as 2 cents an hour via the state's taxpayer-funded Purchasing from People with Disabilities program.
Mary Ann Pyron said most people are unaware that many disabled workers earn considerably less than the federal minimum wage.
Employers must adhere to the mandate by no later than Sept. 1, 2022, according to the bill. State Rep. Lynn Stucky, R-Denton, who was a joint sponsor of the bill, said the Legislature needed to ensure that all hardworking Texans are paid fairly.
"Companies that benefit from these state contracts will no longer be able to take advantage of Texans with intellectual and developmental disabilities by paying them less than minimum wage," Stucky said in an emailed statement.
Blake Pyron is no stranger to the limelight. In 2016, he became the only person with a disability in Sanger to own their own business after he opened Blake's Snow Shack, a snow cone stand. Plus, he was the youngest business owner in town.
Blake's Snow Shack got a boost in publicity later that year after a Texas NASCAR team placed the business's logo above its car's rear tires.
Mary Ann Pyron said the pride she has in her son is immeasurable. He's ecstatic to be leading the charge for fair pay for disabled persons everywhere, she said.
"We felt like we made something that was wrong for so many years; we turned it into a right," she said. "There's still more work to do, but at least we're getting something done."