When organic meat production company RanchLand Foods first proposed moving its headquarters from Vernon, Arizona, to Denton, city officials expressed enthusiasm. With a promise from CEO Kenny J. Davis to invest almost $6 million in capital improvements and bring more than 100 jobs, the Denton City Council approved a Chapter 380 incentive grant for $218,500 in May.
But by September, city staff had filed a report with the Denton Police Department with concerns the company was not legitimate.
Owned by IHI Holdings, RanchLand Foods LLC is an organic meat production and brand development company, according to the incentive package application Davis completed in November. The company makes $11 million in taxable sales annually, shipping thousands of packages nationwide from its Arizona distribution hub, the application claimed. RanchLand wanted to move that facility to Denton, investing $5.7 million in the former Miller of Denton building at 2421 N. Interstate 35, which would become the company's "main hub," containing both corporate headquarters and a distribution center.
The Denton Economic Partnership Board discussed the application at a meeting Dec. 9, just over a month after it was filed. The board unanimously recommended approving the agreement and presented the potential deal to the City Council on May 4. Council members approved the Chapter 380 agreement May 11 — also by a unanimous vote — along with a nomination for the Texas Enterprise Zone, a separate grant program run by the state.
RanchLand was poised to begin moving its headquarters to the former Miller of Denton building off I-35 over the summer — but no payments were ever made to property owners. As of a few weeks ago, RanchLand is no longer a tenant, building co-owner Nick Zala confirmed Wednesday.
Davis has "left town, and he owes quite a lot of vendors and people in this area money — everything has gone unpaid," he said.
Among those unpaid are employees, said former RanchLand executive Charles Goodwin. The 50-year-old Fort Worth resident began working for RanchLand in the spring and, after two initial payments, said he stopped receiving pay and is one of many employees owed back wages — tens of thousands of dollars in Goodwin's case.
Though not disclosed on documents Davis submitted to the city, RanchLand also hosts an affiliate program, according to its website, that involves recruiting distributors through a buy-in program. It's a business model similar to Smart-Mart Inc. and To the Nines LLC — two multilevel marketing schemes Davis was indicted for his involvement in — and one of which he served time in federal prison for, federal documents show.
Citing anonymous concerns staff received about the company not being what it seemed, the city filed a report with Denton Police Department on Sept. 1. Although city staff and police would not share details of the circumstances that led to the report, it was initially categorized as fraud in the department's system.
"The city was made aware of concerns relating to the business operations of RanchLand Foods, who is a party in one of our EDI [economic development incentives] contracts," spokesperson Ryan Adams said. "When we were made aware, we immediately began to review those concerns, and a report has been filed with Denton Police Department regarding this matter. Beyond that, we don't have any additional information that we can provide at this time."
Phone calls to the number listed for RanchLand Foods and Davis' cellphone from Denton Record-Chronicle staff went unanswered, but a man who said he was IHI Holdings Chief Investment Officer Stephen Harris returned voicemails left Wednesday. Harris' voice sounded similar to audio recordings of Davis, but Harris insisted he was not Davis. Davis is hospitalized in North Texas with complications from COVID-19 after having had heart surgery a few months ago, Harris said — but he could not name the hospital nor provide its location.
Harris said he has not spoken with the Denton Police Department but insisted RanchLand Foods is a legitimate company.
"I understand people think it's a scam; it's not a scam," Harris said. "The way that RanchLand Foods started and finished in Denton, there are a lot of reasons behind that — time delays, equipment delays, Mr. Davis' medical situation — that changed the direction of how things were going to go. Unfortunately, we had hired employees, and then most employees had to be let go not even 30 days after they were hired, so I can see where people might think that was, you know, deliberate — but that's not the case at all."
How RanchLand landed an economic incentive deal
After considering a move to Decatur or Lewisville, RanchLand set its sights on Denton last year. The draw, Davis told City Council, was the city's location.
"We examined and ran some surveys in regard to local distributions, truck patterns, traffic patterns and the flow of both I-35E and I-35W. Then, it's the accessibility to employees," Davis told council members in May.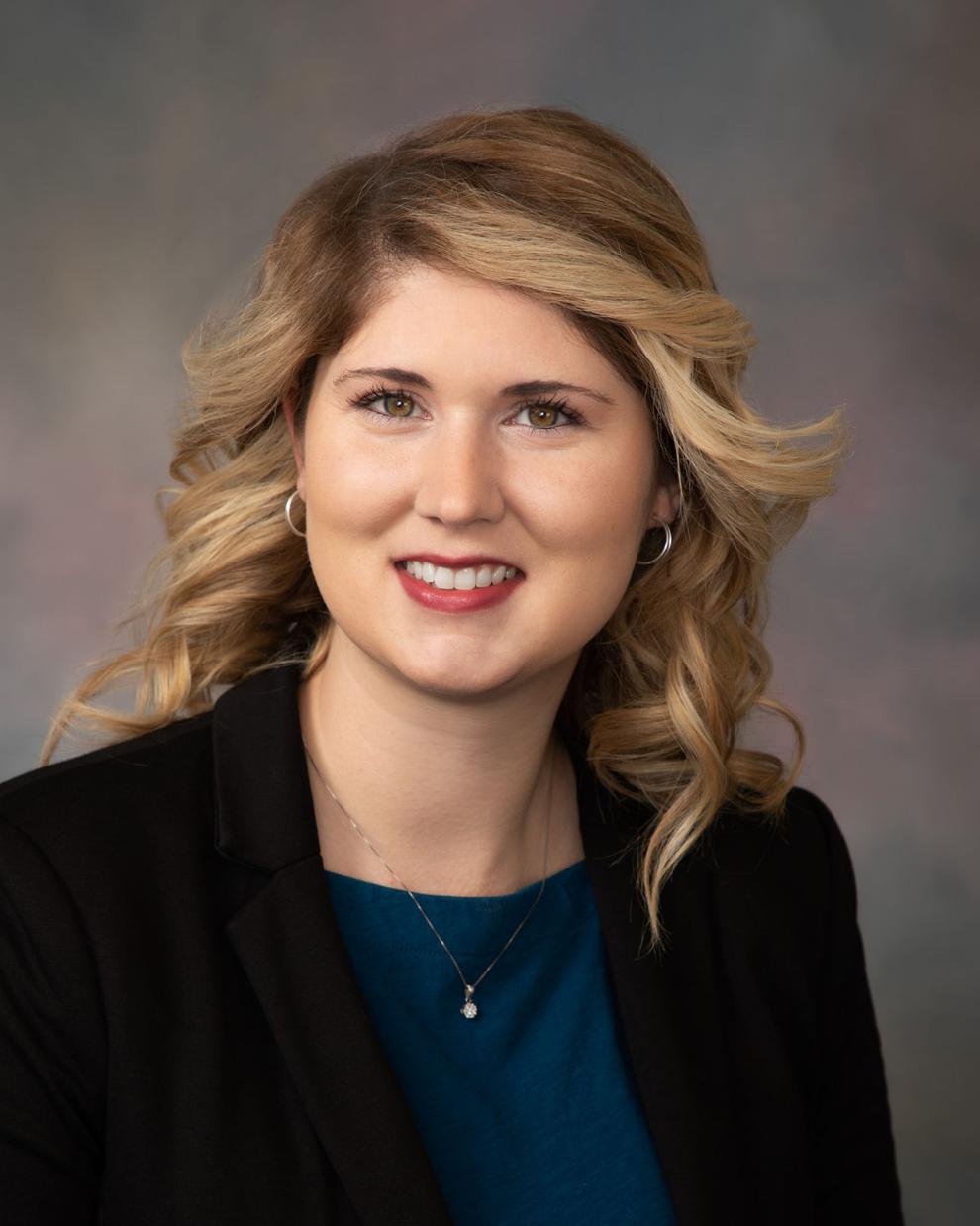 Economic Development Director Jessica Rogers presented the deal to the City Council, highlighting the 140 high-wage jobs the company said it would bring to Denton.
"As always, we do a deep dive on the jobs and wages being created to make sure they're in full alignment with our policy," Rogers told council. "We look at the number and percent of jobs against the Denton County average — in this case, 80 jobs would be above the average. We also weigh it against the Denton County median wage, [and] in this case, 90 positions would be above the median."
Less than 7% of staff from Arizona would relocate to Denton as part of the move, with 70% of existing employees there working in distribution, Davis told the council. He also said RanchLand was already looking to establish another distribution facility in the area.
"We've already begun to look at expanding into another 150 [thousand] to 180,000 square feet and hopefully right in this area," Davis told the council. "Once we are in the city of Denton, we only see us staying here longer and expanding more."
Council members also felt the move would be a positive one for the city.
"I'm generally skeptical of economic development incentives, but after poring over this one, I think it's good for the city," council member Alison Maguire said during the meeting.
After the council approved the incentive, the Economic Development Partnership Board shared news of the deal on its website. Cory Lacy, vice president of economic development for the Denton Economic Development Partnership, said RanchLand Foods was "the ideal type of company" to come to the city.
"Ranchland Foods CEO Ken Davis and the entire team have been great to work with, and their business model offers tremendous opportunities for this community," Lacy said in the announcement. "We look forward to working with them as they continue to grow in Denton."
Where things stand now with the city
City officials would not share what led them to believe concerns they were made aware of were legitimate enough to file a police report last week or if they had learned anything about Davis' past at the time of the report. They did say no money was disbursed as part of the incentive agreement, since RanchLand had not yet met required benchmarks laid out in the contract.
"All of the funds [for agreements] — regardless of whether it's a property tax, sales tax or the investment funds — these are all taxpayer resources," Rogers said. "So those compliance requirements that we have in our contracts are very strict, and we have a very extensive certification process prior to those payments being made."
If a business like RanchLand agrees to invest money into building renovations as part of the agreement, for example, they would be required to provide receipts from contractors. In the case of bringing jobs to Denton, a company would need to provide IRS documents, offer letters and other documents to certify compliance before payment is made.
"There's a table and a calendar of when payments get processed and when information has to be certified to us in all of our agreements like this," Rogers said.
While RanchLand's first certification deadline was not until March 31, 2022, staff is reviewing the agreement, Adams said.
But as for how the city may have missed discrepancies in RanchLand's history, officials rely largely on the safeguards in contracts, rather than independent vetting, to protect taxpayer interests, Rogers said.
"On the legal side, we do verify through the secretary of state, or whatever entity it may be in the state, that the individual signing the document is authorized to sign that document and that they're in good standing," Rogers said. "Generally how it [vetting] occurs is through interviews or conversations between staff and the applicant, and if staff feels like the information presented by the applicant is sufficient, we really rely on that contract."
Employee concerns
After being laid off amid the COVID-19 pandemic, Charles Goodwin, who worked in third-party logistics and distribution, began contract work for RanchLand Foods in spring 2021. After he accepted a full-time position as the vice president of business development, he eventually was told he would be tasked with selling RanchLand's bulk meat packages, although the Denton division never got off the ground, Goodwin said.
"I started going to the [Denton] office in the middle of May, and we didn't have our CO [certificate of occupancy] at the time, so we really couldn't do any work out of there; we would just show up," Goodwin said. "We never got anything done — there was never anything started."
After two initial paychecks, Goodwin said he has received no further wages since June 15.
Emails to employees from Davis and IHI Holdings — the parent company Davis owns that employees were told was handling payroll — detail what both Davis and IHI said were numerous accounting and bank issues since at least the beginning of August that prevented employees from being paid.
An email to Goodwin from David Sorrenson of IHI Holdings shows that as of Aug. 30, RanchLand owed him $12,741 in back wages after taxes. Despite numerous requests over several months to speak to Sorrenson via phone, Goodwin said he never has.
"It's gotten to the point that I think you're not a real person," Goodwin told Sorrenson in an email Sept. 2.
Though Davis claimed on RanchLand's incentives application that the company does $11 million in taxable sales annually, Goodwin said his time at the company's Denton division gave no indication of an operation of that scale. As he looked into RanchLand more, he noticed other discrepancies — like that the Arizona address Davis claimed houses RanchLand's headquarters is an empty field on Google Maps.
Goodwin parted ways with RanchLand on Aug. 18 and was told the company had been acquired and that he would be paid by IHI on Sept. 1.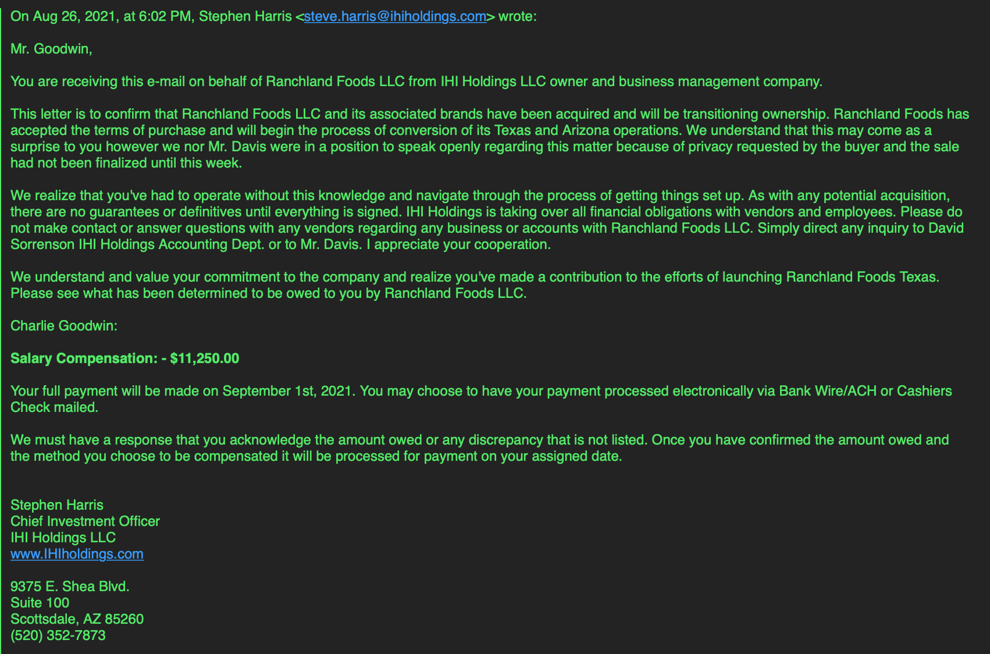 By Sept. 7, Goodwin had received an email from Sorrenson saying there had been yet another payroll error and asking that he resubmit his bank routing information. Goodwin said as of Friday, he still has not been paid.
"Nobody believes that they're going to get paid," Goodwin said. "It's always the same excuse every time — there's something wrong with the bank or with the accounting numbers. What I can't wrap my head around — and nobody can wrap their head around — is if you're not going to pay us, and this is a scam or whatever it is, why keep sending these emails out?"
So who is Kenny J. Davis?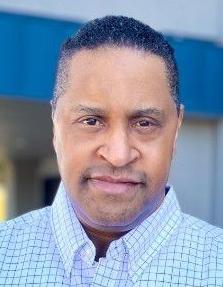 Davis, 52, was convicted in federal court in 2004 in connection with his part in a multilevel marketing fraud scheme involving Smart-Mart Inc., according to documents from the U.S. District Court for the Northern District of Texas.
The case, United States of America v. McMurray et al., was closed in 2005. Prior to the federal case, the U.S. Securities and Exchange Commission filed a civil action in 2001 against Timothy A. McMurray and Bradley D. Doy, two of Smart-Mart's co-founders. McMurray had already been convicted in federal court of bank fraud.
The 2003 indictment alleges Davis and his co-defendants intentionally defrauded people through Smart-Mart Inc. by encouraging them to purchase memberships and invest money into the company. Members and stockholders were told they could receive commissions and bonuses if they successfully recruited more members and investors, according to the indictment.
The defendants allegedly told investors that Smart-Mart, "a retailer that sold name-brand products at below-retail prices," was a thriving company when, in reality, the company's online sales were low and a majority of its revenue came from the sale of memberships and stocks, the indictment claimed. The five co-defendants were accused of using the money invested into Smart-Mart for personal expenses.
Though Davis initially was charged with 14 counts of bank, wire and securities fraud, false statements to financial institutions and the interstate transportation of money taken by fraud in the 2003 case, those charges were dismissed. Davis pleaded guilty to one count of misprision of a felony — a charge brought when someone knows a felony has been committed but does not alert authorities — and was sentenced to 14 months in federal prison.
Davis was released in 2007, but in 2016 he was indicted again on various counts of wire and mail fraud — this time for involvement in an MLM shoe business.
The company, To the Nines LLC, was operated out of leased office space in Carrollton between 2010 and 2012. Davis had recruited investors who paid $99 to $5,000 to become consultants, selling shoes using To the Nines' "proven business model" and a website Davis would create for them, according to indictment documents from the Northern District Court's Fort Worth Division.
Investors complained there was virtually no inventory to sell and around September 2011 began asking for their money back. Davis led investors to believe they would receive refunds, telling them through email that an outside accounting firm was handling refunds — but there was no money in company accounts, the indictment alleged. More than 300 investors paid over $620,000 "to purchase consultant interests," which Davis allegedly used for personal expenses.
Although the 11 counts of wire fraud and one count of mail fraud were dismissed by prosecutors in March 2017, the affiliate business model behind Smart-Mart and To the Nines has become a part of Davis' new company. RanchLand's website invites affiliates to partner with the brand, offering those who sign up a "turn-key package [that] will give you everything you need to get started selling high-quality meat products." Packages range from $5,000 to $19,997.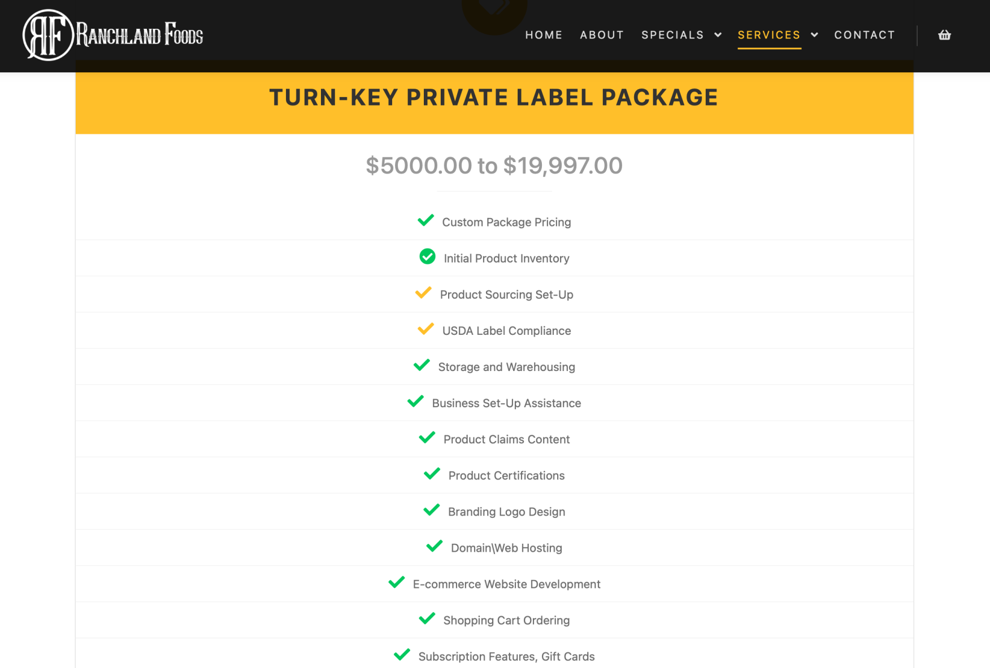 RanchLand representatives continue to defend company
During Harris' conversation with Denton Record-Chronicle staff Wednesday, he could not provide the addresses for any of RanchLand's distribution centers, which he said are in the Phoenix-Mesa area, in California and a soon-to-open Dallas location.
As for the address listed on RanchLand's incentives application as their company headquarters in Vernon, Arizona, Harris said the agricultural parcel is RanchLand's original location.
"That's the ranch that the business was started at way back," Harris said. "It's not an empty field; it's basically a cattle ranch that's out in the country — that is the accurate legal address for RanchLand Foods. RanchLand Foods distributes product all over the country from multiple locations, and that address is the main corporate headquarters."
Records from the Apache County Tax Assessor's Office show 36236 U.S. Highway 60 in Vernon is registered to A Better Life Publishing and lists the same post office box as RanchLand's incentive application. But that record is just a personal property listing for A Better Life Publishing, with no record of any associated real property.
"This is just a business account, and it could be run from anywhere because it has a P.O. box on it," Apache County Valuation Coordinator Julia Stanton said Thursday.
A Better Life Publishing's website domain is no longer active, but its Twitter page features frequent retweets from Vernon-based Patriot Meats, a brand associated with Arizona Meat Co. Posts frequently invite members of the public to join Arizona's affiliate marketing program, and the page follows RanchLand Foods, IHI and other companies associated with Davis.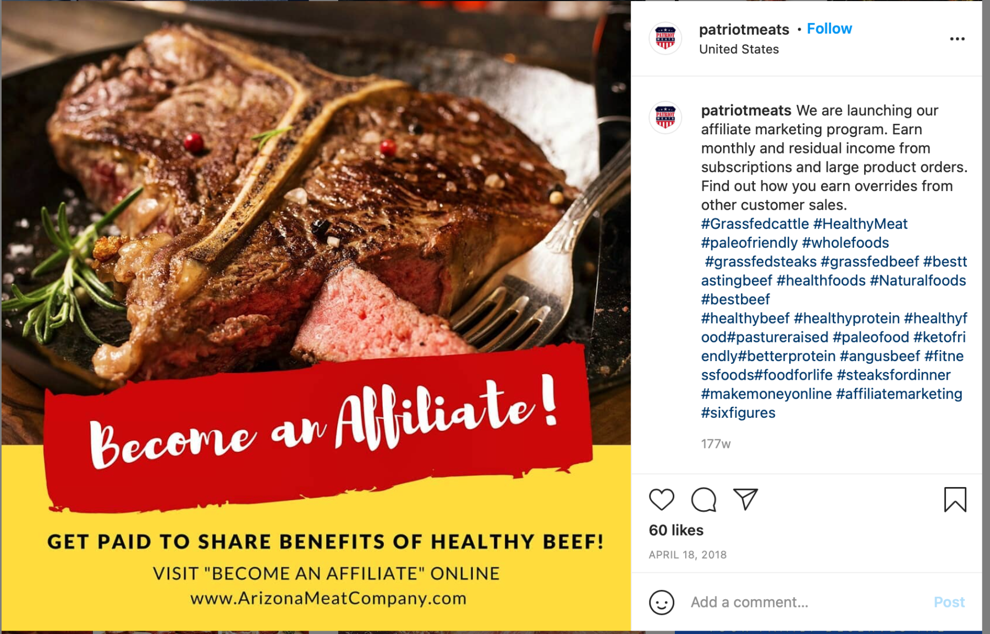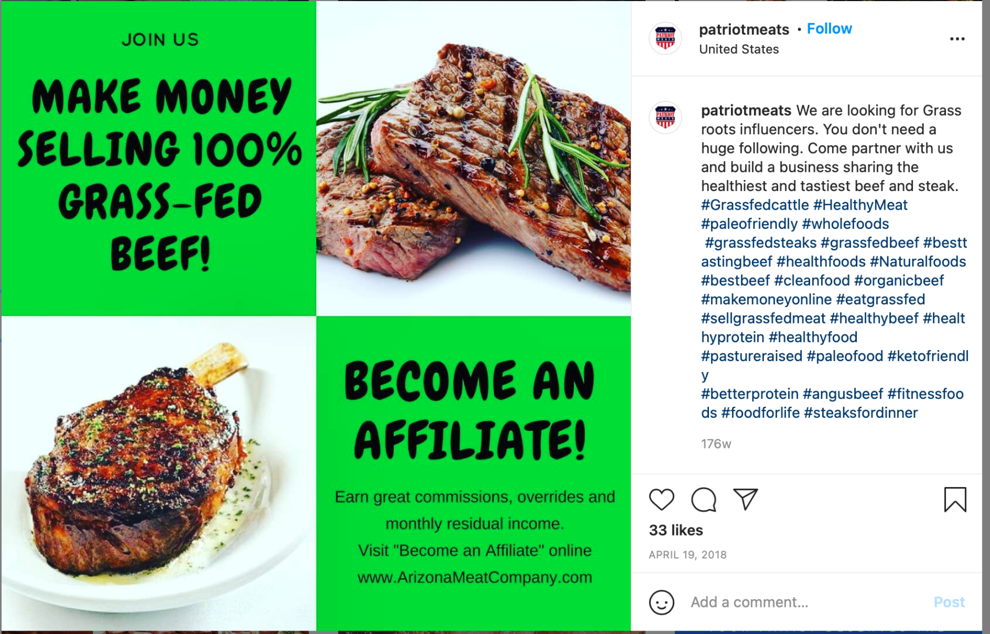 The tax assessor's office staff could not find any record of 36236 U.S. 60 being an accurate address or any record of property owned by RanchLand Foods in Vernon. If there was real property associated with a business — such as a land parcel or structure — it would be registered in Apache County's system.
"There would be a parcel number showing us where that building or business location was," Stanton said.
Though the address is listed as RanchLand Foods' headquarters with the Arizona Corporation Commission, an audit verifying that an address is accurate typically would not be done for a business listing since Arizona is a self-reporting state, Stanton said. The same address is also listed with the ACC as one for Arizona Meat Co., registered in 2017 by AOA Ranch LLC.
AOA Ranch LLC, which has the same Vernon P.O. box address as RanchLand, A Better Life and Arizona Meat, filed for voluntary Chapter 12 bankruptcy in 2018, records from the District of Arizona Bankruptcy Court show. The Davis Trust UTD 1995 was listed as a creditor on the case, which was closed in July 2019.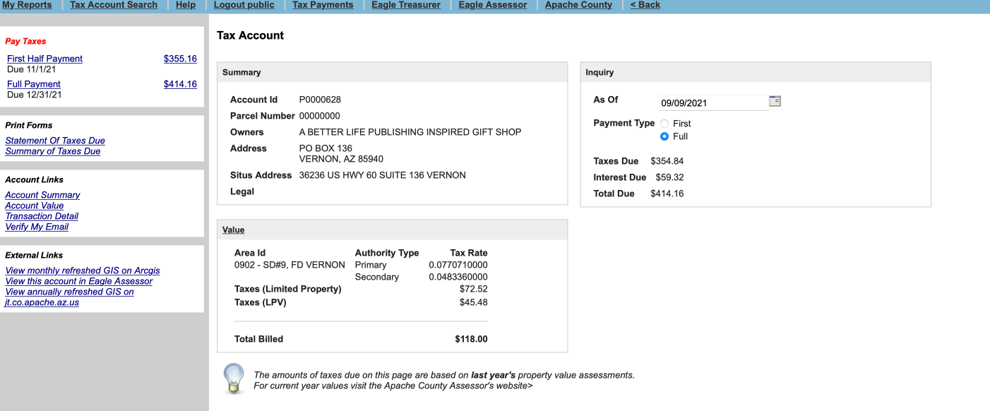 A Better Life's personal property account was registered with the Apache County tax assessor in 2018 and has remained unpaid since, appraisal records show. Since the assessor's office has not received notice that the business is no longer active, taxes and fees will continue to accumulate, Stanton said.
Harris had not returned follow-up calls or emails with questions about the land parcel by Friday afternoon but told Record-Chronicle staff Wednesday that IHI Holdings is handling final payouts for vendors and employees while RanchLand is in transition with its new buyer.
"The brand and the intellectual property has been acquired by another meat company, who will continue operating those brands sourcing their products," Harris said. "A division of RanchLand Foods, which is no longer a division but a separate company, Coolistics, will now distribute those products for those brands — the additional brands that are brought on by the new company."
Harris did not disclose the name of the meat company, but Coolistics is also owned by IHI — Davis' company — according to IHI's website.
"If he's up to it, he [Davis] will be involved with continuing the distribution side [of Coolistics], but it will not be in Denton; it'll be in Dallas," Harris said.
What happens now?
Though the city is reviewing RanchLand's agreement, it has not taken any action, Adams said Wednesday. Since, according to Harris, RanchLand has decided not to bring its headquarters to Denton after all, the Chapter 380 agreement with Denton likely would become null. As for how the city will handle agreements from now on, officials said that remains to be seen.
"The city filed the police report, so we can't really speak to that, but in terms of what my department is doing internally, we are reviewing our processes — we are looking at what protections we have," Rogers said. "Certainly, as we kind of go through that process, we may have changes to our vetting process, but that's something we're working through and reviewing right now."
Harris said he could not comment on whether RanchLand employees or city staff were told about Davis' past but said the company is closing out its Denton chapter. Some payments remain outstanding, but those accounts are being resolved and most employees and vendors have been paid, Harris said.
"I think that unfortunately, Mr. Davis is getting cast because he's made a change and a transition that wasn't popular," Harris said. "We get it, but I believe that that is what's unfortunately causing a lot of hysteria. Just because somebody has a history doesn't make them always the evil one."
Those who will remain after RanchLand's exit say concerns are based on RanchLand's current dealings, not Davis' past. And for many, closure is not so easy.
"It's the people that lost their careers and their jobs and now have to figure out how they're going to feed their family — those are the people it hurts, and that's what I'm mad about," building co-owner Zala said.