LEWISVILLE — It's a sunny Saturday morning in December 2019. Guinea pigs are squeaking as fresh aspen hay and a variety of veggies are sorted throughout cages packed tightly side by side inside Texas Rustlers Small Animal Rescue in Lewisville.
In this pre-COVID time, volunteers and potential adopters squeeze past one another in the small, fluorescent-lit warehouse, snaking back and forth between the rescue and its adjacent pet supply shop. As the air conditioner hums in the background, volunteer Katie Love, 19, directs the chaos in a calm and collected manner.
The rescue was founded in 2002, and Katie is part of a group of volunteers of all ages who rally together every Saturday from 9 a.m. to 5 p.m. to care for over 50 guinea pigs, rabbits, hamsters and the occasional chinchilla. While volunteers come and go, Katie has remained dedicated for eight years.
When Katie first began volunteering, it was a short commute from her Frisco home to the rescue in Lewisville. Now that she is a student at Southwestern University in Georgetown, she faces a three-hour drive each weekend — but that hasn't stopped her.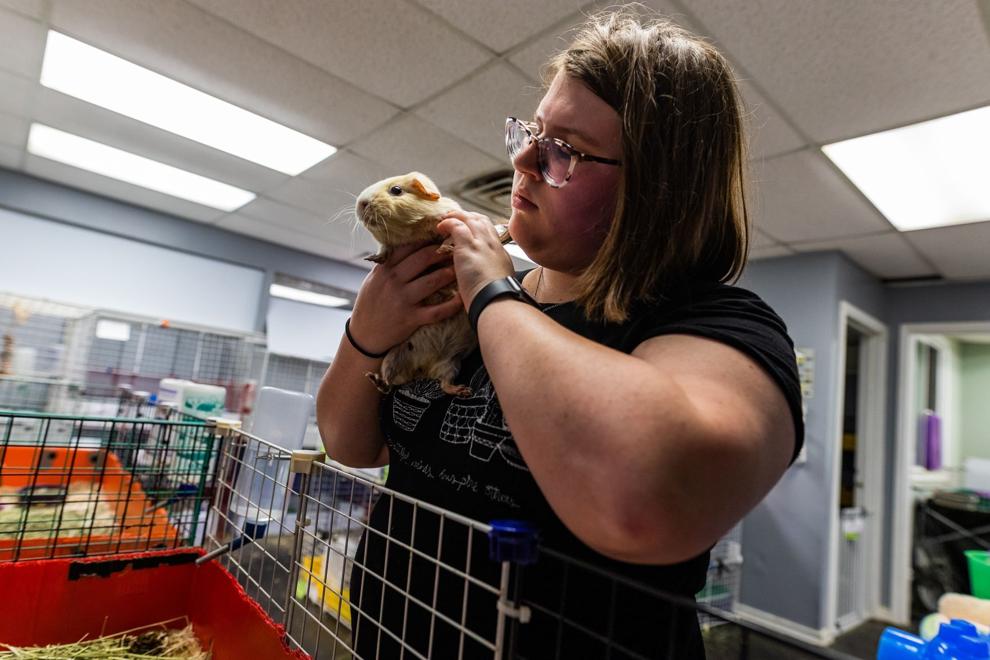 "I moved to Texas when I was 10, and I was never really allowed to have a pet," Katie says, "but I finally convinced my mom because she made me move here."
Katie adopted a guinea pig and was surprised to find out her pet was pregnant. Grooming and maintenance responsibilities multiplied with six guinea pigs, and when Katie became overwhelmed, she sought out Texas Rustlers for help and education. Katie's admiration for the rescue was instantaneous, and she began volunteering at age 11.
"My daughter took one look when we went in and wanted to volunteer," says Katie's mother, Kristin Love. "Since she was underage, she had to have a parent with her."
A member of the team
After five years of service, Katie was asked by the board members to officially join the team and fill an open but still unpaid position. The Love family has become a vital part of the rescue team, and the family members have dedicated their roles to specifically caring for the pregnant guinea pigs and pairing new guinea pigs together. Their care for the guinea pigs has sparked a career path for Katie, who plans to become a veterinarian and open her own practice.
Lunchtime arrives, and Katie sits to eat a slice of warm, gooey cheese pizza while customers browse through the rescue's pet supply shop. The door dings, and a mother and child arrive with two guinea pigs with overgrown nails. Unbothered by the interruption, Katie sets her pizza aside to trim the calico-colored guinea pigs' nails. Katie whispers to the guinea pigs and strokes the top of their heads, and their grumbling purrs transform into happy squeaks.
For Katie, trimming nails is like brushing teeth. It has become a part of her routine, and she knows the sweet spots to help the guinea pigs feel at ease. Katie says attention to these kinds of little details will make her a better veterinarian.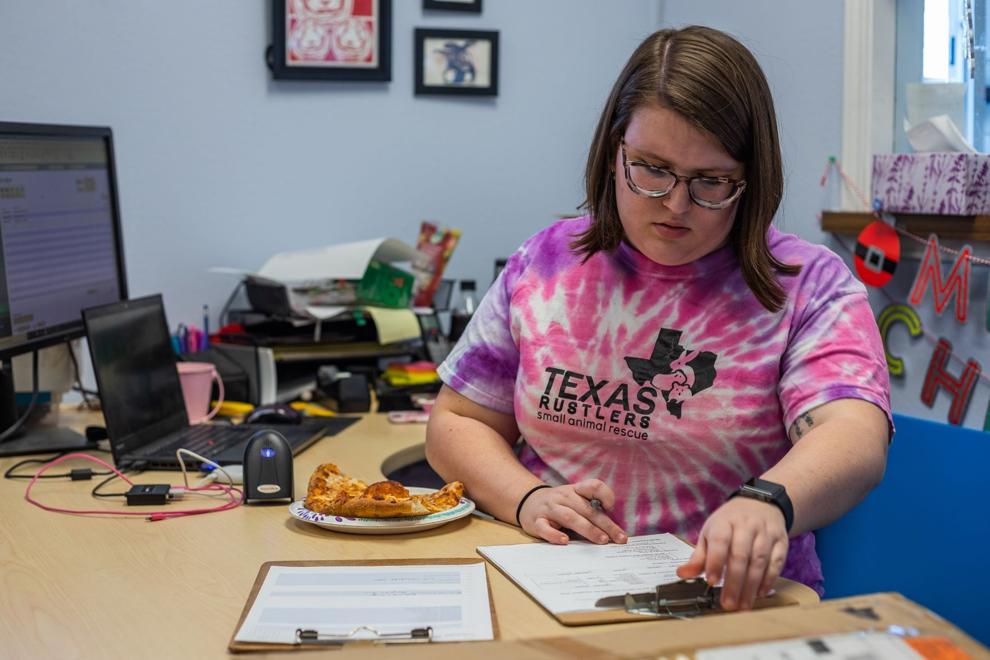 Katie expects her responsibilities at the rescue will increase beyond routine maintenance tasks as she progresses through her college studies. She says she wants to focus more on administering vet runs and shadowing the veterinarian's medical services.
As the afternoon rush slows down, Katie grabs two blue boards and assists in photographing a couple of guinea pigs ready for adoption. Katie corrals the pair of guinea pigs onto the makeshift backdrop. Wide-eyed, the camera-shy guinea pigs attempt to scurry off, but Katie keeps them in place by gently stroking their pudgy chests.
The rescue and pet supply store have blossomed since Katie first began volunteering eight years ago. In the beginning, both adoptions and volunteers were few and far between, she says. With the rise of social media, word about the small animal rescue has spread faster than before.
In the beginning, "Most of the customers were the same people coming in," Katie says. "I went on Good Morning Texas a few times and spoke about us. Since then, more people have been coming in."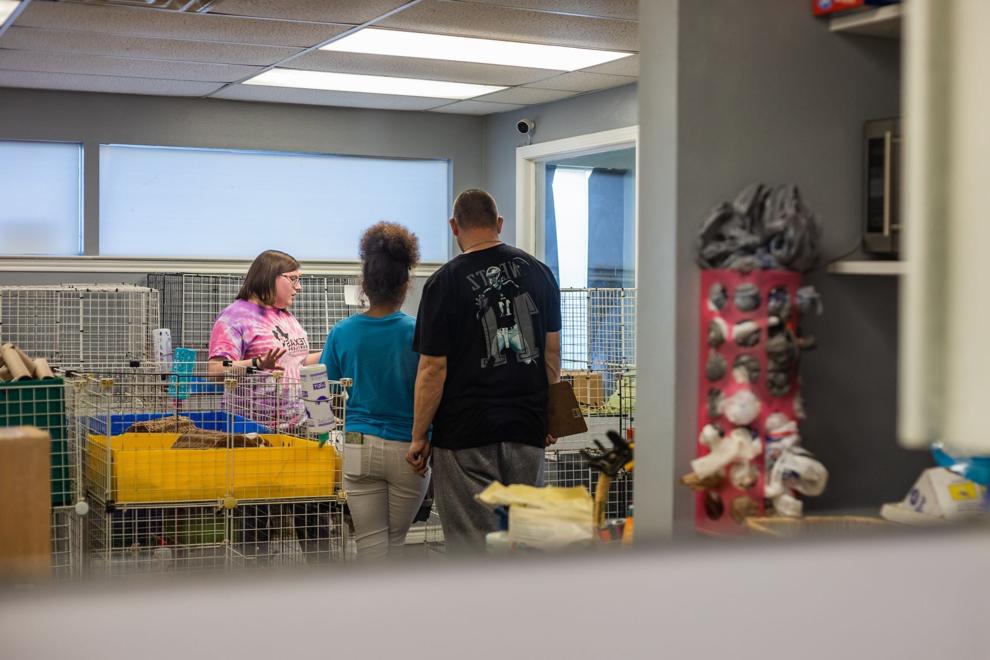 The good and bad of volunteering
The rescue group actively updates over 8,000 social media followers on events, adoptions and other services. During the COVID-19 pandemic, social media has become an essential tool to communicate the rescue's new social-distancing adoption process and curbside services, including nail trims and shop orders.
Social distancing measures have reduced some of the bustle inside the rescue and the store, but they are no less busy. Nationwide, animal adoptions have increased as people are spending more time at home.
Katie still has plenty to do to keep up. It's easy to become entranced with the cuddly side of small furry creatures, but caring for them is a task that requires hours of dedication. Volunteering at the rescue comes with a bundle of difficult challenges, including monetary stress and learning the importance of personal boundaries, Katie says.
Katie recalls horrific moments — finding guinea pigs abandoned in boxes on sweltering days and rescuing malnourished guinea pigs from a dumpster. Katies says volunteering can involve treading a fine line between happiness and depression.
"People throw their guinea pig against the wall and expect me to clean it up," Katie says. "Then, of course, I think, yeah, I've saved all these guinea pigs, but there are thousands of other guinea pigs that I know I am not helping."
When traumatizing stories of guinea pigs in need begin to pile up in the rescue's inbox, so do Katie's negative thoughts. Checking emails can get dreary when the rescue reaches capacity and is unable to care for more animals. Due to lack of space, Katie must reject owners who request to surrender their guinea pigs.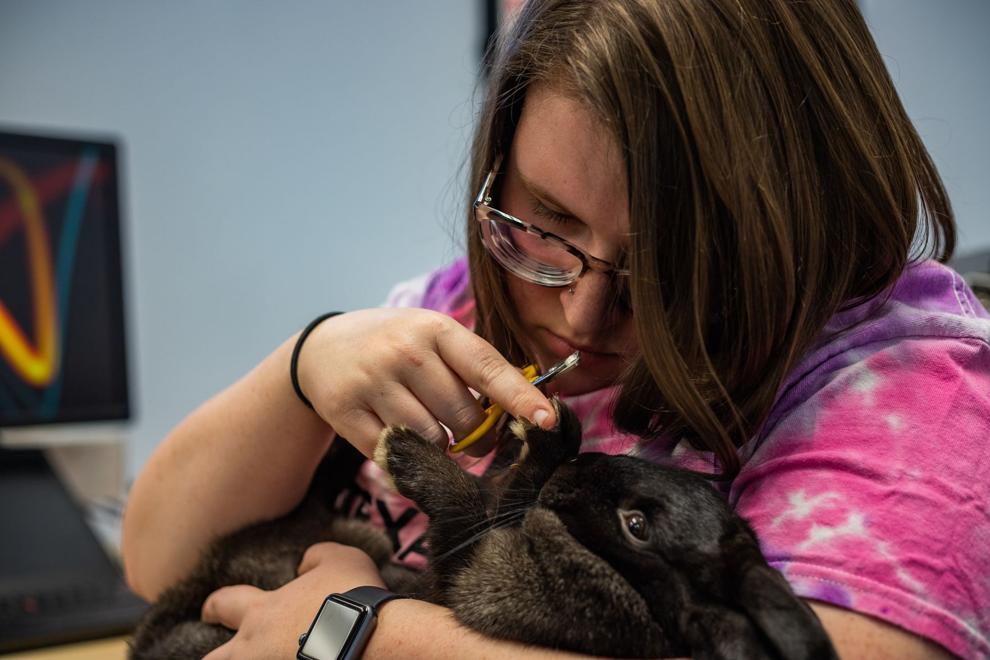 In order to provide attention to as many small animals as possible, volunteers may foster some of the sick animals at home. This can be an extremely discouraging task as they watch the sick guinea pigs suffer, Katie says.
"You have to rise above your own negative thoughts about it," she says.
In the end, Katie remembers that she and the rescue are working to help as many small animals as possible. Katie keeps a steady focus on the positive impacts the rescue has had on many small animals' lives.
As Katie's life and career goals progress, she says she hopes to always be involved with the rescue in some capacity.
"So, I guess I'll always be known as the guinea pig girl," Katie says, "which is so exciting for me."