The Governor's Volunteer Awards honor individuals and organizations in Texas that have made a difference in their community through volunteer work and service. Among the 2019 awardees was Doug Brown, a 94-year-old World War II veteran who has taught himself how to repair computers that are old or broken.
Over the past 14 years, Brown has donated about 1,100 computers, both laptops and desktops, to veterans and others who can't afford their own. Brown hopes that having their own computer will help people search for and find a job.
"Nobody wants a paper resume anymore," said Brown, who lives in Flower Mound. "You want to look for a job and send a resume, it's going to be online. Maybe they can go to the library, but very often there's a line at the library and you can't use the computer forever. So when a veteran comes in and they're looking for a job, I give them a laptop. And when we find out that they got a job, that makes a difference."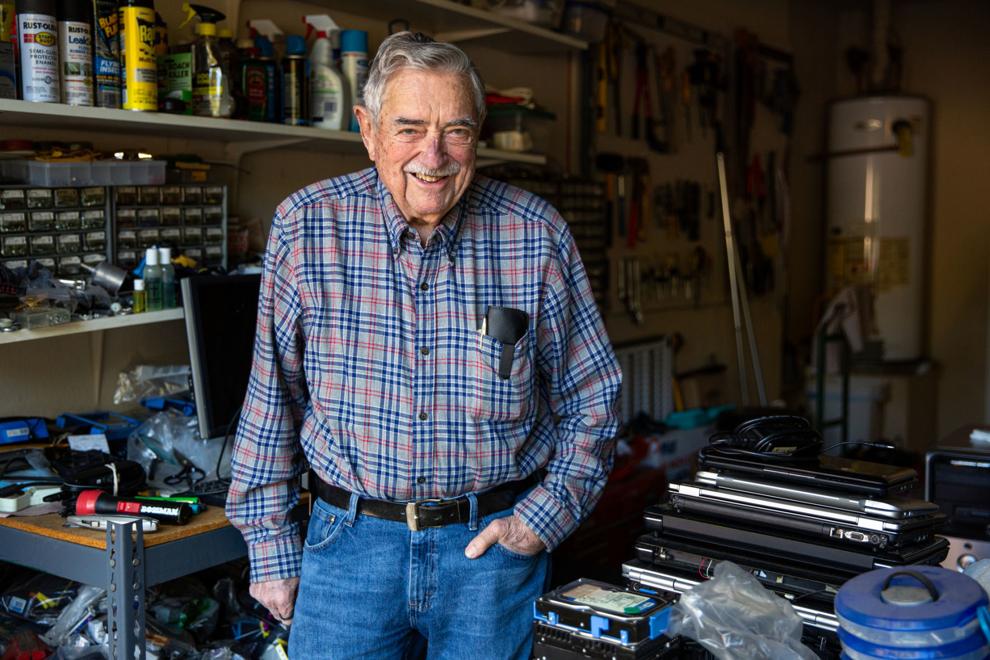 Brown is known by his family and peers for his eagerness to stay active within the community. He first started reading and learning about computer hardware and software in 2005, when his first wife was diagnosed with cancer. He spent most of his days at home to keep her company, but kept his mind occupied by studying and practicing how to take apart and fix computers. His second wife also died of cancer.
"If you don't have something to do, something to keep you occupied, something to keep your mind busy, you're going to deteriorate," said Brown. "And I deteriorated about enough."
Brown receives dozens of requests for computers each day and his garage is filled with laptops and monitors. Brown spends 12 to 15 hours on each computer, often working on multiple at a time and finishing two or three a day.
"He talks to the computers," said Clare Brown, his third wife. "And he thanks them when they do their job."
"I got so many computers sitting around that my wife would love for me to get rid of, but it just grew and grew and grew," Doug Brown said. "But as long as I can keep working with them and handing them out to help people, I plan to keep on doing it."
Brown hopes that what he does is making a difference. Every Friday morning, he and Clare visit the Texas Workforce Commission's Denton Workforce Center. They bring three laptops with them each visit. About two years ago, they were approached by a familiar face.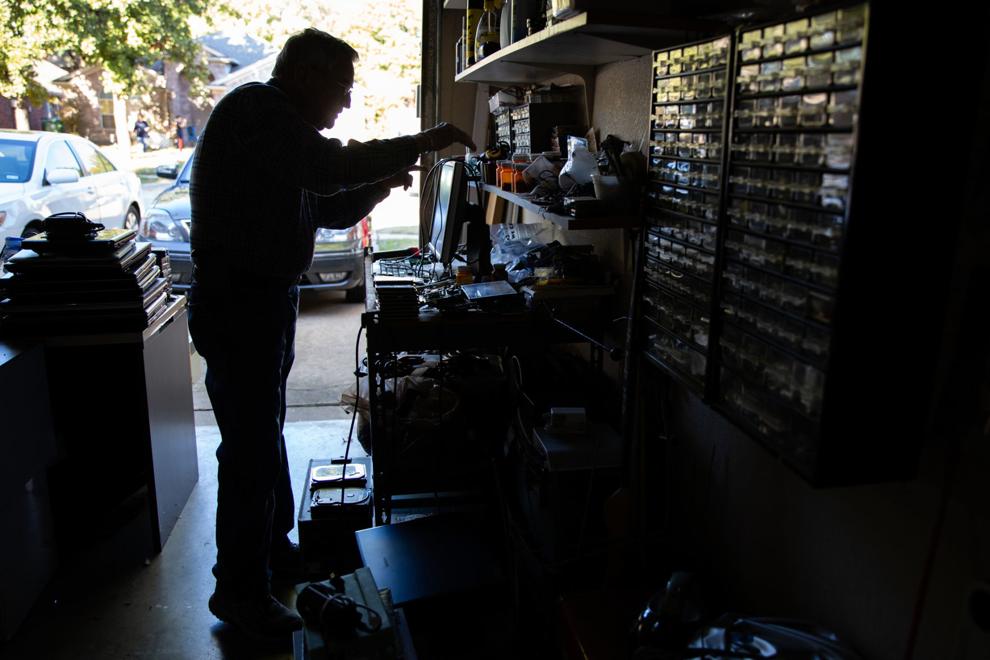 "I had a young lady come up to me — she was the new receptionist and she shook my hand," Doug Brown said. "She said, 'You don't remember me, do you?' I thought she looked a little familiar and she told me, 'When I graduated from Veterans Treatment Court, you gave me a laptop. With that laptop I got my B.A. [degree], and with that B.A. I got this job."
Many of the people who have received computers from Brown have often been homeless or living in shelters or temporary housing and struggling to find work.
"We've had some [people] come in who have been living in their cars, and there are more of those than you think," Brown said. "There are a number on the north side of Denton living in the woods, there are a lot of others we can help. Whether it's giving them computers or giving them advice, there's so many different ways to help."
As a member of the Retired and Senior Volunteer Program (RSVP) in Denton County, Brown also spends his time volunteering and helping out in any way he can.
"He doesn't stop, he really doesn't," said Diana Corona, executive director of RSVP. "I feel like he's not only done the state of Texas proud, but Denton County and the Denton County RSVP proud, and I'm beaming about it. He's one of the go-to volunteers if I need help or anything. He's very much a big part of RSVP."
Executives and members of RSVP each recognize Brown's accomplishments and are thrilled to see how his work has become appreciated by the state of Texas.
"Out of the hundreds of volunteers we have within our network, none of their passion nor dedication to helping others can come close to that of Doug Brown," said Kasey Brown, peer service coordinator of Military Veteran Peer Network, who is not related to Doug Brown. "Doug is the epitome of what a volunteer should be. He is kind, sincere, committed and always looking for new ways to help the community."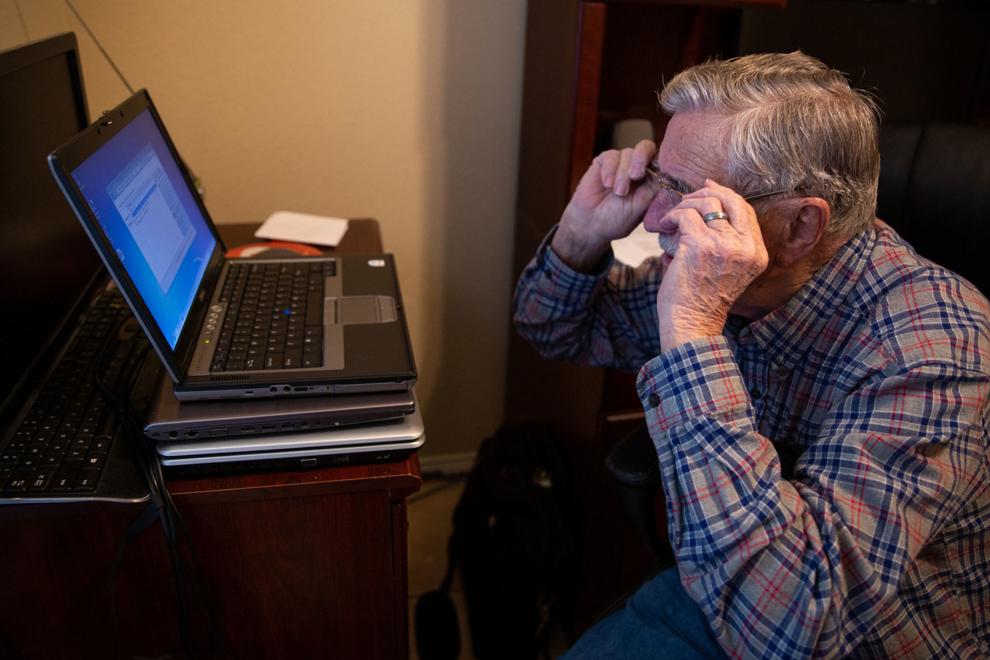 Tanya Blixt, board chairwoman of RSVP in Denton County, says that everything Doug Brown does has a direct and positive impact.
"The ripple effect that he's creating is amazing and you just don't see that happen with everything that you do," said Blixt. "He impacts the environment, he impacts people, he impacts RSVP and he touches the heart of many people. When I'm around him, I'm inspired, I am humbled and I'm joyful."
Brown says he and his wife will continue their work for many years to come as his computers continue to help improve many people's lives.
"I did not anticipate 1,100 computers, or 13 to 14 years of doing this day in and day out," said Brown. "It's funny what you stumble into and it's not something I planned, but a computer might make a difference in a person's life. I feel good about what we together have done."