Hundreds of people braved the rain and cold Thursday night to attend the 5th Annual First Refuge Gala at the Embassy Suites by Hilton Denton Convention Center, 3100 Town Center Trail.
First Refuge Ministries is a local Christian nonprofit that serves needy citizens in the Denton area by providing free health, dental and counseling services, as well as a food pantry.
Samuel Rodriguez, a pastor, author and spiritual advisor to three U.S. presidents, headlined the gala as the keynote speaker. During his speech, Rodriguez encouraged those in attendance to come together and be a source of light during the dark times the world finds itself in.
"Instead of focusing on the dark things, turn on the light," Rodriguez said. "Because every single time light stands next to darkness, light always wins."
Rodriguez cited multiple Bible passages about the battle between darkness and light during his speech to further his point.
Halfway through his speech, a picture of Rodriguez at the 2017 presidential inauguration appeared on screen. The picture showed Rodriguez on stage with President Donald Trump to his right and former President Barack Obama to his left. Rodriguez advised Obama during his two terms as president and has advised Trump during his term.
Rodriguez talked about his choice to speak at Trump's inauguration, his disbelief when he received the request, and why he decided to say "Jesus" on inauguration day.
"We need to stand on that name," Rodriguez said. "'Reverend Rodriguez, why did you use that name? Were you being edgy? Were you being controversial? Were you trying to alienate or hurt someone? God forbid not. Why did you use that name?' Because I believe that at the mention of that name, every principality and power of darkness has to bow."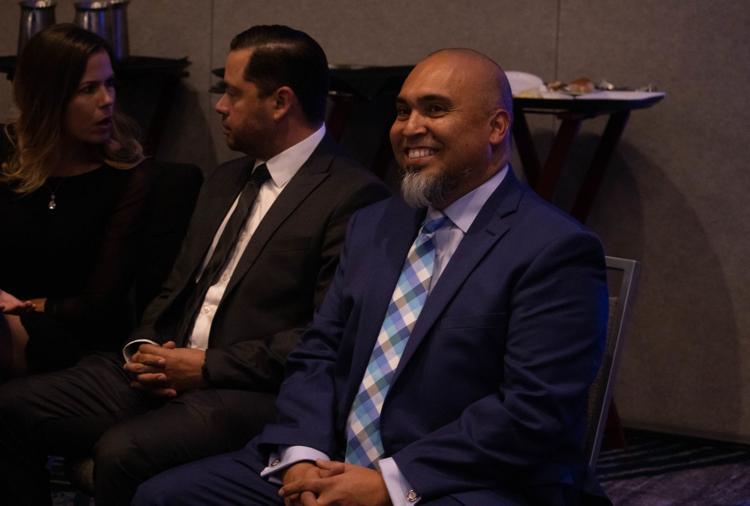 Rodriguez concluded his speech by thanking the crowd and First Refuge executive director Paul Juarez for being sources of light in the darkness before exiting the stage to a standing ovation.
"First Refuge brings hope to people who don't think they have hope," Juarez said before the event.
The gala is First Refuge's largest fundraiser and makes up more than a third of its budget. Event Organizers, including Juarez, hoped to equal last year's mark of $100,000 raised.
"This event helps us do what we do. It helps us to continue to serve," Juarez said. "The money raised tonight lets us provide services for free."
While First Refuge only serves Denton currently, the ministry will expand to Sanger in three weeks, according to Juarez.
Juarez said the expansion, which involved renovating the house First Refuge will serve out of, wouldn't have been possible without volunteers, donors and local business owners.
"This project was out of my wheelhouse," Juarez said. "I don't know how to renovate a house. I don't even know how to change the oil in my car."
The location will open on Nov. 11, and Juarez said he hopes to open seven more over the next five years, including in Lewisville and Pilot Point.