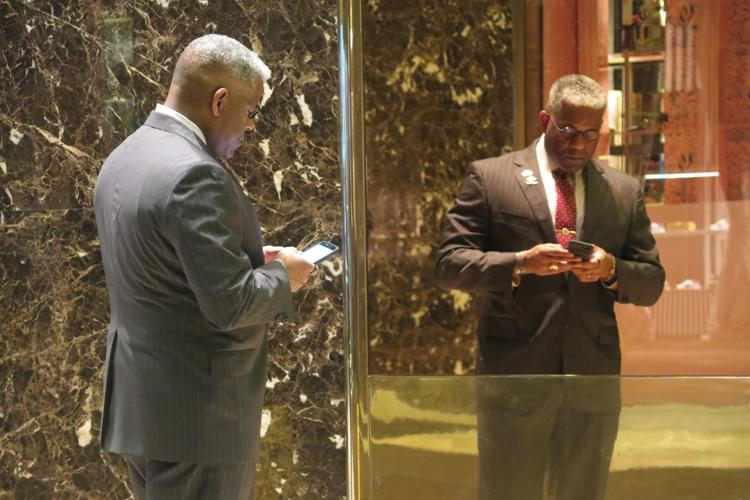 Experts say the church violated the Johnson Amendment, a 1954 tax law that forbids all 501(c)3 nonprofit organizations from endorsing political candidates.
They disagree on the specifics — but the church has since distanced itself from the flyer's contents.
"This document was not up to our usual standards and did not go through the proper channels for approval," Denton Bible Church said in an announcement, which was issued by the Elder Board of the church without signatures or names.
The church shared the statement on its Facebook page and said a staff member gave someone permission to put the flyers on a voter registration table.
"Had our usual protocol been followed, it would not have been approved nor distributed as it is inconsistent with DBC's longstanding principle of focusing on issues, policies and platforms rather than individual people with no reference to the issues at stake," the statement said.
Church + politics = confusion
On Monday night, two protesters stood at the entrance to the church's sprawling campus with signs — one of them reading "Jesus Christ is Lord, not the Republican Party" — as hundreds streamed in for a "Vote By Faith" event featuring Allen West, the chairman of the Texas Republican Party, and Jeremy Dys, a First Amendment attorney with First Liberty, a nonprofit that promotes religious liberty and represents plaintiffs in religious liberty lawsuits.
Hundreds attended, and culture war issues got big responses — the NFL's support of Black Lives Matter, equality for transgender Americans and the ongoing effort to oppose legal abortion.
Denton Bible Church Executive Pastor Charles Stolfus reminded the audience that while Christians have a moral obligation to vote, they should avoid tactics that "coerce or compel." Both West and Denton Bible Church Senior Pastor Tommy Nelson frequently spoke in battlefield metaphors.
"The church clearly violated the Johnson Amendment," Garrett said. "Houses of worship are like any other tax-exempt organization. The Johnson Amendment protects the integrity of tax-exempt organizations. You can't endorse political candidates or political parties. Nonprofits can talk about political issues. They can even distribute candidate questionnaires that make it very clear who they're endorsing — one person or party on one side, they get all the stars on their positions. And the other candidate has zero stars. You see those things and it's clear they're endorsing or opposing, but they can address issues that way. They can drive people to the polls. They just can't endorse candidates."
Garrett said the Monday night event violates the Johnson Amendment because it brought West to the church during an election season but didn't have any other representative of any other party present.
But Wendy Watson, a senior lecturer in political science at University of North Texas, said the "Vote By Faith" event doesn't violate the amendment.
"Events like the forum are fairly common," said Watson, who also has a law degree and a background in courts, criminal law and separation of powers. "When politicians are on the campaign trail, they will speak to congregations all the time. The key is that the church give an opportunity to have the other candidates from the other party there, too."
Watson said as long as West was mum on candidates — which he was — Denton Bible Church and its guests were abiding by the law.
"What they can't do is endorse candidates," Watson said. "They probably were fine. And the reality is, again, churches do this sort of thing a lot. Many religions have some focus on civic engagement and things that are going on in the community and issues of social justice. That's part of their missions. When they endorse candidates, they risk losing their tax-exempt status."
A representative of the IRS said Tuesday the agency cannot disclose whether a nonprofit has received complaints about Johnson Amendment violations.
Denton Bible Church isn't the only local church to tackle high-profile political issues. In 2005, Denton Unitarian Universalist Fellowship voted to oppose Proposition 2 as a congregation. The proposition amended the Texas Constitution to forbid same-sex civil marriage.
Clare Brock, a political science professor at Texas Woman's University, said churches often function as community centers and open their doors for local discussions of legislation and social justice issues. When people think a church has violated the Johnson Amendment, they expect the federal government to act. By the end of last week, criticism peppered the comments section of the "Vote By Faith" Facebook announcement.
"Disavowing it wouldn't be a defense," Brock said of the later statement. "First of all, it's not likely that anything will happen. But if it did, ignorance is not a defense. I would be surprised if anything came of this — I don't think the IRS has a historical record of pursuing these cases. Each cycle, the IRS publishes and disseminates a reminder about electioneering. And every election cycle, there are complaints about churches who break the law."
During the first portion of "Vote By Faith," three short videos reminded the audience that they aren't barred from political life. Dallas radio personality Mark Davis, Liberty Counsel Founder and Chairman Matthew Staver and Southern Baptist Theological Seminary President Albert Mohler encouraged attendees to vote.
Staver said that no United States church has ever lost its tax-exempt status for political lobbying. But that statement was not correct.
"In 1954, the political intervention restriction came into the IRS code," Staver said. "It says the churches may not support or oppose candidates for office. That's an absolute prohibition, but again even for that, no church has lost its tax-exempt status for opposing or supporting a candidate."
Staver said that even the Church at Pierce Creek in Conklin, New York, didn't lose its tax-exempt status after spending tens of thousands on advertisements opposing then-Gov. Bill Clinton's presidential bid in 1992. However, the Federal District Court for the District of Columbia affirmed the IRS ruling to revoke the church's tax-exempt status in 1999. The church appealed, but the U.S. Court of Appeals affirmed the district court on every count.
Garrett said people might be surprised by how many pastors and nonprofit leaders prefer to keep their campaigning to policies rather than political candidates. In its Project Fair Play, Americans United has amassed thousands of letters from faith and nonprofit leaders supporting the prohibition of endorsing candidates.
"Whether you are a Democrat or Republican, if the good work that a church does depends on political views, that can affect the integrity of the work. Like if a church has a soup kitchen, if the church could endorse or oppose a candidate, what happens if they aren't politically aligned with the elected official? In that scenario, you can have a donor offer money contingent on the political views of the pastor or the donor. If this law wasn't there, you could be looking at that," Garrett said.