OAK POINT — Kevin Trimble, 26, spun his wheelchair around as a massive American flag floated aside, revealing his new home in commemoration of Veterans Day.
A crowd easily surpassing 100 people gathered on the brisk Sunday afternoon to witness speeches from organizers and businesses, as well as witness the unveiling of Trimble's new home. Dozens of Americans flags lined the street and driveway and fluttered in miniature in people's hands.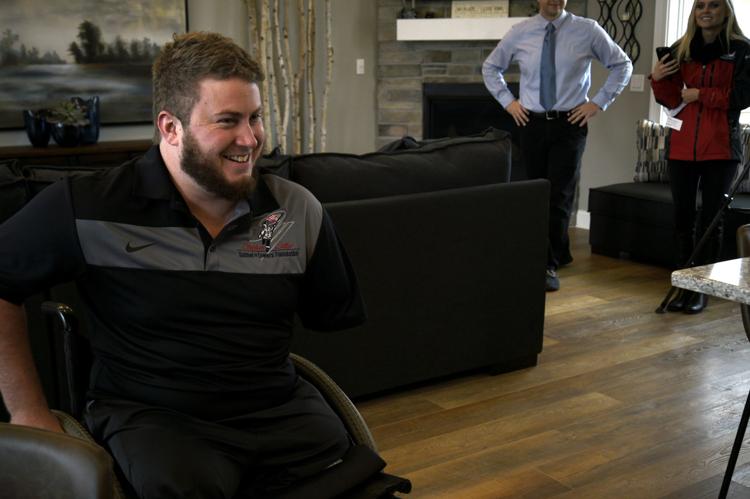 Spc. Trimble joined the Army right out of his New Orleans charter school, serving seven months as an infantryman before instant tragedy ended his military career. He was 19 years old.
He had been "clearing a village," and intelligence reports warned of improvised explosive devices.
"You go in there and you do everything you can; you have dog teams and you have mine detectors, but you can't catch everything," Trimble said. "That's the nature of the job."
A pair of 155 mm Russian artillery shells were buried in a wall and remote detonated when a friend and fellow soldier got too close, killing him instantly. Trimble was 11 feet away.
His resulting injuries saw both legs and his left arm amputated. Trimble sits tall in his chair, jawline covered in a thick beard and his face composed, almost stern, when he isn't breaking into a rolling chuckle. He was frequently characterized during Sunday's event as a man of good humor, tireless optimism and heroic actions.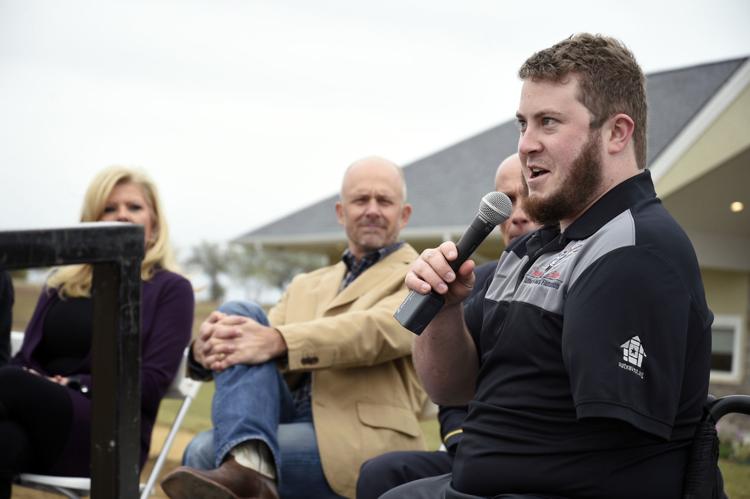 He freely admitted to not being "big on the whole spotlight thing," but was gracious and charismatic throughout the ceremony and tour of his new home.
Trimble's home was presented by the Stephen Siller Tunnel to Towers Foundation, the product of collaborative efforts from various business and foundations. Furniture and appliances were selected by Trimble, donated and put in place before he ever saw the home's interior.
Being a nonprofit, Tunnel to Towers is able to gift homes without incurring the significant "gift tax," resulting in a truly mortgage-free home.
Recipients still are required to pay for all bills and taxes the home incurs normally.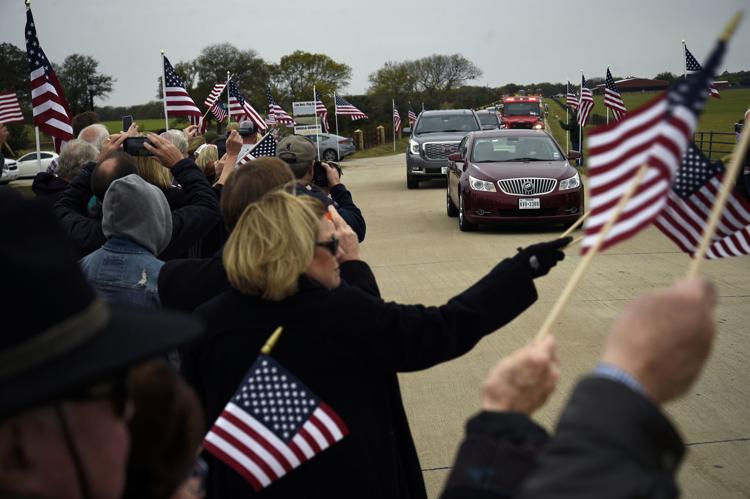 It is a "smart home," equipped with numerous features designed to accommodate a person with disabilities, such as blinds that are raised and lowered remotely, a stovetop that raises with the touch of a button and other features controlled from an iPad.
"I had a little bit of an idea of what to expect ... but it's way better in person than it is on a piece of paper," Trimble said. "Everything is sized right."
Doorways in his previous apartment in Dallas were narrow enough that he would bang his knuckles when passing between rooms. His new home is custom-tailored to solve such problems.
Born from the rubble
The Stephen Siller Tunnel to Towers Foundation is named for one of the many first responders who gave their lives during 9/11.
Leading several initiatives, the Smart Homes Program benefited Trimble on Sunday. To date, the organization has constructed or planned 75 homes for "catastrophically injured veterans to live more independent lives," and has committed to at least 125 more.
Just over 93 cents of every dollar donated to the organization went directly toward to programs offered by Tunnel to Towers in 2016.