Kristen Ray watches as the technical director at the Campus Theatre pilots a lift to place lightboxes that spell "MATILDA" over the top of the stage.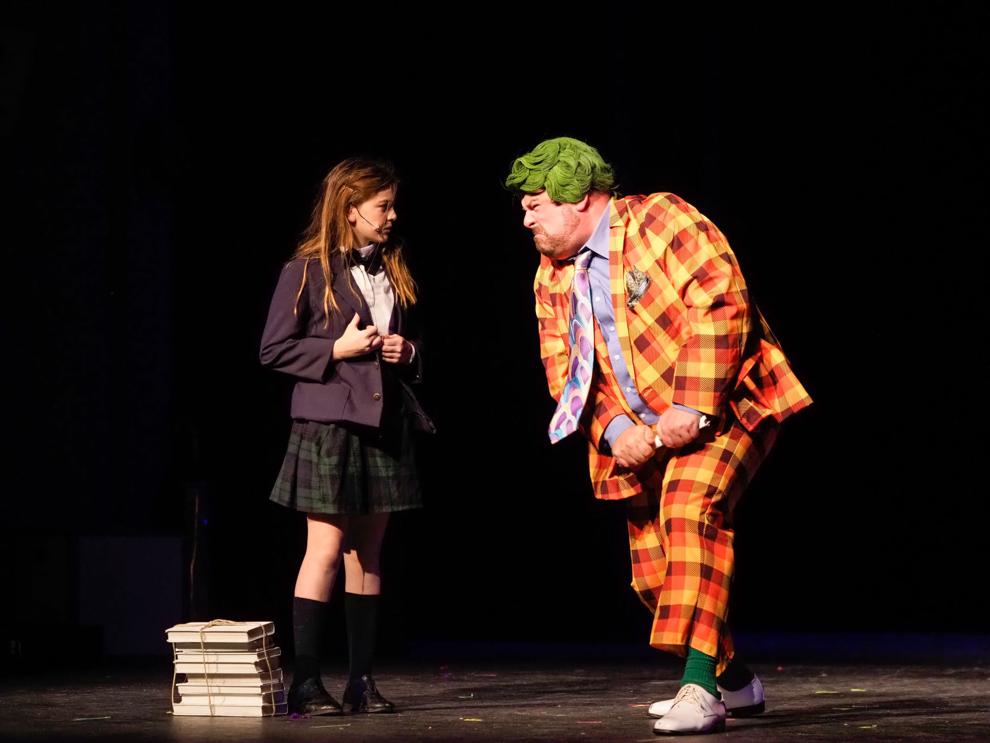 Ray is the director of Matilda the Musical, a stage adaptation of the Roald Dahl novel. With a few major safeguards, the show represents Theatre Denton's return to business as usual. The show opens Friday at the Campus Theatre and runs through the next two weekends.
'Matilda' conjures magic of childhood imagination
Rebooting performances
"About 70 people came to auditions," Ray said. "We let people come in in blocks of five or six people at a time. They had to wear a mask. They walked onto the stage wearing a mask to meet the pianist. Then we had them walk to the edge of the stage, take off their mask. Then when they finished, they put the mask back on."
The company required all performers age 16 and up to be vaccinated before rehearsals started, Ray said. Performers between 12 and 15 didn't have to be vaccinated to participate.
"Our littles wore masks the entire time," Ray said of rehearsals. "I asked a lot of COVID questions, and the board had put a lot of thought into it."
Twenty-eight actors were cast, and 12 are children.
Mike Barrow, the managing director of the company, said audiences will get more latitude. The company staged the two-woman musical, Always... Patsy Cline, earlier this year. The small cast meant the company could open the season with fewer players on stage. The company only sold 50% of its usual ticket sales to keep open spaces in the house.
"We're opening the house for ticket sales to 100%," Barrow said. "But we are going to change our signs to recommend that everyone wear a mask, and we'll have masks here for people if they need it."
The company's board has monitored the CDC and local guidelines for COVID-19 safety since last year's quarantine, and the leadership will continue to promote health and safety while producing the slimmer theater season.
Ray said she can especially see the children and teens in the musical relishing the chance to get back on stage or to experience their stage debut.
"Our littles are loving every minute of it," she said. "They're taking it all in. It was so cute, when they saw the shadow boxes [spelling out "Matilda"] they clapped. As a parent and a teacher, there's so much with the social interaction that benefit kids, so I look at this show as a chance for them to get that interaction."
Delving back into childhood
Matilda the Musical tells the story of a lonely little girl born to vain parents: Mrs. Wormwood, who prefers ballroom dancing (and the limelight) to motherhood, and Mr. Wormwood, a ruthless used car salesman who measures success by a narrow set of standards.
Matilda must fend for herself, and she fills her days reading, exploring and learning. Her isolation makes her sensitive toward others. Her bookworm habits encourage a teacher, Miss Honey, to open more opportunities to learn and grow. But Matilda is foiled by the stern and mean headmistress Trunchbull. As Matilda finds her footing in school, she champions children and sticks up for her more timid classmates.
Ray is a middle school teacher and a mom, and she said Matilda is a show that appeals to all ages.
"I love this show," she said. "This is one of the best shows I've ever been involved with since I got into theater, and I got into theater in middle school. I think this is such an inspiring show for kids. Because they might not have such a good home life. Or maybe they have a good home life but don't feel so great about themselves."