The Denton Record-Chronicle had a decorations contest, and some of the top winners are within a short drive. Check them out while you're trick-or-treating with the family, or make a few stops after you've gathered all your sweet treats for the night.
Kendolph Drive in Denton
Christy Williams-Taylor and her husband, Garin, won fourth place in the contest with their yard in the 1400 block of Kendolph Drive with a pirate-themed yard.
When asked why she and her husband made a project out of their yard for Halloween, Christy Williams-Taylor had a simple answer.
"Because it's my Christmas!" she said.
The Denton Halloween lovers said their yard is spooky and humorous "if someone looks closely."
"I'd like people to be drawn in and immersed in the scene, maybe see something different each time they look at it," Williams-Taylor said.
With about a few dozen strings of lights and items, on their lawn, the couple has an old electrical box in their 1960s-era home.
"So we rely heavily on LEDs and battery-operated lights with self-timers," she said.
The holiday is such a favorite for the couple that they blocked off time to transform their yard into a tribute to All Hallow's Eve.
"My husband and I took October 4th off work to decorate," she said. "Just painting the yard blue took a couple of hours. It looked better at the first of the month before my grass grew tall, lesson learned. But if you count all of the time I spent convincing my husband that we needed to paint the yard blue in the house we have only lived in 2 months, I have several more hours invested in just getting our beautiful grass painted."
The couple didn't break the bank, either.
"Yard paint and AA batteries were the big expenses this year," Williams-Taylor said. "I usually buy stuff throughout the year so I don't know my actual total — and prefer to keep it that way."
During the contest, the couple were planning to build a candy cannon chute.
"We're weighing the logistics and wisdom of a pneumatic candy pirate cannon," Taylor-Williams said. "Every year I have tons of ideas of things to make but I always run out of time. Everyone who placed ahead of us better watch out. We'll be making them walk the plank next year."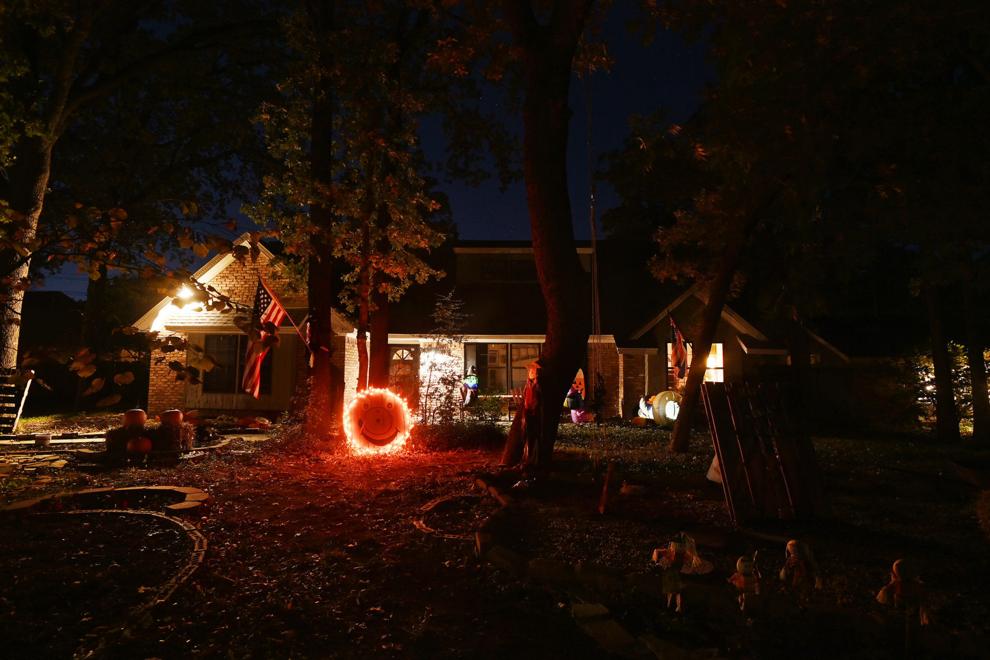 Foxcroft Circle in Denton
The home of Alasdair Green in the 2800 block of Foxcroft Circle took second place in our contest.
Painted wooden pumpkins grin at passersby, ghosts linger in the trees, and a friendly scarecrow smiles from the yard. Signs declare "beware," "spooky" and "wicked."
"We decorate for every season and major holiday," Green said. "As teachers, we see the value in bringing smiles to the faces of neighborhood kids. We love seeing young families out for walks stopping in front of our yard to look at the decorations."
While some designers make their yards a tribute to horror, Green and his wife go for a family-friendly approach. The couple work as teachers in Denton ISD, so they always think of their younger neighbors when they decorate.
Like the other contest winners, Green and his wife are building their decoration design every year.
"It varies from season to season, but we try to add new items every year," he said. "We paint pallets with season themes and put them out for each holiday, as well as trying to incorporate our big trees and natural landscape into the decorations. All in all I would say it ranges from 20-40 items per season."
Green's wife loves a lighted yard decoration, and the pair have illuminated inflatables for each season they celebrate. Most of their glowing inflatables are reserved for Christmas.
The couple takes an afternoon to decorate, and Green says living on teachers' wages requires them to be budget-conscious. They find items on Facebook and at yard sales.
Green and his wife agree that wood pallets make for fantastic free material to transform into a seasonal masterpiece.
"My wife hand paints pallets for all holidays, and we have had many compliments from passers by. Those are my favorite decorations we have," he said. "We also paint signs for Christmas, such as 'The Gingerbread House' made from scrap wood and leftover paints."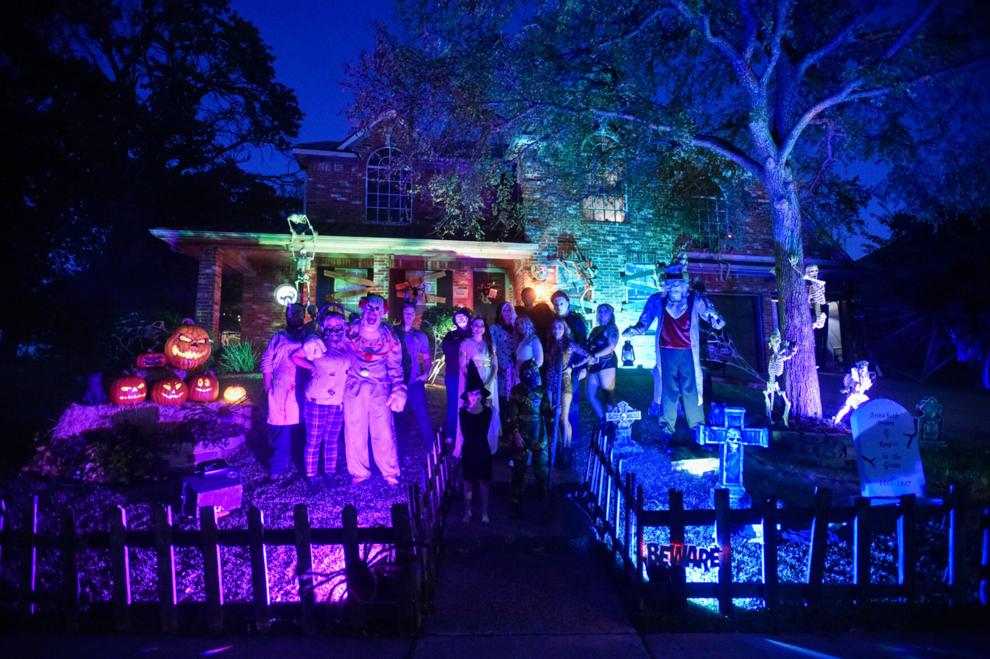 Oakhollow Drive in Corinth
Carey Reyna and her family started decorating their house for Halloween when her son, Ryan, was in elementary school.
Ryan is now 24, and his family's home in the 1600 block of Oakhollow Drive in Corinth took first place in the contest.
"It's something that kind of became a family event," Carey Reyna said. "We've collected stuff to decorate with since he was 7 or 8. It's just gotten bigger and bigger and bigger. Halloween is like a big event every year."
Her son now helps build and run a haunted house in his parents' garage, a spookier part of the decoration plan that is aimed at adults.
The Reynas have a mix of store-bought, animatronic and handmade items in their front yard, though the family decorates the inside of the house and the backyard.
"We start at the end of August, and then we spend every Saturday and Sunday through Halloween decorating," Carey Reyna said. "Every year, by the time I'm doing it, I'm 'never again,' or 'I need to pare down.' But then the neighborhood kids will start asking if we're going to have our decorations out again. It's a lot of work, but when you're done, it's a great feeling to see people enjoy it."
The front yard is a Victorian-era spookfest, with a hearse drawn by a skeleton horse and a grave digger who greets visitors on the lawn. There are spiders and skeletons, and lots of spider webs the family cuts out of beef webbing to arrange in the yard. They board up their windows, erect a wooden fence, tombstones and pumpkins. The Reynas have hay bales scattered around the yard, and have added projections to their schematics in the last few weeks.
"We use a lot of LED spotlights that are programmable to change to different colors," Reyna said. "Over the years, we've switched over to LED for efficiency, so we have like 10 to 15 LED spotlights. And I also change out all of my bulbs to look like flames on my outside sconces."
The Reynas have a $600 annual budget for their lights, but spent around $1,000 this year. Reyna said she sells some of her decorations when they've populated her yard for years, and thanks to groups like Halloween Yard Haunts and Props on Facebook, she's learned how to make new items. Pinterest is a wealth of ideas and tutorials, too.
"We have made a lot of things, like the wood fencing, and a cousin of mine made the wreath that's on our front door. We cut up the beef webbing and make our own webs. And we make spiders and things like that."
Reyna said she's inspired by the spaces around her.
"I think when we moved to this house 2013, wen we walked in and I looked up and saw these 20-foot ceilings, I was like, 'Oh, yeah, something's going up there.'"
This year, Halloween bats decorate the two-story walls.
Remuda Lane in Denton
Scott Rega and his family like the attention their Halloween decorations get — especially from children.
The family's yard in the 4500 block of Remuda Lane in Denton, with its coffins and toxic waste, took third place in the contest.
"Our family has always enjoyed the Halloween season, so it just seemed like a fun thing to do to celebrate the holiday," Rega said. "It started off as one or two things and just grew from there. People would walk by and say how much they enjoy looking at the decorations so we just kept adding a little more each year."
These days, Scott Rega said he decorates mostly for daughters Isabella and Kate, "who absolutely light up when it gets close to Halloween."
"The kids obviously love all the spooky stuff and lights, but I get a lot of adults that stop by to say they really enjoy looking at the decorations too," he said.
The Regas' yard uses about 10 strings of lights and 10 to 12 different decorations, including tombstones and ghosts. There are four or five colored spotlights, a coffin that emits a green glow and fog spilling out of it.
Leaking toxic waste barrels light up in the Regas' yard, and zombie heads glare at visitors with glowing red eyes when they walk close enough. An inflatable pumpkin head character lights up, and a sign flashes "BEWARE" on the front window.
"I just want people to walk by and enjoy something they don't get to see every day," Rega said. "There is a little boy in the neighborhood who would come down every night with his parents and just sit on the sidewalk for about five minutes and look at everything. And they would do this every night, over and over and he seemed just as excited to see it every night. That's awesome. If I can make a few kids and maybe some adults feel like that for a few nights out of the year, it's worth it."
The yard was an eight-hour project.
"I've done this for several years now, so it gets a little easier every year, not having to hunt down extension cords and yard stakes. Having all that ready saves a lot of time," Rega said.
Total cost is probably around $700 for the family. Rega and his daughters built the coffin out of free pallet wood and instructions they found on the internet, plus a few screws they picked up at the store.
His wife made the toxic waste barrels using barrels they picked up for free on Craigslist and spray foam insulation. String lights in the foam gives the faux waste an eerie glow. They printed off a radioactive symbol to make a stencil, then painted it on the barrel.
"I try and invest a little each year to keep it growing," he said.
The third-place winner is homeowner Kristin Kelley in the 1300 block of Angelina Bend in Denton. The yard glows with blow-mold Halloween ghosts, jack-o'-lanterns and scarecrows, all of whom appear to be keeping company with a 12-foot skeleton.