The University of North Texas named longtime College of Music faculty member Debbie Rohwer as a regents professor. Rohwer, who is now associate to the president at UNT, taught in the college's music education program for years. And she played a key role in the founding of one of the college's best town-and-gown initiatives, the New Horizons Band. The band introduces senior citizens to band instruments and develops their skills as musicians and players in an ensemble.
We like the cut of Twitter user @Pablo Brocasso's (North Texas resident Robbie Janney) jib. Janney perfectly described Denton in a funny comparison to the state's other big universities. "School pride in Texas: UT: Hook 'em, horns! A&M: Gig 'em, Aggies! ... UNT: do you want to come to my house show?" Yup, that's the three schools in a nugget.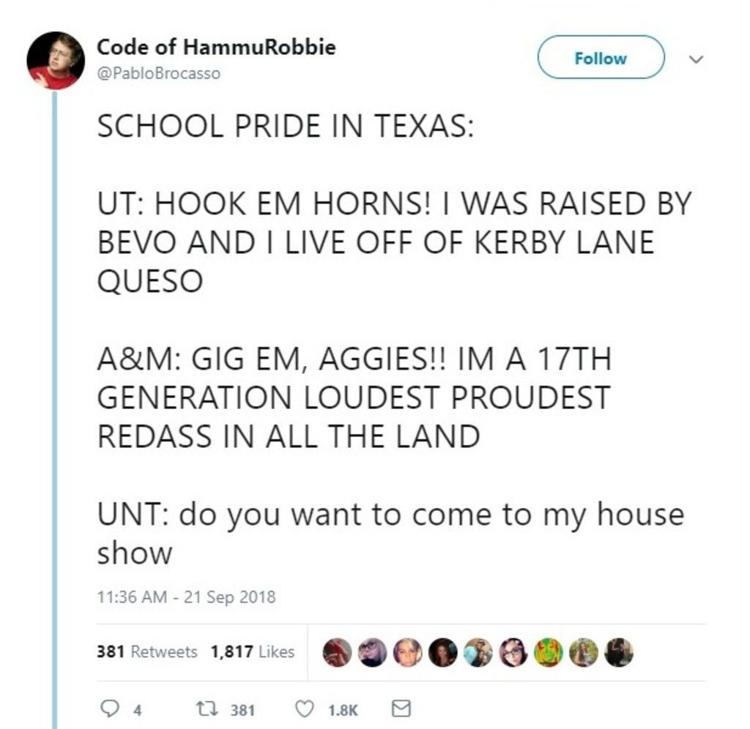 When Alana Presley Taylor's daughter Zarian was 3 years old, the toddler planted a tree on the UNT campus. The planting was part of a 2009 Earth Day celebration at the university's Elm Fork Education Center.
Occasionally, Taylor and her daughter would check up on the tree while on campus.
Around Oct. 1, the mom and daughter found the tree had been removed, apparently to make way for a new sidewalk "wide enough for a car to drive down," Taylor said. Zarian is 14 now, and Taylor is sad to see the tree removed.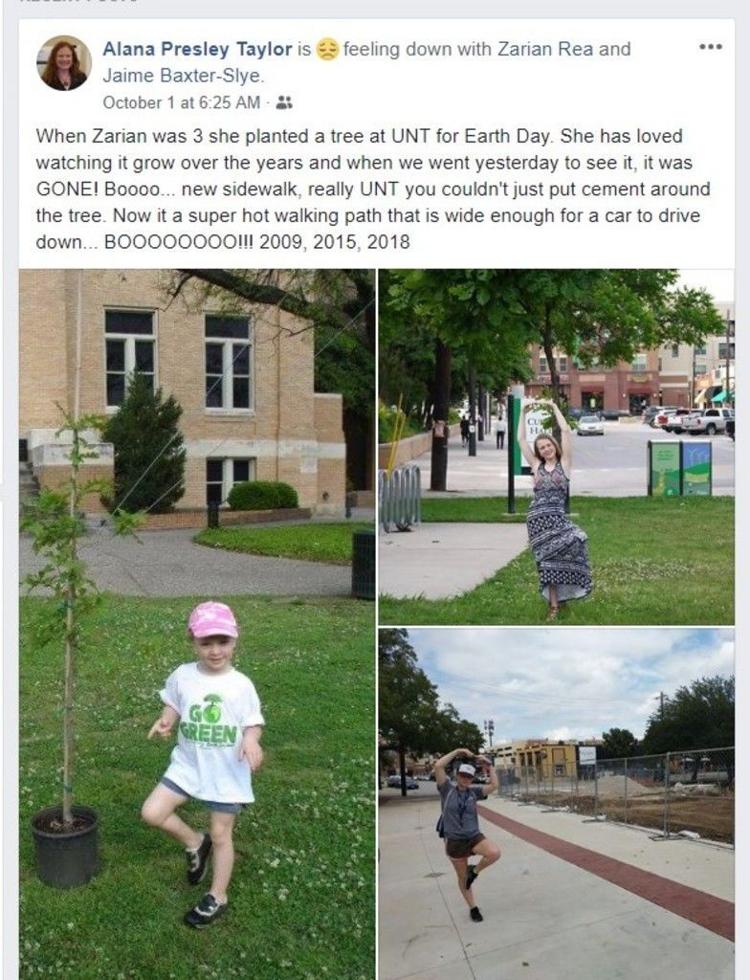 We gave our local government plenty of grief for taking so long to start repairs on the cracked sidewalk on the downtown Square. In January 2016, local resident Susan Vaughan tripped on a crack and fell on the sidewalk surrounding the courthouse. Vaughan fell on her face, doing more than $9,000 worth of damage to her teeth. Yvette Spicer, had a similar fall and broke her arm, leading Vaughan to campaign for repairs. Vaughn died of cancer in March.
Denton County has begun working on the sidewalk and the city will replace the curbs. We're glad the work is underway.
Denton resident and musician Scott Porter is putting together a benefit show and beard-shaving extravaganza to raise money for Denton resident Andy Knapik, one of the founders and champions of the Denton Music and Arts Collaborative, a nonprofit that operates programs that improve the lives of local musicians and artists.
Knapik was hospitalized after a massive heart attack, and his friends have rallied to raise money and support Knapik's young family. The benefit and beard-shaving will be this Saturday, Oct. 6, at Dan's Silverleaf.
The benefit will feature music by Isaac Hoskins, Chris Welch and the Cicada Killers, Barbara Black, Hand of Onan, Harry Zimmerman and Paul Slavens. Volunteers will shave some well-known local faces, too: Brent Best, Aaron "Catfish" Antilla, Ryan Williams, Monte Jensen, Gary Barnhart, John Green, Zack Johnson, Tex Bosley, George Neal, Nic Bagherpour and Andy Odom. Appropriately, local barbers with The Bearded Lady will eliminate a metric ton of Denton whisker-age.
Parting shot
"People ask us, 'Are you guys qualified to do this?' and of course, we have to say no. But neither was Ann Landers. Hopefully, we won't mess people up too much."
— Tony Caputo, member of the Old Coots Giving Advice club in Salt Lake City