Denton NORML might be in a spot of bother. The local chapter formed to advocate for reform of state and federal laws that criminalize marijuana. A member of the group took to the chapter's Facebook group on Tuesday to say that all signs point to Denton NORML no longer existing and demanding an answer to questions about the group's money. Though the group's bank account looks like chump change at less than $700 — and the fact that a lot of small nonprofits don't make it five years in Denton — there are laws regarding the handling of nonprofit money, and it looks as if Denton NORML has some work to do.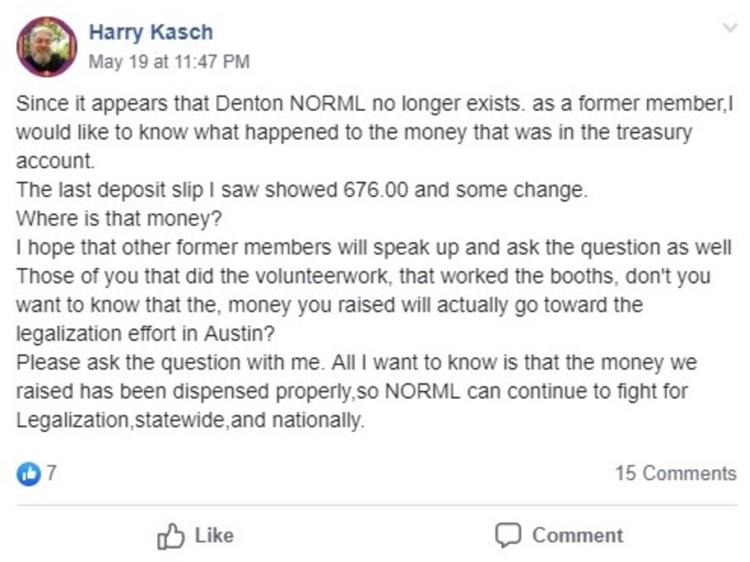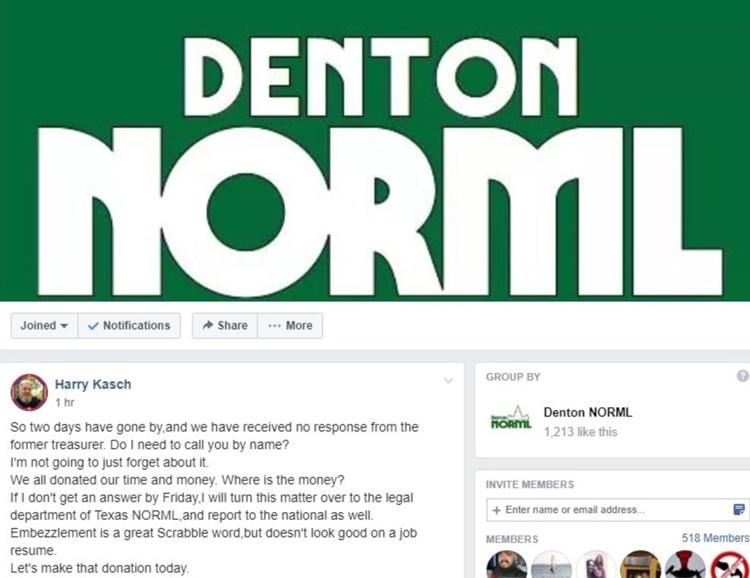 Keep Denton Beautiful program manager Julie Anderson has accepted a job with the city of Austin Transportation Department working on their Transportation Demand Management team. Anderson came to the Denton as the city's first "bike czar." She helped to implement the Bike Plan and took over the Keep Denton Beautiful program manager role in January 2018. Her last day with the city is May 30.
Have you driven over the Brazos River lately? It's running high and mighty following a wet winter and wetter spring. A swift water rescue team from the Denton Fire Department headed to Houston earlier this month to help with water rescues.
They went out with another team from the National Guard to scout areas along the Brazos but were not needed to make any rescues and came home. And hey, we're tickled pink that we have such expertly trained firefighters, and we appreciate how motivated they are to apply their training in real-world emergencies. But all things being equal, we're OK with firefighters fighting boredom instead of the elements.
About 50 people gathered at Texas Woman's University on Monday for a private screening of the Curious Dog Productions short film, Mack-Minded. The documentary, which won an award at Thin Line Fest, is an expertly made documentary about Pauline Beery Mack, whose studies as a faculty member at TWU led to groundbreaking discoveries about the effects of space travel on human bone density. The documentary sheds light on an overlooked scientist who made an inestimable contribution to NASA and whose life work continues with TWU kinesiology students — coined the Acolytes of Apollo — who designed a garment that can ease lower back pain in astronauts while they are in orbit. The documentary also sketches out Mack's personality — which tilted toward immoderation. Mack always wore a mink stole and white sneakers, and she worked late into the night and on holidays.
Well, Midwestern State University plucked a hardworking, talented staffer away from the University of North Texas. Tracee Robertson, who has been the director and curator of the University of North Texas Art Galleries since 2007, is heading to Wichita Falls, where she will take over the directorship of the Wichita Falls Museum of Art at Midwestern State University.
And now for a public service announcement: It's spring. When you're out on the road, pay just a little more attention. More motorcycle riders are out and about in the spring, and May is National Motorcycle Safety Awareness Month. The Texas Department of Transportation is in the middle of "Share the Road: Look Twice for Motorcycles" campaign. In Texas last year, 417 motorcyclists were killed and another 1,920 were injured in a total of 7,656 crashes. On average, a motorcyclist dies every day in a crash on Texas roads. Even minor collisions can be catastrophic for motorcycles because they lack safety features common to other vehicles. Riders, take care. Drivers, look twice.
When you go to the Campus Theatre to see the upcoming staging of Ken Ludwig's Lend Me a Tenor, check out the grand drape. The Denton Benefit League gave the Greater Denton Arts Council a grant, which paid for the new stage curtains, which are a lush scarlet. The theater rarely goes through the tradition of opening the grand drape to reveal the set — probably because the companies that perform in the space use the apron of the stage, which thrusts the scenic design past the drape line.
Locals bid farewell to longtime Denton resident Margaret Plunkett, who died on May 18 after a two-year treatment for cancer. Plunkett shared her husband Steve's ministry at St. Andrew Presbyterian Church and raised two children in Denton, Alison and Stephen. She will be missed deeply.
Parting Shot
"Did they try unplugging it and plugging it back in?"
— Denton resident and wiseacre Steve Roux, in response to our feature Insight Denton explaining why some of the wind turbines at Apogee Stadium aren't moving